How to Manifest Something By Writing it Down: 9 Quick Steps
Updated On: December 24, 2022
This 9 step working process on "how to manifest something by writing it down" will help you fulfill all your desires through the power of manifestation.
Let me ask you a simple question:- "How do people innovate things that never existed in the world before?" 
With the help of ideas, Right? 
So, where do those ideas pop up? Obviously, in the brain.
As you can conclude from the above statements, anything that comes into existence in the world starts its journey from the brain. 
Firstly, we envision that thing, then implement it, and finally, it becomes a reality.
Did you just realize how powerful the brain is? 
It can literally convert anything or any thought into a reality!
So, what if you direct your thoughts in a positive direction?
Good things will happen to you, and you will be able to fulfill all your desires, Right?
That's the power of manifestation! You create what you wish.
Without any delay, let's jump into the post where I'll share everything about manifestation and how to manifest something by writing it down.
Please, don't skip anything if you want to avoid confusion.
What is Manifestation? (The Only Definition You Need to Know!)
Manifestation is creating what you desire with the help of attraction, belief, and a positive mindset. 
The desires could include anything from the dreams you want to accomplish, the things you want to own, to the lifestyle you want to achieve.
In simpler words, manifestation means if you positively believe something will come true, it really does.
There is no uncertainty involved, which means you have complete faith that whatever you want, you'll get it.
You can manifest something by aligning your energies, thoughts, emotions, and body with your desires.
Manifestation also involves the realization that you're not just a creation. You're a CREATOR!
The Astonishing Link Between Manifestation and The Law of Attraction
The law of attraction is a universal law that states you attract things based upon the kind of thoughts you get. So, if you think positively, you will attract positive things into your life; conversely, if you think negatively, you will attract negative things.
Manifestation is acknowledging the law of attraction and using it in your favor to create things that you desire. Hence, when you manifest, you generate positive thoughts intentionally to have your desired outcome.
The Unexplained Connection Between Spirituality and Manifestation
If you've read the definition of spirituality in my earlier post, "spiritual affirmations," you would've already understood that our inner soul (which is in a blissful state) is a part of god. 
So, whenever we manifest something with pure faith, we signal our inner soul (God) that we require that thing. Further, our inner soul takes the role of the creator and fulfills our requirements.
Once you level up spiritually, your power of manifestation multiplies because spirituality helps you gain better self-control. Further, improved self-control helps you have better control over your thoughts and navigate them in a positive direction.
Finally, as soon as it becomes easy to have positive thoughts in your mind, it becomes easier to practice manifestation.
How to Manifest Something By Writing it Down in 9 Steps (Turn Your Desires into Reality!)
1. Be Accepting.
The first step is to open yourself to the universe so that you can receive what the universe has to offer. You have to create a mindset that is open to opportunities and ready to accept things. 
Don't expect your desires to get accomplished 100% according to your plan. You might receive your manifestations in a different form!
For example, Imagine you manifested a job that would pay you well. So, you might get a job that pays exceptionally well but is non-permanent (contract-based). 
Don't just rant and reject what the universe has sent your way. Think wisely about whether you should accept or deny the gift.
2. Pick a Fresh Journal and Your Favorite Pen.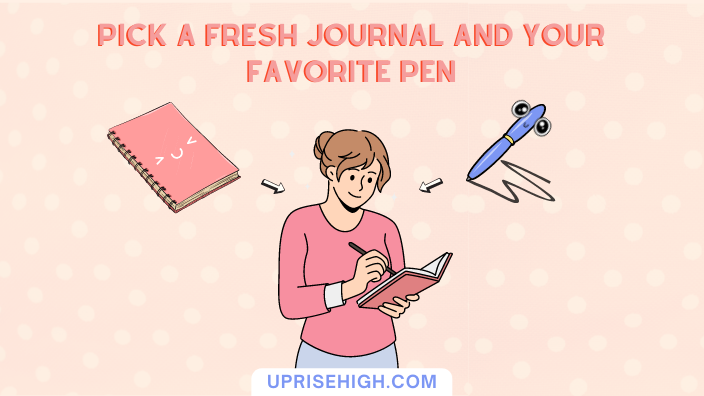 Now you have to begin with the technique of manifestation by writing. 
So, first and foremost, I would recommend picking up a new journal. You can even choose a journal that consists of a separate section where you can write your manifestations.
A "new journal" or a "journal with dedicated sections for manifestation" would make it much handier to access your manifestations. You need to keep those manifestations handy as they are your topmost priority!
Further, pick up your favorite pen that flows like water on paper. Having a good pen in your hand will help you enjoy the process of writing down manifestations. 
3. Dive Deep into Your Desires.
If I am not wrong, there could be 10's or 100's of things you wish to have in life.
You can manifest all of them at once, but I won't suggest it because:-
It becomes difficult to prioritize your desires. Thus, you become uncertain of what you really want, and manifestation doesn't work until you don't have a strong belief.
Manifestation requires clarity and focus. Manifesting more than one thing at a time might make you unfocused, and as a result, the "power of manifestation" might decrease.
The best way to figure out what you truly want is to dive deep into your desires.
You have to be specific about your desires! 

Ask yourself questions like- "What do you want?" and "Why do you want it?" 
The answers to these questions will help you prioritize your needs and eliminate the desires that are actually useless.
Finally, write down things you want to manifest in your beautiful journal. For example, write the page title, "manifestations." Then create a list:-
Sedan Car.
100,000$ Bank Balance.
A Labrador.
Further, re-write your manifestations 10-15 times to engrave them in your mind.
4. Clarify Intention & Get Rid of Any Uncertainty.
The fourth step in manifesting by writing is to define your intentions behind your desires and remove any uncertainty.
If your intentions are positive, your energy must be super high. This way, you'll attract only good things towards you.
Also, for effective manifestation, you need to have complete faith that whatever you want will definitely come true. Don't be double-minded or uncertain whether your aspirations will come true or not because this way, you'll send confusing energies and signals to the universe.  
5. Imagine a World Where Your Desires Existed.
*The excitement involved in this step might give you GOOSEBUMPS!*
Just close your eyes and visualize how your life would be if your desires turned into reality. Think of what you'll feel and how your life will change for good. 
Allow your imagination to go wild and thoughts to flow freely. 
You can even choose to capture all the thoughts in a separate journal. 
Everything you just did will help you generate the positive energy required to make your manifestation come true.
6. List Down Affirmations.
Affirmations are the positive words or statements that help you uplift at the moment and convert your negative thinking into a positive one.
They play a vital role in manifestation because they make you feel that you're getting one step closer to your desires each day. Further, they also help you maintain a strong belief in your aspirations.
A few examples of affirmations could be:-
I am worthy of having everything I desire in this world.
All my wishes come true.
Every moment, I am getting closer to what I want.
The universe is working in my favor to get me what I need.
You can use these affirmations or create some of your own.
Coming onto how to use affirmations, you can choose to write them down, recite them in your head, or speak them out aloud (whatever works the best for you). Just make sure that you use them daily.
7. Use Your Resources Wisely.
It's time to take some positive actions towards your manifestations. Don't think that a miracle will happen without doing anything, and your aspirations will automatically come true.
Consider manifestation as a tool to help you achieve your desires, not a genie that will grant all your wishes and give you whatever you want.
You must also note: Don't get so obsessed with your manifestation journal that you waste your time looking at it for the whole day. It will only lead to fear and stress related to accomplishing your desires.
Instead, once you've completed writing your manifestation journal, put it into a drawer, fly away, and don't open it until the next day.   
8. Check Your Journal Daily.
Open your journal daily and re-write your manifestations multiple times. 
Daily writing of your manifestations will help you align your energies, tasks, and set intentions for the day. It will help you keep the feeling of accomplishment alive and stay motivated throughout the day. It will also remind you and the universe about your desires.
Also, make sure to use affirmations that will provide you the boost needed to maintain the positivity of your thoughts by making you feel that you're getting closer to your desires each day.
9. Review Yourself Weekly.
A weekly review is necessary to check that your energies and thoughts were aligned perfectly with your desires during the whole week.
It will also help you track yourself on the manifestation journey and identify your "fulfilled" and "yet to get fulfilled" aspirations.
If you feel you're not getting any results, you can even identify what you're doing wrong and improve upon it.
Can You Manifest Something Without Writing it Down?
Yes, You can manifest something without writing it down! 
Other ways of manifestation are:-
 Meditation 
Recalling your desires in your mind daily 
Visualizing that you've achieved your desires.
However, I would REALLY suggest you choose manifestation through writing because:-
1. Putting your desires into words helps you be specific and clear about your desires.
2. You can recall or check your manifestations anytime. Thus, you could make necessary changes in your vibe and energy if you somehow went off track. 
3. Writing down deepens your thinking, which will help you better analyze your desires.
Why is Manifestation Not Working for You? (7 True Reasons)
These could be the seven reasons why manifestation is not working for you:-
Your energies are unaligned with your desires.
Your thoughts are mostly negative.
You are uncertain whether you'll get your desired outcome or not.
You don't have enough faith in the power of manifestation.
You aren't waiting patiently for the results to appear.
You aren't taking any action at all!
You aren't ready to accept things the way they're coming to you. It may be because you're too specific about how you want your outcome to appear.
End of the Line
You must understand that manifestation isn't a magical process that will make all your aspirations come true in a blink. It requires patience and consistent belief in your desires.
If you truly want to manifest your desires, stay consistent with the process, and don't lose faith. Sooner or later, the results will appear.  
Let's finish off with the post right here!
I hope you've now understood how to manifest something by writing it down.
Don't procrastinate, and make sure to start practicing manifestation from today. Every single delay will only lead to the delayed fulfillment of your desires!
Don't miss out on the opportunity to make all your forever-pending dreams come true.
Good luck with your manifestation journey.
| SPREAD THE LOVE
| WRITTEN BY
Varun Pahwa
Hi! I am Varun. I created Uprisehigh for you to share your life story & get answers to all your life problems. As your best friend, I'm committed to inspire you, simplify your life, and help you grow. Let's stick together on this beautiful life journey, mate!
| YOU MIGHT ALSO LIKE