23 Optimism Quotes That Will Send Shivers Down Your Spine
Updated On: December 24, 2022
23 Optimism Quotes · Oscar Wilde · Lucille Ball · Helen Keller Quote · Neelam Mahapatra · Abraham Lincoln · Steven Furtick · Dalai Lama…
Are you searching for the best quotes on Optimism to enlighten your day and fill it with energy?
You've just hit the right spot.
Here are some quotes that will help you to kickstart your day and give a rapid boost to your mindset.
23 Optimism Quotes That Will Send Shivers Down Your Spine
1. "When it rains, look for rainbows. When it's dark, look for stars."

-Oscar Wilde
---
2. "One of the things that I learned the hard way was that it doesn't pay to get discouraged. Keeping busy and making optimism a way of life can restore your faith in yourself."

– Lucille Ball
---
3. "Optimism is the faith that leads to achievements; nothing can be done without hope."

– Helen Keller
---
4. "Optimism is inevitably the last hope of the defeated."

– Albert Meltzer
---
5. "Even the darkest night will end, and the sun will rise."

– Victor Hugo
---
6. "Optimism is not a destination. It's the journey."

– Neelam Mahapatra
---
7. "Optimism is the most important human trait because it allows us to evolve our ideas, to improve our situation, and to hope for a better tomorrow."

-Seth Godin
---
8. "Optimism refuses to believe that the roads end without options. "

– Robert H. Schuller
---
9. "My optimism wears heavy boots and is loud."

– Henry Rollins
---
10. "Believe you can, and you're halfway there."

– Theodore Roosevelt
---
11. "I am an optimist because I don't see the point in being anything else."

–

Abraham Lincoln
---
12. "A pessimist sees the difficulty in every opportunity; an optimist sees the opportunity in every difficulty. "

– Winston Churchill
---
13. "Some see a hopeless end while others see an endless hope."

– E.B. Norton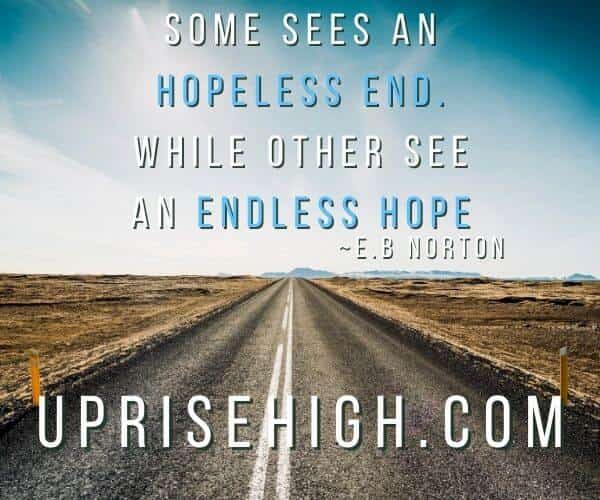 ---
14. "Instead of worrying about what you cannot control, Shift your energy to what you can create."

– Roy T. Bennett
---
15. "Optimism can be more powerful than a battery of artillery or squadron of tanks. It can be contagious, and it's necessary to being a leader."

– Gen. Rick Hillier
---
16. "The average pencil is seven inches long, with just a half-inch eraser – in case you thought optimism was dead."

– Robert Brault
---
17. "We can choose to wake up and grumble all day and be bitter and angry and judge others and find satisfaction in others doing bad instead of good. Or we can we wake up with Optimism and love and say, Just what is this beautiful day going to bring me?"

– Margaret Trudeau
---
18. "Keep your face to the sunshine, and you can't see the shadow."

–

Helen Keller
---
19. "Optimism is essential to achievement, and it is also the foundation of courage and true progress."

– Nicholas M. Butler
---
20. "I cannot control everything that comes into my life. But I can choose what I magnify."

–

Steven Furtick
---
21. "Optimism doesn't mean that you are blind to the reality of the situation. It means that you remain motivated to seek a solution to whatever problem arises."

– Dalai Lama
---
22. "An optimist stays up until midnight to see the new year. A pessimist stays up to make sure the old year leaves."

– William E.Vaughan
---
23. "Some days, there won't be a song in your heart. Sing anyway."

– Emory Austin
Parting Words
In case you are still not satisfied and want some inspiration that can hit deep in your heart, Here are some stories that will surely fulfill your need.
| SPREAD THE LOVE
| WRITTEN BY
| YOU MIGHT ALSO LIKE