"Don't dream so big! Just study well, get good grades, get into a renowned university, get a job, and have a secure future."
If you've had huge aspirations during childhood, you would have surely heard the dialogue you just saw, Maybe through your parents or someone else.
Remember what happened next?
According to You:
You believed in them because they are your well-wishers and settled for an average life.
In Reality:
You literally KILLED your dreams because people around you told you to do so, and you felt insecure!
Everything that society or your parents taught you about giving up on your dreams to have a better life was all wrong!
In fact, you can make your most prominent dreams come true regardless of economic status, family background, education qualification, or anything else. The only thing that matters is whether you really want to accomplish it or not.
You know what? I am not even making up things by myself!
Dhirubhai Ambani, the founder of "Reliance Industries," is a great example who went from selling bhajia on the streets to becoming the owner of a billion-dollar company.
Feels unbelievable? Check out this Dhirubhai Ambani success story and get to know how he went from rags to riches.
Dhirubhai Ambani Success Story: How a Boy from a Gujarati Village Built the Reliance Industries Empire?
Dhirajlal Hirachand Ambani, well known as Dhirubhai Ambani, was born in a Gujarati village, "Chorwad," on 28 December 1932. 
His mother "Jamunaben" was a housewife, and his father "Hirachand Govardhandas Ambani" was a village school teacher.
Dhirubhai Ambani had two brothers – Ramanikbhai and Natubhai, and two sisters – Trilochanaben and Jasuben.
As Dhirubhai's father was an ordinary teacher and the breadwinner of the family, it was difficult for him to manage and bear the expenses of such a large family.
At times, the family didn't have the money to fulfill their basic needs, So Dhirubhai's mother borrowed money from the neighborhood.
Dhirubhai Ambani's Childhood
Dhirubhai studied in a local village school until the fifth standard. Further, he was sent to the "Bahadur Khanji High School" in Junagadh to pursue further studies.
During childhood, Dhirubhai was a naughty, playful, and fun-loving kid who participated and performed exceptionally well in co-curricular activities. He was an intelligent, energetic, and determined kid who possessed a strong "Get Things Done" attitude. 
Dhirubhai wasn't good at studies and didn't get good grades, not because he didn't attend school lessons, But because he didn't enjoy mugging up things and rote learning.
Dhirubhai Ambani Started Selling Bhajia
Due to the poor financial condition, Dhirubhai's mother asked him and Ramnikbhai (Dhirubhai's elder brother) to earn money and support the family. 
Following his mother's command, At the age of 15, Dhirubhai started selling gram flour fritter (bhajia) to the pilgrims at Grinar Peak. He even set up fries stalls at the village fair during weekends to contribute to the family finances.
Rebellion Against State Authority
It was 15 August 1947, the auspicious occasion of the first independence day of India.
While entire India was celebrating independence day, the people of Junagadh were still tied in strings as a Muslim nawab who ruled Junagadh did not agree to the merger of the state with the Indian Union. So, everyone was ordered to stay indoors, rallies and hoisting the Indian flag were banned.
Dhirubhai Ambani gathered the Junagadh school students on the playground and decided to revolt against the ban by celebrating independence day. He gave his first astonishing public speech at the rally.
Soon, all the students dispersed, and the police took Dhirubhai to the police station as he stood up against the state orders. The police couldn't believe that such a young guy organized the entire rally alone and threatened him to name the leaders. 
However, Dhirubhai's strong attitude didn't let him disclose anything, and the police sent him home.
Joined the Praja Mandal Movement
In the same year, 1947, at the age of 15, Dhirubhai Ambani jumped into the Praja Mandal Movement of Junagadh, which aimed at getting representation and constitutional reforms in the state. 
Dhirubhai fearlessly went from one place to another in the middle of the night and created patriotic slogans on the walls. He even painted posters in hideouts, distributed leaflets, and carried banned newspapers for the protesters.
Finally, on 12 November 1947, Junagadh officially became an Indian union.
We must remark that Dhirubhai's courage at such a young age was insane!
Declining Interest for Politics
Until 16, Dhirubhai had contributed to various social reforms directly or indirectly. He had developed a passion for politics and studied a lot about it. His political idols were Subhash Chandra Bose, Jawaharlal Nehru, and Sardar Patel.
Even after being drawn towards politics, Dhirubhai knew that he was more passionate about business.
Completed Matriculation
Dhirubhai Ambani had failed once in his matriculation examination (10th standard) in 1948.
In 1949, Dhirubhai had to reappear for his matriculation exam. However, he was still actively involved in the election campaigns.
The family opposed his involvement in elections and wanted him to focus on his studies, but Dhirubhai promised he would pass the examination this year.
Dhirubhai Ambani Went to Yemen
After Dhirubhai's matriculation examination, Hirachandbhai (Dhirubhai's father) called him back to Chorwad. 
Hirachandbhai told Dhirubhai about his poor health condition and inability to work further. Further, he asked Dhirubhai to go to Yemen, where Ramnikbhai had arranged a job for him, start working, and earn money so that the family could survive.
Dhirubhai wanted to study further, but he had to drop the idea because of his family's circumstances. So, in 1949, right before he turned 17, he boarded the ship to Aden (a city in Yemen).
First Job in Yemen
As soon as Dhirubhai Ambani reached Aden, he worked as a clerk in "A. Besse & Co." for a salary of only Rs.300.
Next, he worked in the commodities section of the company and finally moved to the department that handled petroleum products for "Shell." However, Dhirubhai's desire to start his own business was still burning.
At Besse, along with doing his job, Dhirubhai learned sales and purchase, marketing, distribution, commodity trading, and money management.
Dhirubhai Ambani Melted Yemen's Silver Coins
While Dhirubhai Ambani was working in "A. Besse and Co.," he realized that the value of silver used in making Yemen rials (if sold on the London stock exchange) was higher than the value of rial itself.
What he did next would surprise you!
Dhirubhai purchased rials in bulk, melted them, and sold them on the London stock exchange. He made small profits, but it was easy money.
Within three months of operation, Yemen's treasury officials noticed the shortage of coins in their country, and Dhirubhai's business of melting and selling coins ended. However, by the end of this time frame, Dhirubhai had already generated a few lakhs profit.
Dhirubhai Ambani Worked for Free!
Dhirubhai had a lot of interest in speculation trading but nominal funds to practice it. So, he worked for a Gujarati trading firm for free because he wanted to learn about speculation.
After he learned more about speculative trading, he started speculating on the purchase and sales of all types of goods. However, as Dhirubhai didn't have many funds to invest, he borrowed money from shopkeepers and friends on simple terms that "he would split the profit among the investors while bearing the loss alone."
Dhirubhai's Unusual Way of Learning Business By Having Expensive Tea at Expensive Restaurants
Dhirubhai read lots of books that included topics ranging from history to psychology.
However, there's a unique way Dhirubhai learned more about business – By drinking tea at expensive restaurants!
Sounds weird, right? I'll share the exact incident.
When Dhirubhai was working in "A. Besse & Co.," the price of one cup of tea for the workers was 25 paise. However, he went to an expensive restaurant where the same cup of tea had a cost of Rs.1 (100 paise).
He did so because he knew the restaurant had good gentry, and only rich people came there. Dhirubhai heard conversations of those people and gathered business knowledge through them.          
Returned to India for Marriage
In 1955, Dhirubhai came back to his hometown Gujarat to marry Kokilaben, who hailed from Jamnagar. She was a simple household lady who knew sewing and embroidery and belonged to a middle-class family.
Kokilaben played a vital role in Dhirubhai's success and supported him throughout his entire journey. Dhirubhai shared everything regarding his projects, encouraged her to learn English, and filled her with knowledge. Overall, It was a healthy relationship between the two.
On 19 April 1957, Kokilaben gave birth to a genius child "Mukesh Ambani." 
Back to Yemen
After marriage with Kokilaben, Dhirubhai had to get back to work in Aden. Until now, Dhirubhai had done well at the "A. Besse & Co." so he was promoted to the oil filling station at a new harbor.
In the initial days, Dhirubhai couldn't take his wife along with him, so there was a long-distance relationship between both of them. But soon, both of them reunited in Aden.
Everything was going well, Dhirubhai had bought a car until now, and he was living a settled life. However, the fire inside him to start his own business was still burning. 
Dhirubhai Finally Came Back to India (Even When He Had a Choice of Going to London)
By the end of the 1950s, the Yemense independence movement had become powerful, and it was clear that British rule won't last any longer. Therefore, Indian communities of Hindus and Gujaratis living in Yemen started moving to Britain and India.
Now Dhirubhai had an option to choose between London and India. 
His friends suggested migration to London because of better opportunities. But Dhirubhai decided to return to India because he knew that India would grow massively in the upcoming years.
Finally, In 1958, Dhirubhai Ambani returned to Bombay, India, with his wife, little money, and zero connections. He settled with his family in a two-rooms chawl.
Dhirubhai wanted to start a business right away. He even explored multiple options, but he knew he didn't have enough savings to do the business he really wanted to do. So, he decided to start a company in partnership.
The Birth of Reliance Commercial Corporation
Dhirubhai Ambani started "Reliance Commercial Corporation" in the 1960s with his second cousin Champaklal Damani who lived with him in Yemen. The initial investment was Rs.15,000. The office had an area of 500 sq. ft., three workers, one telephone, one table, and three chairs.
Reliance Commercial Corporation initially started as an exporter of spices headquartered in Narsinatha Street, Masjid Bunder. Dhirubhai went to Bombay's spice market and collected quotations for purchasing spices in bulk.
Those days, foreign exporters complained a lot about the quality of supplies from India being lower than promised quality. Dhirubhai saw this problem as an opportunity and offered exporters to give up payment if the commodities were of poor quality.
Dhirubhai's offer built his reputation among the exporters, and the business started growing at an exponential rate. Soon, he started dealing with exporters in every possible commodity they required from India.
Emerging Interest in Yarn Trading
Dhirubhai realized that the business of commodities trading was coming to an end. Some of his friends in the yarn industry told him there were considerable profits in yarn import-export.
The dominance of the yarn industry by reputed firms like Forbes Gokak and sudden price fluctuations in the yarn market made the industry super-risky.
But, as you know already, Dhirubhai Ambani was fearless! 
He still wanted to get into the yarn industry. 
Journey in the Yarn Industry
Dhirubhai had now entered into the yarn industry. 
In the beginning, he analyzed the yarn industry. Started the trade by purchasing small quantities and gradually moved onto bulk purchasing.
While Dhirubhai was in the yarn business, he experienced a shortage of money. So, he solved this problem by borrowing money from Gujarati contractors, brokers, and merchants at reasonable interest rates. Sometimes, he applied his Aden trick of bearing the loss himself while splitting the profit.
Several people tried to pull down Dhirubhai in business due to envy, but he always stood firm, and Reliance Commercial Corporation kept growing.
Moved to a Better House
Dhirubhai's business was doing well, and his family was expanding. Anil Ambani was born in 1959, followed by Dipti and Nina Ambani in 1961 and 1962. By this time, he had left his two-room apartment and moved to a better apartment with them.  
Split of Dhirubhai Ambani and Champaklal Damani
In 1965, Dhirubhai and Champklal Damani split due to differences in business ideology. While Dhirubhai was a risk-taker who believed in building yarn inventories, Champaklal was a cautious trader who opposed stocking yarn.
Dhirubhai Ambani Entered into Textile Industry
Until now, Dhirubhai Ambani had gained deep knowledge regarding the textile industry. So, he decided to create a textile manufacturing unit of his own.
In 1966, Dhirubhai changed the name of Reliance Commercial Corporation to Reliance Textiles Engineering Pvt. Ltd. and set up his first synthetic fabrics mill in Naroda, Gujarat.
Destroyed the Textile Industry
By January 1967, the Naroda Factory had started producing a decent amount (around 5,000 meters) of fine quality fabric per day. The wholesalers denied purchasing the reliance fabric even when it was affordable because they were afraid that big mill owners would get annoyed.
After facing such a situation, Dhirubhai decided to sell the reliance fabric directly to the retailers. He went to every retailer by himself and gave it without any receipt, advance, or promise of future payment.
The retailers were impressed by Dhirubhai's marketing. People started purchasing the fabric, and the sales went up.
Incorporation of Reliance Industries Ltd. and Vimal
On 8 May 1973, Dhirubhai Ambani renamed Reliance Textile Industries Pvt. Ltd. to Reliance Industries Ltd.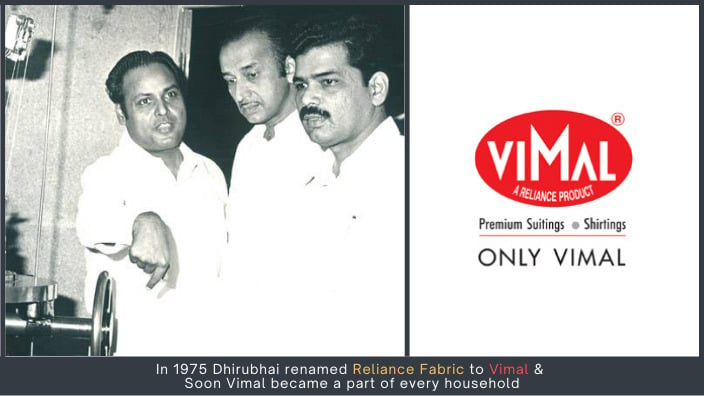 Further, In 1975, the reliance fabric was renamed "Vimal." Vimal gained popularity and soon became a part of every household.
Reliance Launched Its First IPO in India
In 1977, Reliance Industries Ltd. started the equity cult and launched its first IPO in India with an issue size of Rs.2.82 Crores. 
Dhirubhai Ambani successfully convinced middle-class investors that anyone investing in the company's IPO would get a massive return in the future.
You won't believe what happened next!
A whooping 58,000 middle-class investors invested in the Reliance IPO, and it got oversubscribed by seven times.
Dhirubhai Ambani Got Paralyzed
In February 1986, Dhirubhai Ambani suffered from a major stroke for the first time. Unfortunately, his right hand got paralyzed, so he handed over the control of "Reliance Industries" to his sons Mukesh Ambani and Anil Ambani.
Between 1985 and 2002, Reliance further entered the petroleum, financial services, and telecom industry.
By 2002, the company turned into a $15 Billion conglomerate.    
Unfortunate Death
On 24 June 2002, Dhirubhai Ambani Suffered from a stroke for the second time and got admitted to Breach Candy Hospital, Bombay. 
Even after the admission, his health kept declining, and India lost its gem, Dhirubhai Ambani, on 6 July 2002.
What happened to Reliance after Dhirubhai's Death?
After Dhirubhai Ambani passed away in 2002, disputes started arising between the two brothers, Anil and Mukesh Ambani. 
So, they split in December 2005, and Anil Ambani formed the "Reliance Group" while Mukesh Ambani continued expanding "Reliance Industries."
At present, Reliance Industries is highly successful and has its wings in the following sectors:-
Textiles
Petrochemicals
Telecoms
Energy
Electricity
Retail
Digital Services
Logistics
Industrial Infrastructure
6 Lesser Known Facts about Dhirubhai Ambani
Check out these six astonishing facts about Dhirubhai Ambani I didn't include in the "Dhirubhai Ambani Success Story."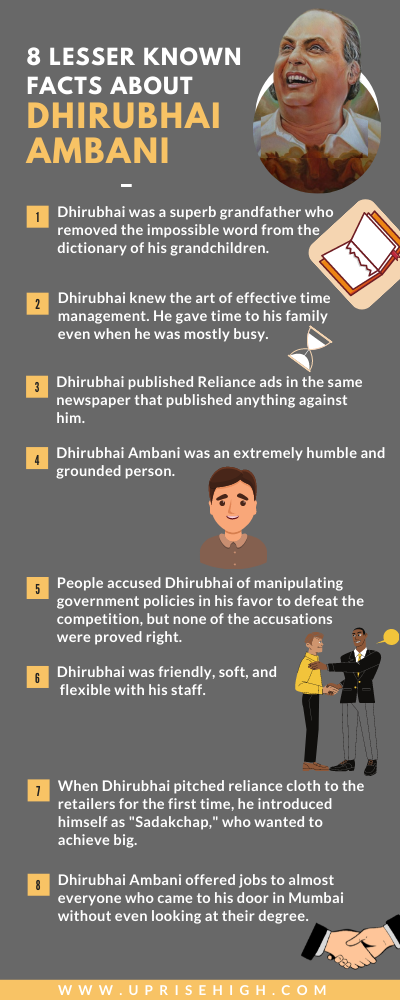 7 Mind-Blowing Lessons You can Learn from Dhirubhai Ambani Success Story
I've covered such an inspiring success story, and ending it without learning anything from it would be injustice, Right?
Here are seven lessons you can gather from the "Dhirubhai Ambani success story" that will help you grow in life:-
When there's a lot of confusion in your life, just follow your heart.
Taking risks is vital, but those risks should be "calculated risks."
Don't be afraid to leap. You can't even imagine how high you can fly.
Your planning should be patient, but your execution should be impatient.
Anyone, irrespective of any background, can have huge dreams.
You can learn anything if you truly want to.
While climbing the ladder to success, many people will try to pull you down out of envy. You just need to ignore them.  
End of the Line
"If you don't build your dreams, Someone else will hire you to help them build theirs."

~ Dhirubhai Ambani 
It's your choice whether you want to give up on your dreams and live with regrets, OR you want to give them a chance and make them your reality.
You've got one life, mate! Make it a meaningful one.
I hope the success story of Dhirubhai Ambani inspired you to act on your forever unfulfilled dreams.
Make sure to forward this post to your friends who would love to read it.
See you in the next post!