70 Insanely Inspiring Onward and Upward Quotes
Updated On: January 15, 2023
Feeling stuck and unfulfilled in life? Need a boost of inspiration to move onward and upward? These 70 onward and upward quotes are all you need!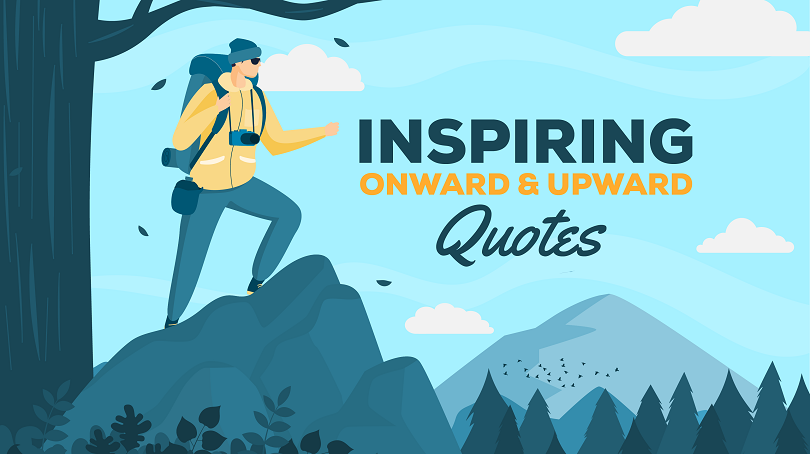 Are you feeling stuck or unfulfilled in your life? Do you need a boost of motivation and inspiration to move forward and upward?
Look no further!
Check out these 70 onward and upward quotes that will help you get back on track and reach for the stars. Further, they will provide the encouragement you need to take the next step in your journey.
So, Grab a pen and paper, and get ready to jot down your favorites. It's time to get inspired and move onwards and upwards!
70 Onward and Upward Quotes to Propel You on Your Path to Success
1. You were born to move onwards and upwards. That's why God gave you eyes in the front, not at the back!
---
2. From a certain point onward, there's no longer any turning back. That is the point that must be reached.

~ Franz Kafka
---
3. I try to avoid looking forward or backward and try to keep looking upward.

~ Charlotte Bronte
---
4. All we have to do is to go onward and upward, and keep the commandments of our Father and God; and he will confound our enemies.

~ Brigham Young
---
5. And so, lifting as we climb, onward and upward we go, struggling and striving, and hoping that the buds and blossoms of our desires will burst into glorious fruition ere long.

~ Mary Church Terrell
---
6. The clouds don't overthink; they just drift.

~ Avijeet Das
---
7. Those who are lifting the world upward and onward are those who encourage more than criticize.

~ Elizabeth Harrison
---
8. There's nowhere to go but up from here.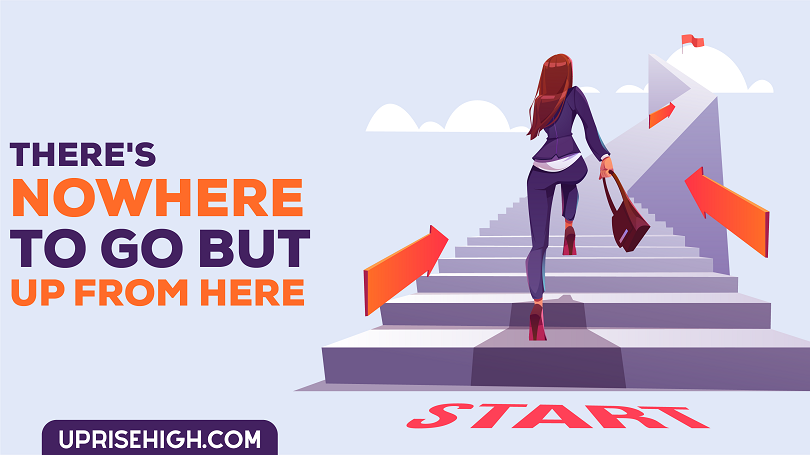 ---
9. Energy enables a man to force his way through irksome drudgery and dry details and carries him onward and upward to every station in life.

~ Samuel Smiles
---
10. It's onward and upward. The prudent thing for all the stakeholders was to put this behind us.

~ Jim Balsillie
---
11. Press bravely onward! — not in vain. Your generous trust in humankind; The good which bloodshed could not gain; Your peaceful zeal shall find.

~ John Greenleaf Whittier
---
12. Moving onward and upward requires dedication and a habit of making zero excuses.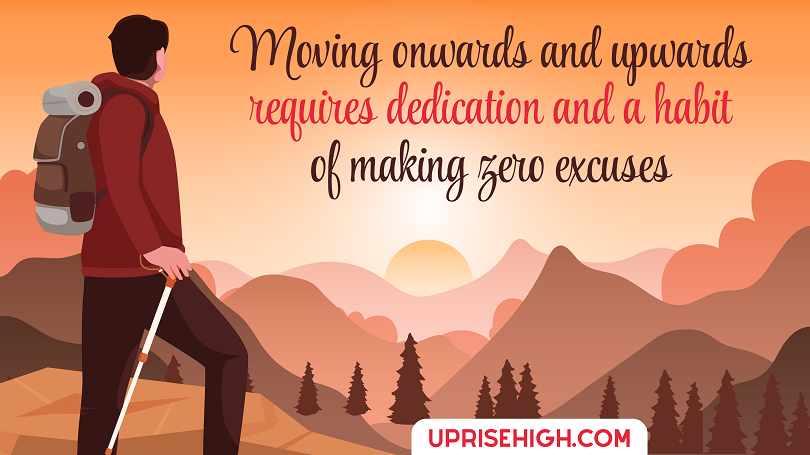 ---
13. We will move forward, we will move upward, and yes, we will move onward.

~ Dan Quayle
---
14. Just as one moment can bring despair, it can also lead to a new beginning. A different life. A dream for moving onward and upward rather than backward.

~ Diane Guerrero
---
15. The heights by great men reached and kept were not attained by sudden flight, but they, while their companions slept, were toiling upward in the night.

~ Henry Wadsworth Longfellow
---
16. Religion and science, then, in my analysis are the two great sister forces which have pulled, and are still pulling, mankind onward and upward.

~ Robert Andrews Millikan
---
17. If we fail to adapt, we fail to move forward.

~ John Wooden
---
18. Onward and Upward! To Narnia and the North!

~ C.S. Lewis
---
19. Keep moving onwards, upwards, and inwards like a free spirit, carry lightweight often; as light as Good Vibes only.

~ Ashay Vyavaharkar
---
20. There are far better things ahead than any we leave behind.

~ C.S. Lewis
---
21. You just keep moving forward and doing what you do, and hope that it resonates with people. And if it doesn't, you just keep moving on until you find a project that does.

~ Octavia Spencer
---
22. You can't expect to move forward if your emergency break is on.

~ Angela Cecilia
---
23. Life is like riding a bicycle. To keep your balance you must keep moving.

~ Albert Einstein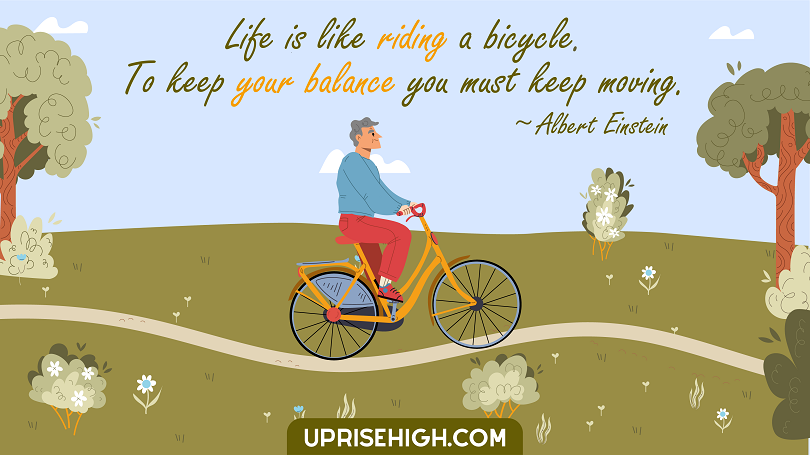 ---
24. One bad day doesn't imply it's a bad life. Stop being a pessimist and focus on moving onwards and upwards.
---
25. Your destiny is to fulfill those things upon which you focus most intently. So choose to keep your focus on that which is truly magnificent, beautiful, uplifting and joyful. Your life is always moving toward something.

~ Ralph Marston
---
26. I never look back, darling. It distracts from the now.

~ Edna Mode
---
27. We are certainly on the move, onwards and upwards.

~ Martin Smith
---
28. I choose to make the rest of my life the best of my life.

~ Louise Hay
---
29. Where you are movin?" I said, "Onto better things."

~ Drake
---
30. You don't always have to move on from your past, but you do need to find a way to move forward.

~ Brittany Burgunder
---
31. But don't look over your shoulder, and don't dwell on what we can't change. Keep your eye on the horizon and focus on what we need to do now. Upwards and onwards.

~ Sherrilyn Kenyon
---
32. New month. New beginning. New mindset. New focus. New start. New intentions. New results.
---
33. A sacred burden is this life ye bear, Look on it, lift it, bear it solemnly, Stand up and walk beneath it steadfastly; Fail not for sorrow, falter not for sin, But onward, upward, till the goal ye win.

~ Fanny Kemble
---
34. Love would master self; and having made the mastery stretch onward and upward toward infinitude.

~ Donald G. Mitchell
---
35. Hope is the ability to hear the music of the future. Faith is the courage to dance to it today.

~ Rubem Alves
---
36. What separates extraordinary from average is the mentality to move onwards and upwards consistently.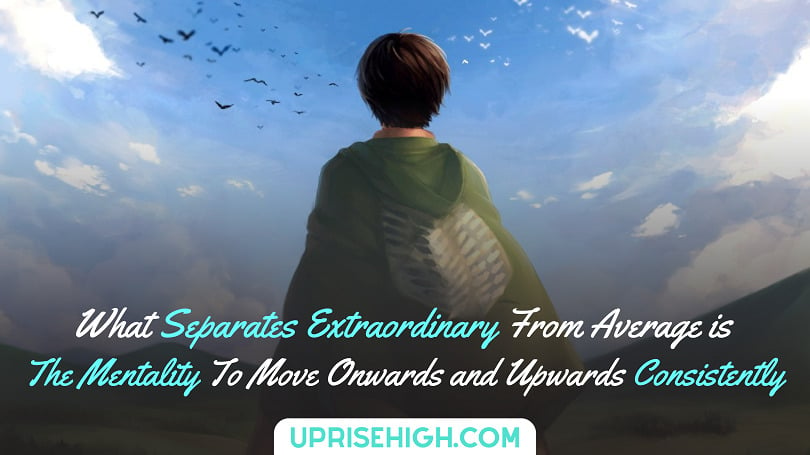 ---
37. The tendency of life is onward and upward. Therefore, to ask anything to come down is to violate its very purpose of existence. If we wish to be with the higher, the greater and the superior, we must change ourselves and become higher, greater and superior; and this we can do!

~ D. Stanley Marcus
---
38. Instead of trying to make your life perfect, give yourself the freedom to make it an adventure, and go ever upward.

~ Drew Houston
---
39. We keep moving forward, opening new doors, and doing new things because we're curious and curiosity keeps leading us down new paths.

~ Walt Disney
---
40. An arrow can only be shot by pulling it backward. When life is dragging you back with difficulties, it means it's going to launch you into something great. So just focus, and keep aiming.

~ Paul Coelho
---
41. Failure is a bend in the road, not the end of the road. Learn from failure and keep moving forward.

~ Roy T. Bennett
---
42. You kill your dreams right when you stop moving onwards and upwards.
---
43. Life is a series of experiences, each one of which makes us bigger, even though sometimes it is hard to realize this. For the world was built to develop character, and we must learn that the setbacks and grieves which we endure help us in our marching onward.

~ Henry Ford
---
44. Don't watch the clock; do what it does. Keep going.

~ Sam Levenson
---
45. If you're going through hell, keep going.

~ Winston Churchill
---
46. Inhale the future. Exhale the past.
---
47. Each day set new priorities and then push forward in the direction of your dreams.

~ Germany Kent
---
48. Rehashing the past wouldn't change anything. Time to move forward.

~ Zena Wynn
---
49. When you realize your life isn't heading in the direction you wish, rather than wasting time complaining about the situation, just focus on the direction you wish to proceed with determination.

~ Nanette Mathews
---
50. If you aim upward, you will shoot at higher things (future prospects). If you aim downwards, you may shoot your feet (foundation).

~ Israelmore Ayivor
---
51. If you're not moving forward, you're falling back.

~ Sam Waterson
---
52. The way to greatest triumph is to keep moving forward.

~ Hiral Nagda
---
53. If you are going through hell, keep walking until you reach heaven.

~ Matshona Dhliwayo
---
54. Start your day in a upward direction, and the rest of the day will follow the uphill path.

~ Vernon Howard
---
55. You need to have faith in yourself. Be brave and take risks. You don't have to have it all figured out to move forward.

~ Roy T. Bennett
---
56. I can't take back the past, but I can fight for the future.

~ Shannon A. Thompson
---
57. Even a rock moves on.

~ Anthony Liccione
---
58. Forever seeking, forever moving forward. To strive, to struggle.

~ Shonjuk Chakma
---
59. When you can't go back, you only have to worry about the best way of moving forward.

~ Paulo Coelho
---
60. When one door closes, another one opens. Keep moving forward and embrace the new opportunities that come your way.
---
61. Concentrate all your thoughts upon the work in hand. The sun's rays do not burn until brought to a focus.

~ Alexander Graham Bell
---
62. Every challenge is an opportunity to grow and move forward. Embrace the journey and keep moving upwards.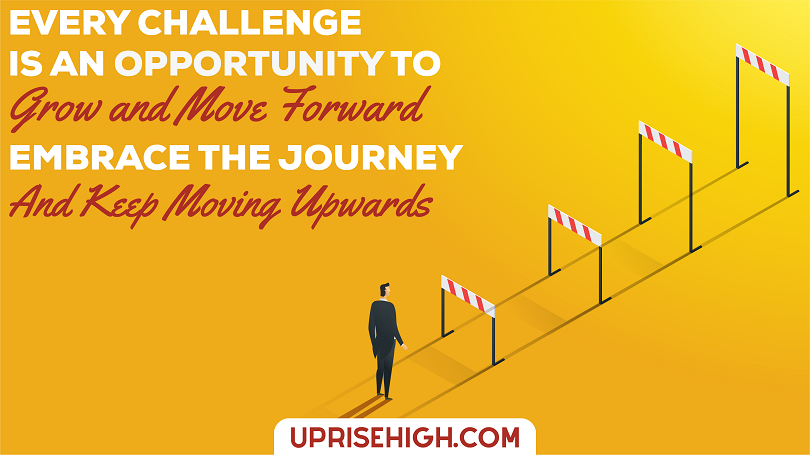 ---
63. I demolish my bridges behind me…then there is no choice but to move forward.

~ Fridtjof Nansen
---
64. March on. Do not tarry. To go forward is to move toward perfection. March on, and fear not the thorns, or the sharp stones on life's path.

~ Kahlil Gibran
---
65. If you make a mistake, no matter what, correct your error and keep moving forward.

~ Alex Altman
---
66. Start today by imagining the life you want in the future and taking one practice step towards it.

~ Denise Duffield Thomas
---
67. It takes just as much energy to move forward as it does to engage in self-destructive moaning, blaming, and being miserable.

~ Catherine Pulsifer
---
68. Long ago we mastered the ability to create and harness fire, but we still don't know how to light and maintain the fire that inspires us and keeps us moving forward.

~ Heidi Grant Halvorson
---
69. You can clutch the past so tightly to your chest that it leaves your arms too full to embrace the present.

~ Jan Glidewell
---
70. With each step I take, I see that my ability to perform gets a little better. So until it starts getting worse, I'm going to keep moving forward.

~ Rivers Cuomo
7 Highly Practical Tips to Move Onwards and Upwards in Life
The quotes can't guide how to move onwards and upwards in life, Right?
But that's what I'm here for!
Here are a few tips that will help you move onwards and upwards in life:
1. Set Clear Goals
A clear idea of what you want to achieve can help you stay focused and motivated. Make a list of your long-term and short-term goals, and break them down into smaller, actionable steps.
2. Take Care of Your Physical and Mental Health
Your physical and mental well-being plays a significant role in your overall success and happiness. Make sure to get enough sleep, exercise regularly, eat a healthy diet, and take breaks to de-stress.
3. Develop a Growth Mindset
A growth mindset is a belief that you can improve and grow through effort and learning. This mindset can help you embrace challenges and setbacks as opportunities for growth rather than viewing them as failures.
4. Build a Strong Support System
Surround yourself with positive and supportive people who can offer encouragement and guidance. A strong support system can help you navigate difficult times and achieve your goals.
5. Keep Learning and Growing
Lifelong learning is vital for personal and professional development. Seek new experiences and challenges that will help you grow and develop new skills.
6. Practice Gratitude
Focusing on what you are grateful for can help you stay positive and motivated. Keep a gratitude journal and write down three things you're blessed to have in life daily. Remember, there's always something to be thankful for.
7. Be Resilient
Life will throw challenges and setbacks your way. It's vital to be resilient and bounce back from these challenges.
Practice coping strategies like finding a supportive person to talk to, taking breaks to recharge, or finding ways to reframe the situation in a more positive light.
End of the Line
No matter how tough life gets, I want you to keep moving forward and achieve success.
These 70 onward and upward quotes will always remind you to keep pushing through challenges and never give up on your dreams. Let these words be a beacon of hope as you continue your personal growth and development journey.
Never stop, mate! Don't let setbacks or challenges stop you from reaching your full potential. You got to cover a really long journey.
I hope you achieve bumper success.
See you in the next post.
| SPREAD THE LOVE
| WRITTEN BY
| YOU MIGHT ALSO LIKE