Paul Walker Biography, Net Worth, Daughter, Girlfriend…
Updated On: December 24, 2022
Paul Walker Biography · His Debut in Hollywood · Paul Walker's Daughter and Girlfriend · His Fascination with Cars · Lesson Learned From him…
On November 30, 2013, Paul Walker and his friend, Roger Rodas, were coming back from Walker's charity 'Reach out Worldwide' in a red Porsche Carrera GT.
The sportscar was speeding over 100mph on the streets of Santa Clarita while Rodas was driving the car. The vehicle suddenly lost control, smashed into a tree, and burst on fire.
The sudden demise of 'the fast and the furious' star, 'Brian O' Conner, aka, Paul Walker,' shook the whole world. All the 'fast and furious' fans and cast broke into tears when they heard about the death of such a pure soul.
It is no doubt that without Paul Walker, the fast and the furious series will always feel incomplete.
So, with 'Fast 9' launched just recently, here's a heart-touching biography of Paul Walker.
Paul Walker Biography
Paul William Walker IV, better known as Paul Walker, was the son of Paul Walker III (a sewer contractor) and Cheryl (a fashion model). He was born in Glendale, California, on 12-09-1973.
Paul was the oldest of his four siblings: Aimee, Ashlie, Caleb, and Cody.
Paul Walker's Childhood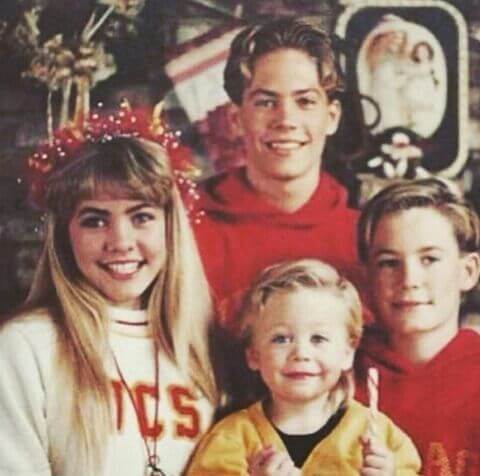 Paul Walker was a born model and a star.
He inherited astonishing looks and a charming personality from his mother, who was a model herself. He entered modeling at the age of just two when he first starred in a television commercial for pampers.
As he grew up, he took roles in TV series such as Highway to Heaven, Charles in Charge, and Who's the Boss.
Paul Walker Biography – His Education and Love for the Ocean
Paul was known for acting, but he also had a deep connection with the ocean. He graduated from 'Sun Valley's Village Christian High School' and further studied as a 'Marine Biologist' from 'California Community College.'
Thus, whenever he took a break from acting, he spent most of his free time in the ocean. He also fulfilled his lifelong dream in 2010 as a part of the crew in the National Geographic series 'Shark Men.'
Paul Walker's Struggle During College Days
An exclusive interview revealed that Paul Walker and his business partner Brandon Birtell were homeless during their college days. Further, they lived in their cars or homeless shelters because the tuition fees were extremely high so, they couldn't afford rents.
His Debut in Hollywood
Paul made his Hollywood movie debut in 1986 as professor Benett in the horror/comedy movie "Monster in the closet." The next year, he appeared as Jason in a low-budget cyborg action film, "Programmed to Kill."
He got a lead role for the first time in the movie "Meet the deedles" in 1998. Since then, he started receiving much more fame and popularity.
Birth of his Daughter and Break Up with his Girlfriend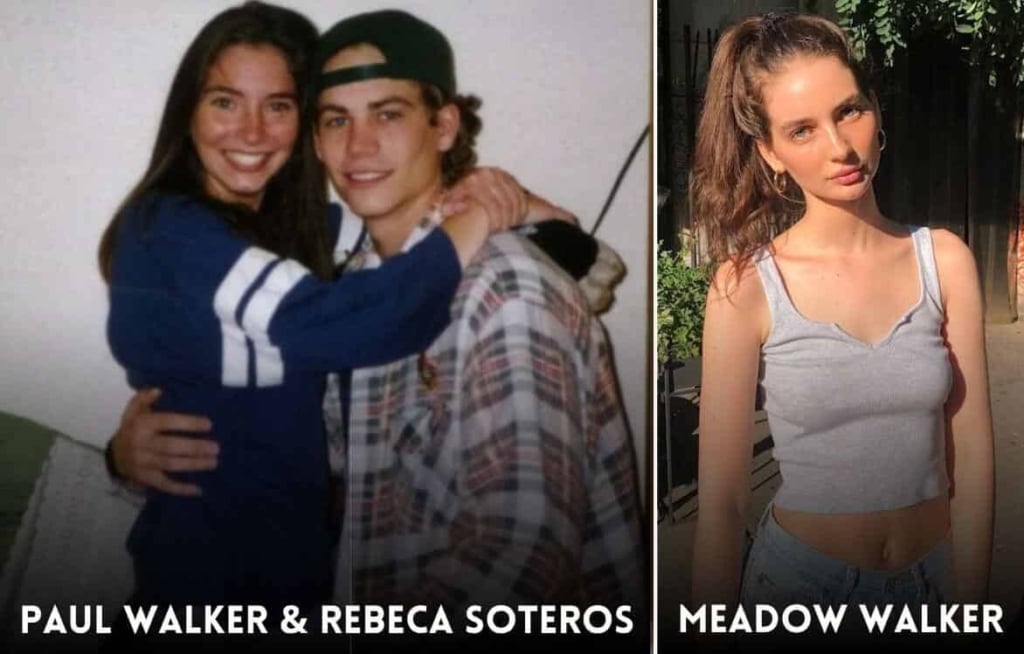 Paul Walker started dating Rebecca Soteros in early 1998. Rebecca gave birth to a little princess 'Meadow Rain Walker' on '4th November 1998.'
However, the couple broke up because Paul didn't accept Rebecca's marriage proposal as he was 25 and felt unready for marriage. As Paul wasn't ready to commit, Rebecca moved to Hawaii with Meadow and raised her till 13. After that, Meadow relocated to California to live with her father due to his mother's alcohol problem.
Turning Point in Paul Walker's Life (The Fast and the Furious)
2001 was a massive turning point in Paul Walker's life.
Due to his exceptional performance in Varsity Blues (1999), She's All That (1999), and The Skulls (2000), he was selected to play an undercover cop, Brian O' Conner, in the fast and the furious series.
People liked the movie. His popularity and fanbase shot up. Since then, a lot of people have developed a love for Paul Walker.
His Fascination with Cars
We've seen Paul Walker as a race car driver in the fast and furious series. But did you know that Paul was a car enthusiast and a racer in real life as well?
He performed all of his stunts by himself in "the fast and the furious."
Not only that, Paul Walker had a collection of around 30 cars, and he was the owner of high performing car shop called 'Always Evolving.'
He even competed in the "redline time attack" racing series with his "BMW E92 M3."
Paul Walker's Tragic Death During the Production of 'Furious 7'
Paul Walker passed away at just the age of 40. The fatal car accident that I've described in the beginning took him away from all of us.
Around 5000 fans, friends, and car enthusiasts headed to the Santa Clarita car crash site to pay tribute to Paul Walker. High-performance cars revved their engines at the event in honor of Paul Walker.
The movie was further completed with the help of his brothers Caleb and Cody using the CGI system.
He was a Person Full of Life
Paul Walker lived with us for a short period, but he enjoyed every moment of his life. He didn't keep chasing money and always did what he loved the most.
Paul never changed, no matter what. He was an extremely humble and down-to-earth person even when he had everything in life or when he had nothing.
Paul was a big kid. Whenever he was free, he was found enjoying in the oceans or drifting on the tracks or the grounds.
Paul Walker was a Social Worker
I'm a doer, and whether it was the tsunami in Sri Lanka or the earthquake in Indonesia, I was always saying, 'I should be there; I should be helping out.'

~Paul Walker
Paul loved to help people, and he was a great humanitarian. He founded a non-profit disaster relief organization, 'Reach out World Wide' in 2010, which is active until now.
After Paul Walker passed away, his daughter (Meadow Walker) started the Paul Walker Foundation to carry on the legacy of goodwill.
What Paul Walker Taught Me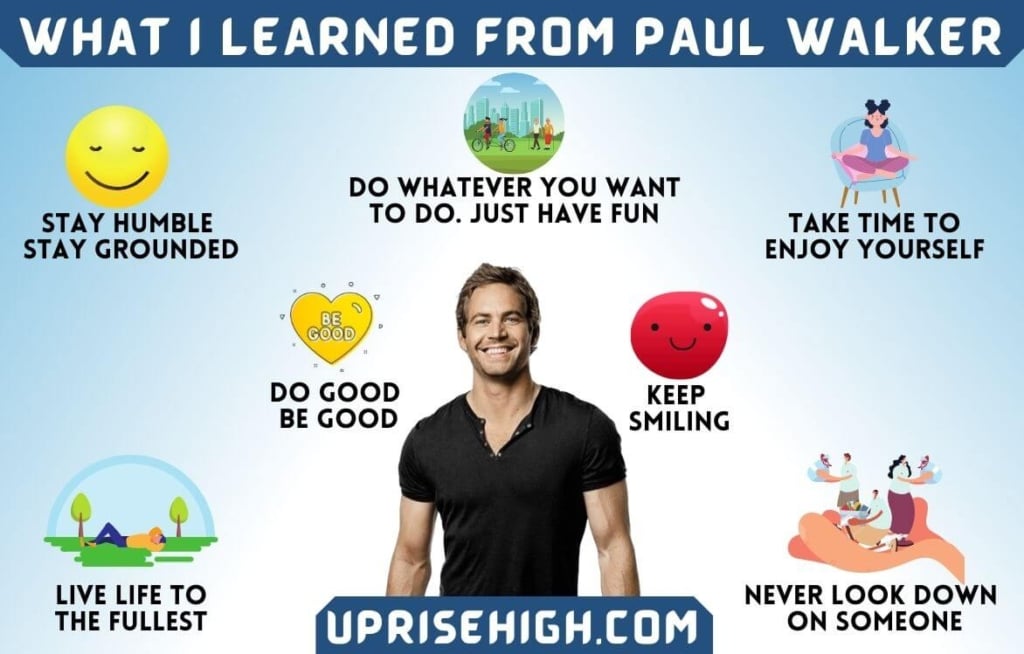 End of the Line
So, that concludes the story, and I hope you enjoyed it. You can also have a look at some of Paul Walker's quotes that will make you miss him even more.
He was a wonderful man who left us all far too soon. His smiling face and bright eyes will always remain in our hearts. I just hope that he's happy wherever he is right now.
R.I.P Brian.
FAQ's
| SPREAD THE LOVE
| WRITTEN BY
Varun Pahwa
Hi! I am Varun. I created Uprisehigh for you to share your life story & get answers to all your life problems. As your best friend, I'm committed to inspire you, simplify your life, and help you grow. Let's stick together on this beautiful life journey, mate!
| YOU MIGHT ALSO LIKE