It's been a long day without you, my friend
And I'll tell you all about it when I see you again…

~ Charlie Puth
The moment we hear these lines from the song "see you again" fills our eyes with tears and the image of our beloved paul walker flashes by our eyes. 
Paul Walker, A racer and an iconic actor of 'The Fast and the Furious Series,' left us in 2013 during the production of the 'Furious 7.'
Even though he isn't between us anymore, he is still alive in our hearts. Our 'Brian O' Conner' (Paul Walker's character) is irreplaceable in the fast and furious series, and the series will always be incomplete without him.
With the release of 'Furious 9' on 'June 25,' the memory of Paul Walker has revived once again.
Through 'Paul Walker quotes' and a 'heart-touching life story,' here's our tribute to him.
47 Heart Touching Paul Walker Quotes that will Make Your Eyes Water and Remember Him Even More
So, here are some amazing Paul Walker quotes that you don't want to miss out on:-
1. If one day the speed kills me, don't cry because I was smiling.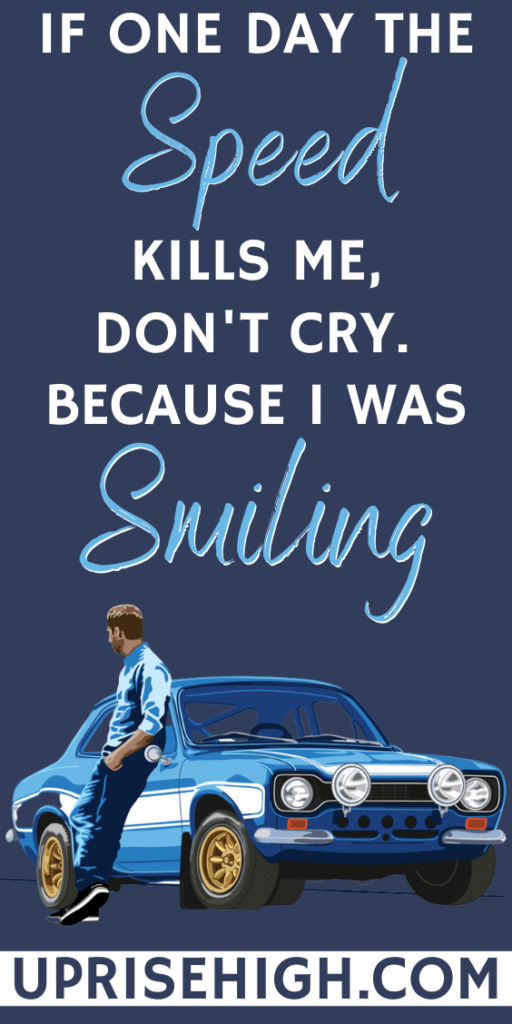 ---
2. I'm Brian a lot more than I'm Paul Walker, which is awesome. When I hear, 'Hey Paul Walker!' my hair stands up on the back of my neck. It's uncomfortable. But when I hear, 'It's Brian!' it's cool. I like Brian.
---
3. I've always wanted to race cars, even since I was a young boy, as I think a lot of guys have.
---
4. I'm one of those people that think certain things happen at certain times for all the right reasons.
---
5. Remember that no matter how cool you think you may be, you're not cool enough to look down on anyone…ever.
---
6. As for Hollywood, I've got a killer job, and I'm having a blast. I have the luxury to go on trips whenever I want and invite my friends who can't afford it. And, God willing, I'll be able to do all that till the day I die.
---
7. It's not about working anymore, it's about doing work I can be proud of.
---
8. Sometimes the hurdles aren't really hurdles at all. They're welcome challenges, tests.
---
9. I have friends that are super talented, that are far more talented than I am in certain areas, but it just doesn't happen for them. Sometimes you feel guilty for your success because you know people who deserve it way more.
---
10. I think that just sitting down and having a casual conversation is the hardest stuff to do. But the extremes? I know what it feels like to come racing around the corner at 90 miles an hour, sliding the car sideways. I know what gear I'm hitting it in when I'm coming around the corner and where I need to downshift. So to me, that's the fun stuff.
---
11. I don't think of myself as a romantic person; I'm kind of more rough and tumble, I think. The things I'm drawn to are outdoorsy, I only get dressed up when I have to. I'm drawn to women who are into the same type of thing. If you're going to call it romantic, I'm very spontaneous. That's probably the best thing I have going for me.
---
12. There's more to life than movies.
---
13. You know, all that really matters is that the people you love are happy and healthy. Everything else is just sprinkles on the sundae.
---
14. There's a time and place for everything, but as I get older, I like finding those human moments and really connecting. Maybe I'm not as cool as I once was.
---
15. I'm not the least bit polished, I come from a blue-collar background, and I never thought I could feel comfortable around the English.
---
16. The whole thought of being a dad was scary to me.
---
17. I learned a long time ago that if you subscribe and believe the good, you have to believe the bad. My measure is my heart and what I know.
---
18. I've been so transient, I've been on my own since I was 16. I didn't even have my own place until I was 32 years old. I literally lived out of bags for 16-plus years.
---
19. We're only on the earth for a short period of time. Movies aren't enough. I want to take my success and parlay it into something bigger and better.
---
20. I'm into being a dad, that's where my focus is most of the time. I'm an actor that's my job, but it's not my life. I have a lot of other interests too.
---
21. The dream is to have it all. Who says you can't have your cake and eat it too? Live this life, that life, this life, you know? You only live one time – I want to get it all in.
---
22. I fell in love with the ocean when I was just a little kid, four or five years old, I was a junior ranger, I was going out and doing intertidal stuff, walking around and sticking my finger in my first sea anemone and picking up starfish and all that. It gripped me when I was young.
---
23. I love doing the action stuff. It's soooo much fun!
---
24. I'm not afraid of anything. That's just the way I am.
---
25. Maybe this is just horribly bad, but I think I've had enough successes to where the journey is more important to me now. There's no guarantee, no matter what. We get one run in life.
---
26. My philosophy is: If you can't have fun, there's no sense in doing it.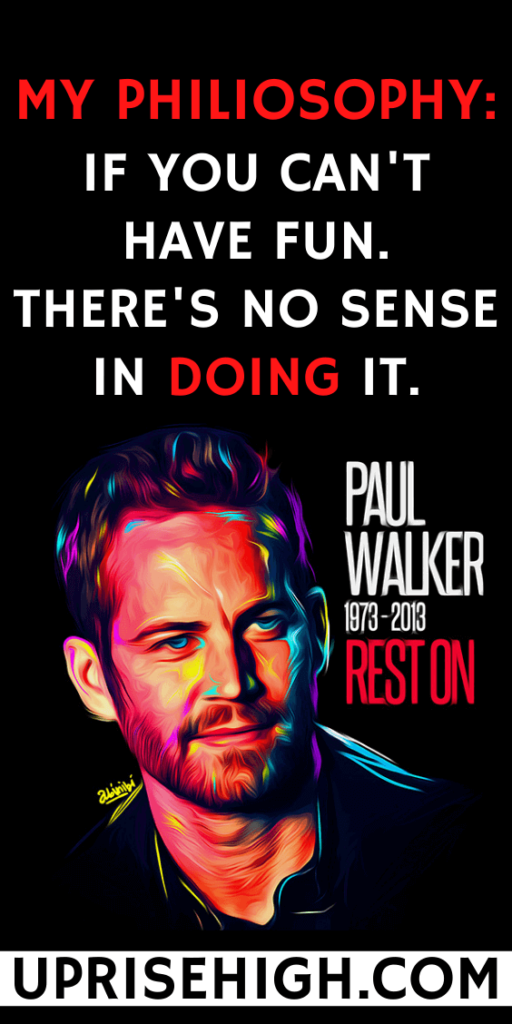 ---
27. I'm a doer, and whether it was the tsunami in Sri Lanka or the earthquake in Indonesia, I was always saying, 'I should be there; I should be helping out.'
---
28. I hope I'm in a position to make stuff that I really want to make as opposed to stuff that I just have to make for money reasons or to sustain a certain marquee value.
---
29. My parents never looked at my acting as a career. They saw it as a way to help provide for the household.
---
30. I thought I'd just do a wave of movies, and then I'd burn out. They just kept coming together.
---
31. I'm a surfer. I grew up in Southern California and used to surf twice a day, every day.
---
32. I pack a toothbrush, toothpaste, and deodorant. That's it. I don't have the time or patience for anything else. I'm a natural kind of guy. I don't style my hair – never learned how.
---
33. Me and my buddies are all like brothers. So it's okay for us to say 'I love you or whatever. It's always cool. I think that comes from my dad. That's just the way he always was.
---
34. That's one thing about Hollywood. People don't always want what's real. People always want a little more. So for me, it's a compromise. Here you go, that hyper-reality.
---
35. There's a lot of guys that just get comfortable with their positions and rest on their laurels. I had to earn my way.
---
36. You know, I'm a pretty mellow guy. I'm pretty easy-going. I see everyone's perspective
---
37. My father's a protector. My father's old-school. He's a cowboy.
---
38. I think my mom put it best. She said, 'Little girls soften their daddy's hearts.'
---
39. Football was my sport. I was fast. I was a free safety.
---
40. My mom's hot. I mean she's old, but my mom's out of control.
---
41. My motto is, you have to get in a sport a day.
---
42. I want to wake up next to what I went to bed with. I need a girl who can get dressed up to come with me to things, but also one who isn't afraid to get her fingernails dirty or chip her nail polish.
---
43. If you spend any time with a man, you'll realize that we're all still little boys.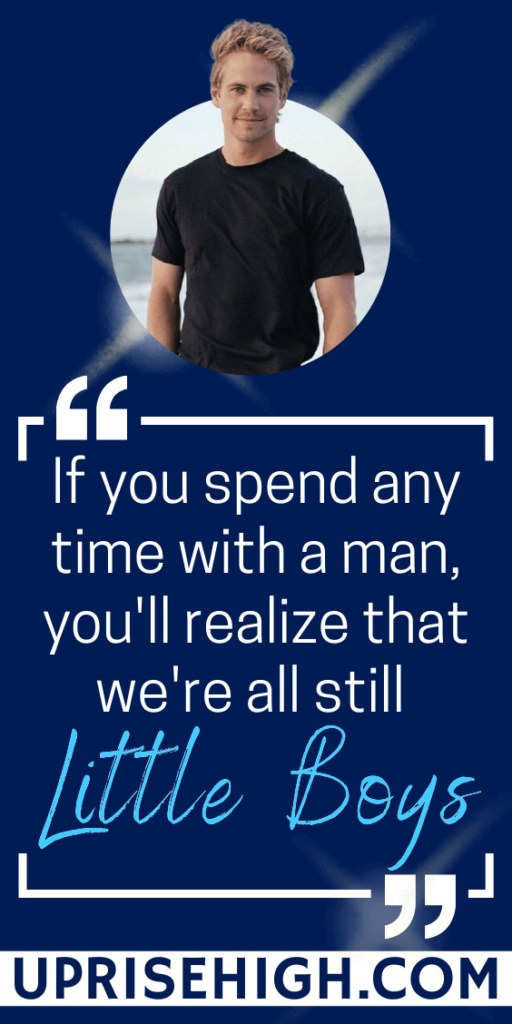 ---
44. Surfing soothes me, it's always been a kind of Zen experience for me. The ocean is so magnificent, peaceful, and awesome. The rest of the world disappears for me when I'm on a wave.
---
45. The people I don't understand are atheists. I go surfing and snowboarding, and I'm always around nature. I look at everything and think, 'Who couldn't believe there's a God? Is all this a mistake?' It just blows me away.
---
46. I'm a problem solver. I love people. The more complicated they are, the more I get into them, and I just want to understand what makes them tick.
---
47. I'm a crazy car guy. I've got an airplane hangar full of cars.
Related Items Recommended for You
*Promotional Content*
If you loved these meaningful quotes, you can consider customizing quotes pins, stickers, and other merchandise to express your thoughts about Paul Walker.
These objects are not only an inspiration to yourself but also an expression of your eternal yearning for him. You can use these custom pins as accessories to pin on clothing, hats, etc. It's so rewarding! If you're interested, start your customization journey!
End of the Line
I hope you loved these Paul Walker quotes and I am pretty sure you'll be missing him by now.

Paul Walker will always be in our hearts, no matter what. I just hope wherever he is, he's always fulfilled and happy. 
He was a guy who lived for himself as well as other people. With every release of the fast and the furious series, his memories will be back again.
You'll always be in our hearts, Brian.
Miss You!