Sandeep Maheshwari Biography: Story of Self-Made Millionaire
Updated On: December 24, 2022
Do you know the insane struggle to success story behind Sandeep Maheshwari? Check out this inspirational Sandeep Maheshwari Biography & get to know all about him.
Here's a question for you:- If you are an Indian, what is the name of the first person that comes to your mind when I say the term "motivation?"
I am pretty sure it would be Sandeep Maheshwari.
By chance, if you are still unaware of this name, Sandeep Maheshwari is one of the most recognized names in the inspiration and public speaking industry. Along with it, he's an entrepreneur (founder and CEO of ImagesBazaar) and a photographer.
Sandeep Maheshwari also has a YouTube channel with 20.8 million subscribers (as of 27 August 2021), but he doesn't earn a single penny from his YouTube channel. He hasn't monetized his channel until now and has no plans of doing so in the future. All because he has always wanted to provide a seamless experience to his viewers.
Another stunning fact about Sandeep Maheshwari is that the entry in all of his seminars is for free.
Curious to know the story behind such an amazing person who has changed the lives of millions?
So, without any further delay, let's dive right into the Sandeep Maheshwari biography and put an end to your curiosity.
Sandeep Maheshwari Biography – Early Life
Sandeep Maheshwari was born to his father, Roop Kishore Maheshwari, and his mother, Shakuntala Rani Maheshwari, on 28 September 1980. He has one sibling (sister).
During his childhood days, he was extremely naughty and participated in fights with kids around his age. Sandeep wasn't even good at studies and always received low grades until class 11th. An incident happened in class 12th that changed his life which I'll tell you further in this Sandeep Maheshwari Biography.
Sandeep was born in a middle-class family where his father was in the aluminum business, and his mother was a housewife. They had money just to afford the necessities of living, and they couldn't afford expensive things at all. Also, they lived in a 2BHK rental apartment that had small rooms and little space.
How Sandeep Maheshwari developed a money-making mindset? (The Tata – Birla Incident)
Sandeep Maheshwari's money-making mindset developed when he was around 5-6 years old.
The question is:- "how did he develop such a mindset at such a tender age?"
Here's the story.

Sandeep had rich neighbors who could afford things with ease. They bought a red bicycle for their son, who was a good friend of Sandeep. Both used to race in the evening in the park, and Sandeep Maheshwari used to win the race. But, when Sandeep's friend received a bicycle, he started winning all the races because Sandeep was on foot and he was on the bicycle.
Little Sandeep, out of the sadness of losing every time, asked his father for a bicycle as well. His mother asked his father to fulfill his demand, but his father denied it and replied in frustration:- "I am not Tata-Birla who would keep fulfilling the demands of Sandeep."
Sandeep Maheshwari was standing outside the room and hearing the conversation.
The next day he asked his mother, "Who is Tata-Birla?" when she replied that they are the prosperous people who could afford even the most expensive things in the world.
It was when little Sandeep Maheshwari decided that he would become Tata-Birla one day.
First Business at the Age of 13
Sandeep's father gifted him a moped (a lightweight two-wheeler) when he was 13 years old. He used to wander on the crowded streets of Delhi, which made him aware of the practicality of life because of real-life situations that he faced at such a young age.
He amazed his family by coming up with a business idea of making money by renting the moped. The conditions were that the person had to bear the fuel expenses, which left Sandeep Maheshwari with a clean profit.
He started this small business by renting his moped to his friend, who would take his girlfriend for a ride.
Soon, the business leaped, and he started charging Rs.50 per hour.
It is how he started with his profit-making journey at such a young age.
School Time Attitude and Poor Self-Esteem
Even though Sandeep Maheshwari was naughty during childhood, his classmates had a wrong image of him in their minds. They considered him as an introverted and reserved kind of person which wasn't the reality.
Until class 10th/16 years of age, whenever he tried to get inside any group of students, they pushed him out and told him to stay away.
All of it made him feel lonely and unacceptable to the students of his age.
Sandeep only had one friend at that time, with whom he used to have lunch and enjoy the time.
Whenever his friend was absent or talking with someone else, Sandeep felt insecure that his friend might leave him. He also felt that he would be left all alone, which also lowered his self-esteem.
How Sandeep Maheshwari Became a Smoking Addict?
At the same time (class 10th), Sandeep Maheshwari joined a gym where he made a group of friends that weren't walking on the right track in life.
After the gym, they spent 3-4 hours smoking and gossiping with each other. Soon, Sandeep started getting involved in the same activities and almost became a chain-smoker.
His Love Story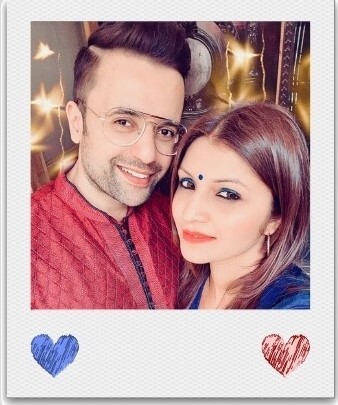 In class 11th, Sandeep decided to change his school. While he was waiting at the reception, Ruchi saw him and felt attracted towards him. He didn't see her at that time and got admission into the school.
When it was the first day of his school, Sandeep Maheshwari saw Ruchi and felt attracted towards her, but considered her way beyond his standards because of poor self-esteem.
Soon, both Sandeep and Ruchi became friends and started developing trust in each other.
One day Sandeep asked Ruchi to bunk the class but didn't have faith that she'll do it.
The funny part is, Ruchi bunked the class, and Sandeep went to the class.
It is when he felt that the friendship could turn into a beautiful relationship. After 5-6 months, the love affair of both of them started, and the whole school was aware of it.
The relationship was working well, but Sandeep was still a smoking addict.
Turning Point in Life
Class 12th (18 years of age) was one of the biggest turning points in the life of Sandeep Maheshwari. It was when his perception of life changed completely, he quit smoking and became career-oriented.
Here's how all of it happened.
Following daily routine, one day, Sandeep Maheshwari was smoking cigarettes with one of his friends. Suddenly, a question popped up in his mind, and he asked his friend, "what are your future career plans, buddy?"
His friend replied:-"Nothing much, my friend. I'm gonna chill out for the next 3/4 years of college. Further, I'll try to get a job, but if I don't get one, I'll just start working in my father's business."
After hearing the reply, Sandeep was full of questions and confusion. He put out the cigarette and went back home.
He locked himself up in his room for two to three days and kept thinking about his future, but all he saw was darkness. He felt that neither he was good in his studies nor his father had money to put in a business.
All of it blew his mind away, and the fear of having no money in the future changed him.
It is when he quit smoking forever and started focusing on his future.
Sandeep Maheshwari Stopped Talking to Ruchi
Every relationship goes through ups and downs, and class 12th was the time when the relationship between Sandeep and Ruchi became turbulent.
Sandeep was extremely shocked after knowing the reality of him and his career. Further, he decided to concentrate on his studies, leaving everything else aside.
He stopped spending time with Ruchi and kept studying all day long. He didn't even talk to her, which made her feel disappointed. They were simply in a relationship with no communication and total disconnection. It is when their relationship went through a bit of a hard time.
The funny part is, Sandeep Maheshwari received 85% in class 12th while Ruchi topped the school.
Soon everything settled down, and Ruchi is now Ruchi Maheshwari as both Sandeep and Ruchi are happily married. They have a son named Hriday Maheshwari and a cute daughter.
The Struggle to Success Story that Even Most of Sandeep Maheshwari's Fans Don't Know
Started a Helpline
Right after class 12th examinations, when Sandeep Maheshwari was still 18, he took admission into Kirorimal College (Delhi University) to pursue Bachelor in Commerce.
He decided to start something that would earn him experience and add a few bucks to his pocket.
So, he started a helpline to guide students about what they can do after their class 12th. He invested a small amount of Rs.2500 on the pamphlets and posted them in his locality.
Soon, he started receiving calls on his home landline number.
Tie Up and Enrollment with NIS
Sandeep Maheshwari wanted to pursue something equivalent to MBA in terms of learning.
Therefore, he enrolled himself in NIS (National Institute of Sales) for one year course, whose curriculum was practical rather than theoretical. The fee for the course was Rs.50,000.
The course involved role-plays, group discussions, and presentations which increased his confidence. Also, it was when Sandeep developed communication and public speaking skills.
Sandeep even received a bonus while joining NIS. It was that he would receive a 20% commission upon every referral enrollment. With the help of his helpline, he enrolled a student in NIS within six months and received Rs.4500 as a commission.
He earned Rs.2000 as a profit, but the experience that he received was invaluable.
Later, he dropped out of the course (in 11 months) one month before course completion because he realized he had already learned what he wanted to learn.
Joined a Multi-Level Marketing Company
Sandeep was doing a lot of things altogether after the class 12th.
Along with studying at NIS and Kirorimal College, Sandeep Maheshwari joined an MLM company where he met students around 21 years of age earning Rs.1-1.5 lakhs per month.
From there, he developed a mindset that earning large sums of money isn't difficult. He also developed a spirit that he could earn a lot of money too.
Further, he started earning Rs.10,000 – Rs.15000 per month through the same MLM company but left it because of too much criticism by parents and relatives.
Manufacturing Liquid Soap
As soon as Sandeep Maheshwari left the previously mentioned MLM company, an idea of manufacturing liquid soaps popped into his mind.
He saw that a company was selling liquid soaps for around Rs.400, but the soaps didn't justify the cost.
So, he went to Ghantaghar (place in New Delhi) to collect the chemicals for soap preparation. Further, he started making liquid soaps and selling them for Rs.10 – Rs.15 while the cost of making was Rs.5.
The business didn't work out for long and collapsed. Still, the lessons that Sandeep learned were invaluable.
The Collapse of His Father's Aluminium Business
When Sandeep Maheshwari was 19 years old, his father's aluminum business collapsed, and the family had to go through tough times.
His father opened a conveyor belt business while his mother opened an STD PCO shop. Sandeep helped his mother by taking care of the shop.
Unfortunately, none of the businesses worked, and the family's responsibility came over to Sandeep's shoulders.
Sandeep Maheshwari Entered Modeling
Sandeep Maheshwari entered modeling when he was 19 years old. He did some modeling shows in his Kirorimal college and went to various modeling agencies but realized that most agencies were fraud or scams.
Looking at the exploitation and harassment involved in the industry, he left modeling and took the initiative that he would change the modeling scenario.
Another reason for leaving modeling was that Sandeep felt that he couldn't be an actor while he was born to be a director.
It means he felt that he couldn't accept the orders given by someone else. He always wanted to be his own boss, but modeling wasn't allowing him the freedom to do the same.
Sandeep Maheshwari Started Photography
As Sandeep had already left modeling, he was already determined to help the models out there. Adding, he came across the modeling portfolio of one of his friends.
It is when the idea of photography came into Sandeep Maheshwari's mind.
After attending a two-week course, he purchased a camera and started working as a freelance photographer. He started doing free photoshoots of his friends and relatives, and photography turned into his passion.
Soon, he was earning around Rs.20,000 – Rs.25,000 per month from his photoshoots.
Still, the fire of achieving something extraordinary was burning inside him, and he kept going.
The DIX 2000 Event Betrayal
In the year 1999, an innocent-looking guy approached Sandeep Maheshwari with an idea to organize a new year party bash (on 31 December) for the upcoming year 2000.
The idea to earn a bit of extra money felt tempting to Sandeep, so he agreed.
They were connected while the preparation for the event was going on. The party was organized in a banquet hall for 800 people and went amazing.
However, after the party, Sandeep's partner collected all the money and went away with his friends. Poor Sandeep, who toiled hard for the party, was left with nothing but an empty pocket.
Still, he kept his head high and knew better things were waiting for him. He danced back home and kept his enthusiasm levels at the top. He was happy for the hard work he did and what he learned.
Joined Another MLM Company (Japan Life)
In the year 2000, when Sandeep Maheshwari was 20 years old, his friend approached him to join another MLM company named Japan Life. It was a premium company because of which the joining fee was higher.
Sandeep had to pay Rs.70,000 as a joining fee. As he didn't have enough money, he collected the money by selling his camera and borrowing money from his friend and parents.
After 11 months, he earned the position of direct distributor in the company as he made 125 people join the company. He was earning around Rs.1.25 lacs to Rs.1.5 lacs at that time.
Still, the satisfaction level was not upto the mark, so Sandeep decided to leave it as well. He received a lot of criticism that he shouldn't leave the MLM company as he was already earning decent money at that time, but Sandeep didn't stop.
Dropped Out of College
Sandeep Maheshwari dropped out of the Kirorimal College in his third year of B. Com (2001). A shocking fact is that he dropped out just before one year of completion of his degree.
All because he felt that he had already learned what he wanted to learn. Thus, he continued to walk on his journey towards success.
Started A New Company
Sandeep Maheshwari started an MLM company with three of his friends from Japan Life. All of them invested Rs.1 lakh each.
The company was working well and yielding a good turnover. It had three offices, and 1100 people joined.
Unfortunately, the company failed within six months because of internal conflicts and partnership differences.
Sandeep Maheshwari was once again left with no money in the pocket. It was a big disaster for his life. He even started losing confidence in himself but giving up was not an option for him.
Wrote a Book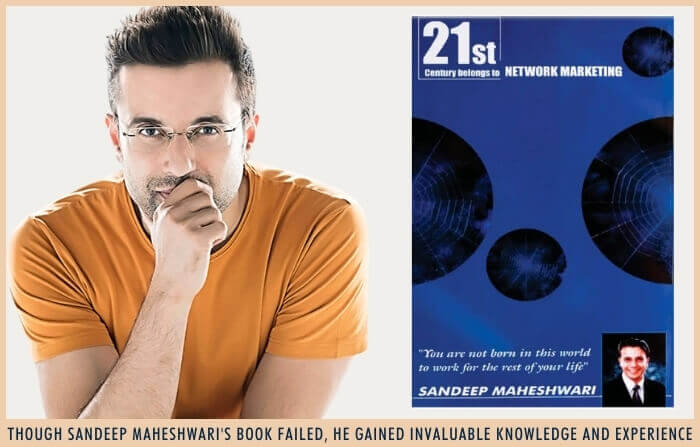 Sandeep Maheshwari, until now, had gained a good level of expertise in the network marketing world. Therefore, he decided to write a book on Network Marketing to share his knowledge and expertise on the topic.
It was a failure once again, as every publisher denied publishing his book.
Therefore, he got the book printed by himself and tried to sell them, but it didn't work.
Sandeep was still full of energy because he knew he had learned a lot while writing his book. It is because he had to refer to multiple sources before creating the final piece.
The references that he read at the time of writing the book are still helping him deliver his knowledgeable and inspiring speeches.
Back to Photography
After failing at almost every moment in life, Sandeep was lost and had no ideas that would help him to continue further.
Suddenly, one day, he once again saw the modeling portfolio of one of his friends, which made him remember his long-lost photography skill.
He purchased a camera and started clicking the pictures once again. Now, he started making around Rs.30,000 – Rs.40,000 per month, and money started rolling back in.
Story of Breaking the Guinness World Record
Sandeep felt that his growth was stuck at earning Rs.30,000 – Rs.40,000 per month.
He knew it was time for him to establish himself as a brand, and that's when he felt the need to do something exceptional.
The idea that clicked him was to create a world record in photography. Thus, he discussed his plans with Vijay Ghose (Managing Director of Limca Book of Records), who told Sandeep to hire 100 models and snap at least 10,000 different pictures in 12 hours.
At the time, Sandeep and his friends calculated that it would require Rs.10 Lakhs to appoint 100 models for photoshoots.
Sandeep Maheshwari knew that he didn't have enough funds, so he came up with a brilliant idea to reduce the cost and earn profit.
He knew that models in India were struggling and had no money to afford the photoshoots. Thus, he circulated pamphlets of the photoshoot for models at Rs.500 per person.
Soon, 122 models were present in the queue to avail the tempting offer. Sandeep Maheshwari further clicked more than 10,000 photos in 10 hours 45 minutes and broke the world record.
He became an overnight sensation, and the newspapers were flooded with his photo and accomplishment.
All of it made him the busiest photographer in the city, and he attained exponential growth.
Sandeep Maheshwari Started Images Bazaar
Sandeep Maheshwari always wanted to help the struggling models, and the previously mentioned incident gave him an idea that he could start a company offering stock images.
In 2005, he started the project ImagesBazaar to pay the models and help in their upliftment instead of charging money from them.
Even though the company was making massive profits, it stopped making portfolios and shifted its focus to stock photos, which shocked many people.
Sandeep Maheshwari launched ImagesBazaar.com in 2006, but it failed in a few months as he didn't know anything about IT. Soon, he learned all the aspects of a website and reworked it completely.
ImagesBazaar Becomes a Huge Success
Since then, the company has started achieving heights of success.
ImagesBazaar is the largest company in the world in terms of Indian stock photos and videos. At present, the company also has more than 7000 clients in more than 45 countries of the world.
End of the Story
Sandeep Maheshwari turned out to be a great success since then because of his never-give-up attitude.
He kept learning and gaining new experiences, which made him a stunning personality. He had the vision to see the positive in every negative, which made him stay enthusiastic in a tough journey.
Sandeep continues to inspire the youth, and his perception is helping others to broaden their mentality too. His seminars and motivational speeches are mind-blowing, and the values that a person can learn from them are invaluable.
Lessons Learned from the Sandeep Maheshwari Biography and Life Story [Infographic]
Parting Thoughts
The deadliest people in the world are the ones who learn from the mistakes and stories of others.
So, did you learn a few lessons from this Sandeep Maheshwari biography too? If yes, make sure to write them down in the comments section.
I hope you loved the success story of Sandeep Maheshwari. Make sure to share it with your friends, and they might find it useful too.
The clock's ticking!
Now go ahead, start working on your dreams and present me with an opportunity to write your story.
You can change the world!
FAQ's
| SPREAD THE LOVE
| WRITTEN BY
Varun Pahwa
Hi! I am Varun. I created Uprisehigh for you to share your life story & get answers to all your life problems. As your best friend, I'm committed to inspire you, simplify your life, and help you grow. Let's stick together on this beautiful life journey, mate!
| YOU MIGHT ALSO LIKE