49 Superhit Kota Factory Dialogues Guaranteed to Inspire You
Updated On: December 24, 2022
Looking for some of the most inspirational TVF Kota Factory dialogues? Check out these stunning handpicked dialogues from Jeetu Bhaiya, Vaibhav, Sarika Mam, Meena, Uday & more.
If you are an Indian student who loves watching web series, I am pretty sure you would have watched the Kota Factory series.
If you haven't, then it is a must-watch if you want to refresh your good old memories of competitive exam preparation days. 
Moreover, there's a lot to learn from the series too!
However, If you don't have time to watch the series but want to know what's so informative and inspirational in it, you just landed on the right spot! 
Here I am, with a handpicked list of stunning Season 1 and Season 2 Kota Factory dialogues you'll surely love.
Without any further ado, let's start.
27 Inspiring Season 1 Kota Factory Dialogues
1. "Sunn, Vaibhav Pandey. Bheekh mangne me zyada maza ata hai kya? Agr kuch chahie to mehnat kar aur cheen le."

~Jeetu Bhaiya
Translation:- Listen, Vaibhav Pandey. Do you like begging? If you want something, work hard and snatch it.
---
2. "Tumhari duniya mein sirf IIT bachta hai. Sirf IIT. Is umar mein jab-jab kisi cheez ko itni buri tareeke se chahoge na to do hi baatein hongi.
 
Agar mil gayi to sukoon aur agar nahin mili to milegi jalan, chubhan, regret, gussa, jealousy aur self-doubt. Bhai sahab confidence gir jata hai. Jitna duniya nahin maanti, aadmi khud ko ussey bhi jyaada loser maan ne lag jaata hai."

~Jeetu Bhaiya
Translation:- "IIT becomes your whole world. Only IIT. 
At such a young age, whenever you want to achieve something but don't get it, you are left out with only two possibilities. If you get it, you are satisfied. But, if you don't get it, you are left out with jealousy, regret, anger, and self-doubt. 
Your self-confidence goes extremely down. Even when society doesn't call you a loser, you feel like a loser by yourself."
---
3. "Galat dekha hai filmo mein, galat suna hai logon se..ki IIT mein rat ke ho jaata hai. IIT mein chatur nahin, Sab rancho hi jaate hain."

~Jeetu Bhaiya
Translation:- "You've heard and seen it wrong that students get admission into IIT overnight. Chatur's don't get into IIT. Only Rancho does. (3 Idiots reference)"
---
4. "Bacche 2 saal mein Kota se nikal jaate hain!
Kota saalon tak bacchon se nahi nikalta."

~Jeetu Bhaiya
Translation:- Students get out of Kota within 2 years!
Kota doesn't get out from their thoughts.
---
5. "Sawaal samajh na hai to sawal ko dhuna kro."

~Jeetu Bhaiya
Translation:- "If you want to understand the question, jostle with it."
---
6. "Seedha padhne mat lago. Pehle chitra dekho"

~Jeetu Bhaiya
Translation:- "Don't start reading the questions directly. Look at the diagrams first."
---
7. "Pani nahi piya jarha toh pani pi!
Mess mein khana nahi khaya jarha to bss wahi kha!
Lambe samay tk ni betha jarha to bss beth ja. Challenge le ki mai baithunga, uthunga hi nahi!"

~Jeetu Bhaiya
Translation:- If you can't drink water, just drink it. If you can't eat the food prepared in mess, just eat it. If you can't sit to study for a longer duration, just sit. Challenge yourself that I'll keep sitting, no matter what.
---
8. "Apni problems ko dare bana diya aur dare seedha ego se connected hai
Aur ego ke nuksaan bahut hai par ek fayda hai: cheezen doable lagne lagti hain."

~Jeetu Bhaiya
Translation:- You converted your problems into a dare and dare is directly connected to your ego.
The ego has a lot of disadvantages but it has one benefit as well: Your tasks feel doable. 
---
9. "21 din mein koi bhi aadat lag jaati hai, koi bhi aadat chhoot jaati hai.
Toh yehi karna hai."

~Jeetu Bhaiya
Translation:- It takes 21 days to adopt or get rid of any habit. That's all you need to do!
---
10. "One cannot hate what one cannot see. 
Mess ke khane ki taraf dekho hi mat. Chup-chap roti uthao, jo mile wo lagao aur khao. Kabhi kabhi mann krega niche dekhne ka par ussi me tumhari haar hai."

~ Mess Student
Translation:- One cannot hate what one cannot see. 
Don't look at the mess food. Just pick up the chappati without a fuss, dip it in whatever you can, and just chew. Sometimes, you'll be tempted to look down, but that's where your defeat lies.
---
11. "Agar situation control mein hai toh tu cheat kr skta h. Kabhi kabhi cheating chalti hai. Bas adat nhi banni chahie."

~Jeetu Bhaiya
Translation:- If the situation is under control, you can cheat sometimes. Cheating is alright until it doesn't become a habit.
---
12. "Gande marks deke students ko beizzat krna teachers ko shobha deta hai, students ko nahi."

~Meena
Translation:- Only teachers can humiliate students by giving them bad marks. Not students can do the same.
---
13. "Teachers maa bap ke saman hote hain."

~ Meena
Translation:- Teachers are equal to parents.
---
14. "Arjun bhi na Dronacharya se lada that. 
Jabki Dronachrya sir was like the best teacher ever. Bestest teacher ever. Fir bhi unse lada tha vo.
Kyu?
Plot vgerah ke kabze mein. Aur tu Meena, JEE ke lie Batla ke against ek feedback form ni bhar skta."

~Vaibhav Pandey
Translation:- In Ramayana, Arjun fought Dronacharya as well. Even when Dronacharya sir was the best teacher ever. Bestest teacher.
But he fought him.
Why?
For plot seize matter. And you Meena, can't you fill a negative feedback form against Batla sir for the sake of your JEE? 
---
15. "Ab bhai muje class ke baad me bolta hai, 'Inorganic chemistry bhut danger hai. Bhut complicated hai. Mai chod dunga.' 
Maine kaha bhai, 'complicated to tumhari Girlfriend bhi hai, use bhi chod dete ho?'
Nahi naa!
Kya krte ho uske sath? Use attention dete ho, uspe focus krte ho. Usse pyaar se baat krte ho."

~Parminder Sir
Translation:- Now a student told me after class, 'Inorganic chemistry is a danger, sir. It's too complicated. I'll leave it.' 
I replied, 'Your girlfriend is complicated too, do you leave her as well?'
Nope.
Then what do you do? You give her attention, focus on her and talk to her nicely.
---
16. "11 Percent ke piche bhag ke apni pant ki crease kharab krni hai. Ya 89% pr focus krna hai?"

~Jeetu Bhaiya
Translation:- Do you want to chase the 11% and ruin your pant's crease. Or do you want to focus on the rest 89%?
---
17. "Rank to unki improve hoti hai na jinki arhi hoti hai.
Tumhari to chudail kha jaegi.
To aisi chudail ko tackle krne ka best tareeka hai, uljho mat side se niklo."

~Jeetu Bhaiya
Translation:- Ranks of those students are improved who are really getting it.
Yours will be eaten by a witch.
So, the best way to tackle the witch is, don't mess with the witch and get out from the side.
---
18. "Padhai ke sath sath thoda relax bhi kroge to burnout nahi hoga."

~Jeetu Bhaiya
Translation:- You won't feel burnout if you'll relax along with your studies.
---
19. "Gyan waste thodi na jata hai."

~Meenal
Translation:- Knowledge never goes wasted.
---
20. "Padhai bhi bahot relaxing hoti hai
bas partner sahi hona chahiye!"

~ Vaibhav
Translation:- Studies can be extremely relaxing as well. You just need to have the right partner.
---
21. "If you are smartest in the class, you are in the wrong class."

~Jeetu Bhaiya 
---
22. "Grow karna hai to move on karte rehna pdega."

~Jeetu Bhaiya
Translation:- If you want to grow, you need to keep moving on.
---
23. "Arjuna ne Indra se bhi seekha tha. Shiva se bhi seekha tha. But shishya toh woh Dronacharya ke hi kehlae naa."

~Jeetu Bhaiya
Translation:- Arjuna learned from Indra as well. He learned from Shiva too.
But, in reality, he was considered as a student of Dhronacharya only.
---
24. "Hamesha yaar kabhi aisa lagra hai hum Kota aae hain, maze karrhe hain, ghum rahe hain, padh rahe hain, memories banri hain, dosti hori hai.
Par yaar aisi dosti ke end mein jab result nahi ata na, toh mudke iss time ko yaad krne ka mnn bhi nahi krta. 
Fir vo bas ek buri memory banke reh jata hai. Agar select nahi hue na to hmari thodi bhut shaitaniyan glti banke reh jaengi."

~ Uday
Translation:- Every time we thought we are here in Kota enjoying stuff, roaming on the streets, studying, creating memories, making friends.
But, if you do not get any results at the end of friendships, you don't even want to look back and remember the things.
They turn into a bad memory. If we don't get selected, our naughtiness will turn into regrets. 
---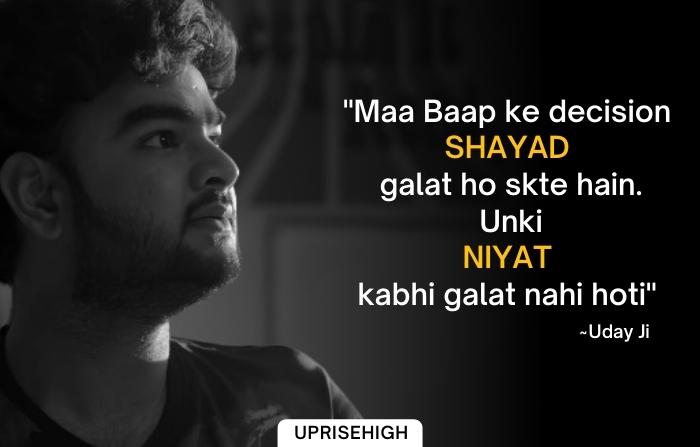 25. "Maa baap ke decision shayad galat ho skte hain, Unki niyat kabhi galat nahi hoti."

~Uday
Translation:- Our parents might make wrong decisions, but their intentions could never be wrong.
---
26. "Mehnat kar. Aur padh le. Ye sab karne ke baad koi Jeetu Bhaiya Jeetu sir yaad reh jaaein, toh gift lana. Toh mai lunga."

~Jeetu Bhaiya
Translation:- Work hard. And study. After achieving everything, if you remember Jeetu Bhaiya or Jeetu Sir, bring me a gift. Then I'll accept it.
---
27. "Kabhi kabhar milne aur sath rehne mein fark hota hai yaar. Dosti koi revision thodi hai, jo karni hi hai."

~Meena
Translation:- There's a difference between meeting sometimes and living together. Friendship isn't a revision, that must be done, right?
22 Inspiring Season 2 Kota Factory Dialogues
28. "Apne aas paas ke chehre yaad rkhie. Apka sbse bada aur sbse serious competition aur koi nahi apke sath hi hai."

~Maheshwari Sir
Translation:- Look at the faces around you and remember them. Your biggest and most serious competition is around you, nowhere else.
---
29. "Patthar par jeetu bhaiya likh ke chambal me faikenge na, pathar to pathar tairega."

~Meena
Translation:- "If you throw a stone in Chambal river, the stone will float no matter what."
---
30. "Sawal late pucha toh sawal galat ho jata hai kya?"

~Sushrut
Translation:- If you were late in asking the question, does the question becomes wrong?
---
31. "Ekk IITian na pen solve karne ke lie nahi uthata. Solution likhne ke lie uthata hai."

~Sushrut's Elder Brother
Translation:- An IITian doesn't pick up the pen to solve the question. He picks up the pen to write the solution.
---
32. "Ab sapne dekhoge to tuut hi jaenge. In fact, IIT tum sabme se kisi ka sapna hona hi nahi chahiye.
Ek toh yeh word use krna chodo tum – 'Sapna.'
Isse use karne ka matlab hai ki kuch hona jana toh hai nahi, dekhne ki chiz hai to dekh li. 
Aim bolna shuru kro. Aim.
Ab aim bologe toh chize doable lgengi."

~Jeetu Bhaiya
Translation:- If you dream of something, they are bound to shatter. In fact, IIT shouldn't be any of your dreams.
First of all, stop using the word – 'Dream.'
Using this word means you won't be able to achieve it, you just had to watch it so you did.
Start calling it AIM. You aim.
Now if you'll call it your aim, you'll find it doable to achieve it.
---
33. "IIT islie karo kyuki tough hai. Aur tough battle ladne mein confidence ata hai life mein."

~Jeetu Bhaiya
Translation:- Aim for IIT because it's tough. And you earn confidence after fighting tough battles.
---
34. "Short duration ke lie stress acchi cheez hai."

~Jeetu Bhaiya
Translation:- Stress is good for short durations.
---
35. "Satya yeh hai ki, You should always try to better yourself."

~Jeetu Bhaiya
Translation:- The truth is, you should always try to better yourself.
---
36. "Yahan hum 32 mein gearup karrhe hain. Ap 17 mein slowdown horhe hain."

~Jeetu Bhaiya
Translation:- We are gearing up at 32 years of age. You are slowing down at 17.
---
37. "Masturbation ki latt nahi honi chahie. Wo galat hai.
Jaise humare saare natural rituals hote hain, khane, pine, sone, sbka time hota hai. Iska bhi hoga.
Kabhi bhi kahin bhi nahi hoga. Routine ka part hoga.
Isse leke guilty feel nahi karna hai."

~Jeetu Bhaiya
Translation:- Masturbation shouldn't be an addiction. It's wrong.
Like out natural rituals of eating food, drinking water, sleeping have a fixed time. The timings for Masturbation will be fixed as well.
You won't do it anywhere. It would be a part of your routine.
You don't need to feel guilty about it.
---
38. "Kitna bhi padh lo, kuch bhi padh lo, gyaan kabhi 100% nahi hoga."

~Jeetu Bhaiya
Translation:- Study as much as you can and whatever you can, you won't get 100% knowledge.
---
39. "Expertise ati rahegi, gyaan ke sath, experience ke sath."

~Jeetu Bhaiya
Translation:- You'll gain experience through knowledge and experience.
---
40. "Imagine kro tum ek pinjare mein kaid ho aur uss pinjare mein ek bhookha sher ajata hai. Woh sher khookhkhar aur tum nihatte. Toh btao ab kya karogi?
Bas imagine krna band krdo."

~ Sarika Mam
Translation:- Imagine that you are caught in a cage and a hungry lion enters the cage. The lion is fierce and you are unarmed. What will you do?
Just stop imagining.
---
41. "Kisi bhi chiz ka darr khud uss chiz se zyada darawna hota hai."

~Sarika Mam
Translation:- Fear of anything is more frightening than the thing itself.
---
42. "Coaching ke bahar temporary flex ni lgvaya hai. 
Insignia jadvaya hai."

~Maheshwari Sir
Translation:- He didn't put a temporary flex outside his coaching institute.
He got his insignia engraved.
---
43. "Agar hamari body ka koi bhi part pain na krrha ho to iska matlab ye nahi ki hum fit hain.
Hum fit tab hain jab humari body ka har organ apne full potential par kaam krrha ho."

~Jeetu Bhaiya
Translation:- If we don't have pain in any of our body parts, it doesn't mean that we are fit. 
We are fit when every body organ is working at its maximum potential.
---
44. "JEE sirf baccha nahi deta, puri family deti hai."

~Jeetu Bhaiya
Translation:- Only the student doesn't attempt JEE. The whole family does.
---
45. "Ye sab piliya, typhoid, swine flu mummy ke bina nahi jata."

~Jeetu Bhaiya
Translation:- All these diseases such as Jaundice, Typhoid, Swine-flu don't go away without the presence of the mother.
---
46. "Celebrate kijie ki apka baccha udaaas hai. Udaas hai kyunki serious tha. Serious tha kyuki zimmedar that. 
Apka beta 18 ki umar me bda goal set krke lad rha hai. Ye to apki parenting successful hui."

~Jeetu Bhaiya
Translation:- Celebrate that your son is sad. He is sad because he was serious. He was serious because he was responsible.
Your son has set a higher goal at the age of 18 and he's fighting. It's your parenting that has become successful.
---
47. "Karm karo lekin fal hamare adhikaar mein nahi hai."

~Jeetu Bhaiya
Translation:- Work hard but you can't control the reward.
---
48. "Jo reject hone par udaas nahi hai, unhone kabhi fight hi nahi mari. Kabhi apne aap ko khud se zyada push hi nahi kia."

~Jeetu Bhaiya
Translation:- If someone isn't sad after getting rejected, he never fought.
He never pushed himself to the limits.
---
49. "War mein soldiers ladte hain. Ek side jeetti hai, ek side harti hai. 
Par war mein harne vale warriors kehlate hain. Losers nahi."

~Jeetu Bhaiya
Translation:- Soldiers fight in a war. One side wins, while the other loses. But, those who get defeated in the war are called warriors. Not losers.
Parting Words
So, that's it for the list of dialogues from the TVF's Kota Factory.
Did they inspire you? Did you learn anything from these dialogues?
If yes, share it in the comments below. 
Make sure to share the post with your friends and hit the subscribe bell icon if you want to stay updated with such amazing posts.
I'll see you in the next post!
| SPREAD THE LOVE
| WRITTEN BY
Varun Pahwa
Hi! I am Varun. I created Uprisehigh for you to share your life story & get answers to all your life problems. As your best friend, I'm committed to inspire you, simplify your life, and help you grow. Let's stick together on this beautiful life journey, mate!
| YOU MIGHT ALSO LIKE