Are you fed up with too many family problems, Lack of proper bonding, family suffering, etc.?
Don't know what to do?
You can try using family affirmations!
Never heard of them?
Don't worry!
In this post, I'll tell you what family affirmations are and how you can create some of them on your own. Further, I'll share 66 family affirmations examples that will fulfill most of your needs.
Without any further ado, Let's jump directly into it.
What are Family Affirmations?
Family affirmations are the positive statements you tell yourself daily that help you make your family strong in every aspect. For example, they can help you improve family bonding, protect it from negativity, fight tough times, etc.
These family affirmations help you positively influence your subconscious beliefs about your family. Further, those positive beliefs help you manifest positive traits into your family.     
66 Incredibly Powerful Family Affirmations You Must Try!
1. Be it old or young, every family member respects each other.
---
2. My family members adore me, and I adore them.
---
3. Every member of my family lives peacefully.
---
4. I don't have any harsh feelings against my family members.
---
5. I am blessed to have such an incredible family.
---
6. Each member of my family deserves an abundance of love.
---
7. The unity of my family is unbreakable.
---
8. We are resilient.
---
9. My family is always smiling, which clearly reflects their inner happiness.
---
10. I can comfortably share anything with my family members.
---
11. My family members firmly hold each other's hands in difficult times.
Daily Affirmations for Family
12. My family members are getting closer and closer each day.
---
13. We enjoy each other's success and achievements.
---
14. My family members enjoy each other's company.
---
15. I create beautiful memories with my family members every day.
---
16. My bond with my family members is getting stronger daily.
---
17. We let go of our past and live in our present.
---
18. My family showers me with lots of life every day.
---
19. We solve all the arguments peacefully.
---
20. I spend quality time with my family members daily.
---
21. My family members uplift me whenever I am feeling low.
---
22. We support each other in achieving goals.
Positive Affirmations for Family
23. My family members respect each other's perspectives.
---
24. My family is a perfect example of an "ideal family."
---
25. There's a healthy relationship among all my family members.
---
26. My family members understand each other's needs and fulfill them.
---
27. Our life is full of fun and excitement.
---
28. We have a sweet and loving relationship that's constantly improving.
---
29. I am thankful to my family for the vital role they play in my life.
---
30. I understand and perform my duties in my family.
---
31. I am always available for my family. It's my topmost priority.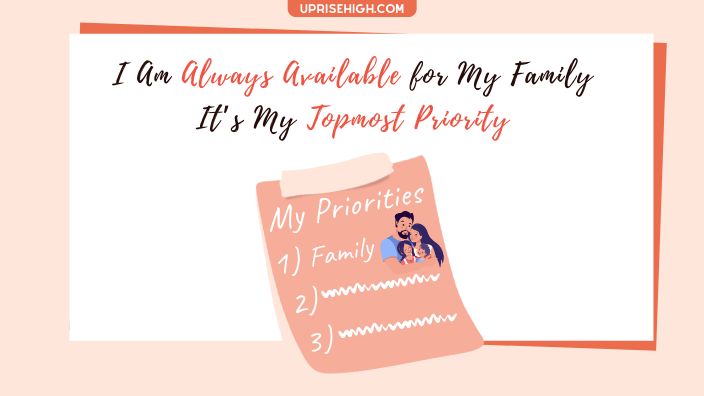 ---
32. My family members enjoy freedom. We don't force anything onto anyone.
---
33. I contribute positively towards the joy and happiness of my family.
Affirmations for Family Protection
34. We are safe until we're all together.
---
35. I ensure that every family member is safe wherever they go.
---
36. Nothing or nobody in this world can harm us because the supreme power takes care of us.
---
37. My family members take care of each other.
---
38. My family members and I are healthy, fulfilled, and happy.
---
39. We are beloved children of God.
---
40. Any problems coming towards us get deflected away by God's grace.
---
41. The divine power constantly has its eyes on us.
---
42. My family feels secure and comfortable around me.
---
43. We radiate so much positivity that negativity runs away from us.
---
44. The divine protects my family in every way.
Affirmations for Family Problems
45. My family prevents any problems that hamper peace.
---
46. We get through any problems easily.
---
47. We don't let outer voices interfere in our family matters.
---
48. My family members support each other well in every difficult situation.
---
49. There isn't any problem my family cannot solve.
---
50. Any problem couldn't even slightly impact our family's bonding.
---
51. We are thoughtful and patient when it comes to solving problems.
---
52. Every family member equally heard when there's any problem.
---
53. My family has incredible communication skills, which help in swift problem-solving.
---
54. No problem can affect the pure love between us.
---
55. My family calmly analyzes and solves the problems.
Affirmations for Family Unity
55. No matter how hard it gets, my family members and I always stick together.
---
56. Our bond is eternal and indestructible.
---
57. When any of my family members are in a difficult situation, the other ones got their back.
---
58. Nobody in my family ever feels alone.
---
59. My whole family gathers together every day to foster the relationship and bonding.
---
60. The pure truthfulness of my family members ensures unity in my family.
---
61. We appreciate each other for good.
---
62. No distance can impact the unity of my family.
---
63. My family members enjoy together and make memories, which keeps us connected.
---
64. My family serves each other in the best possible way.
---
65. My family's unity is an inspiration for all other families out there.
---
66. My family members embrace each other despite any flaws.
How To Write Your Own Family Affirmations?
If the family affirmations you read above have stopped serving you, you can even create custom family affirmations for your needs!
Here's how you can do it:-
Use Present Tense: While creating your own family affirmations, use present tense instead of future tense. For example, instead of using, "All my family's problems will fly away one day," try "My family is free from most problems."
Fill Them With Positivity: Rather than including negative words in your family affirmations, fill them with positivity. For example, instead of affirming, "My family members aren't jealous of each other's success," try "All my family members feel happy when anyone in the family succeeds."    
Keep them short and sweet: Don't try to pack too many words into each family affirmation. Instead, write just enough to convey your desired meaning. For example, if you want your family to be financially free, you can use the affirmation, "My family is prosperous."
Believe: You must have faith in your family affirmations that whatever you're affirming will indeed become true. Don't let any uncertainty exist.
End of the Line
When starting to use family affirmations, don't just pick all of them.
Choose 5-7 of them and use them consistently thrice each day.
You can either write them down (most preferred), read them aloud, or recite them silently in your mind.
Once your selected affirmations stop serving you, you can pick new affirmations and start using them.
In the end, I hope these family affirmations will help you manifest anything you want in your family.
Wish you a healthy, happy, and strong family.
Peace.