70 I'm Here for You Quotes That Will Melt Hearts
Updated On: June 11, 2023
Want to melt the hearts of your loved ones and show them how much you care? Sharing these 70 I'm here for you quotes will do the magic!
Have you ever experienced those days when life felt like a tough battle, and all you needed was someone to hug you and tell you, "I'm here for you?"
We've all been there, navigating through the twists and turns of life, longing for a comforting presence to lean on.
Well, look no further, as I've got your back with a treasure of I'm here for you quotes that will warm your heart and comfort your soul.
Whether you want to uplift a friend going through challenging times, support a family member, or simply remind your loved ones they're not alone, these 70 handpicked quotes will help you out.
So, without further delay, let's dive into this beautiful collection.
70 Touching I'm Here for You Quotes to Show How Much You Care
1. Just 'cause you can't see me don't mean I've gone away.

~Jodi Picoult
---
2. May you always know you have my hand to hold.

~JJ Heller
---
3. You don't build a bond without being present.

~James Earl Jones
---
4. Like the roots of a mighty tree, my support for you runs deep.
---
5. When the night skies are adorned with stars, each one carries a wish for your happiness and well-being. I'll be the one wishing upon those stars, sending love and positive energy your way. You are never alone in the vastness of the universe—I am here for you, forever connected.
---
6. I'm here for you in the same way that you're here for me, each person is an intricate piece of infinity.

~Eyedea
---
7. In the realm of friendship, distance holds no power. Though miles may separate us physically, our hearts are forever connected. No matter where life takes us, know that I am here for you, bound by an unbreakable bond.
---
8. Sometimes words alone cannot convey the depth of my support but know that my actions will speak louder. I am committed to being there for you, to offer a helping hand, a listening ear, and a heart full of love.
---
9. When life's puzzle seems impossible to solve, let's piece it together, one step at a time. I'll be your partner, helping you find the missing parts and creating a beautiful picture of resilience and triumph.
---
10. If you need me, I'm here. But even if you don't, I'm still here.
---
11. In this vast universe, amidst all the chaos and uncertainty, remember that you are not alone. I am here for you, a steady presence in the ever-changing tides of life.
---
12. When the world feels like a stormy sea, threatening to engulf you in its waves, I will be your lighthouse, guiding you safely to shore. You can rely on me, for I am here for you.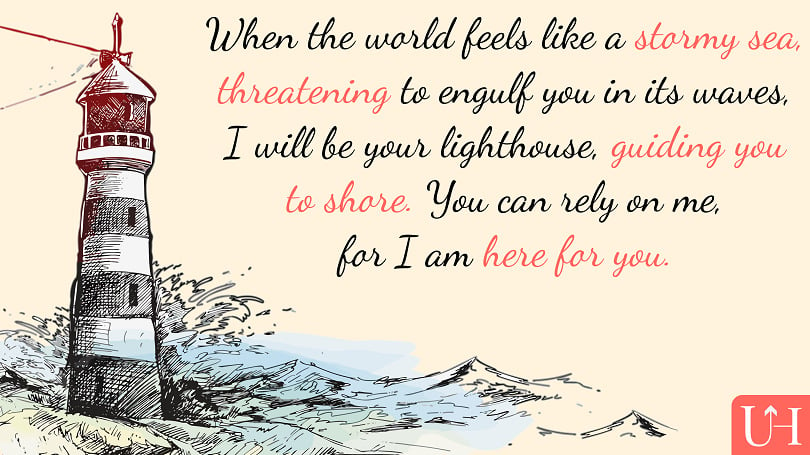 ---
13. If you have too many worries, don't keep them to yourself. Know that I am here for you.
---
14. Sometimes life can be overwhelming, leaving us feeling lost and alone. But remember my dear, I am here to remind you of your strength, your resilience, and your worth.
---
15. I'm always here for you, but sometimes I want nothing more than to be there with you.

~J. Iron Word
---
16. We are not put on earth for ourselves but are placed here for each other. If you are there always for others, then in time of need, someone will be there for you.

~Jeff Warner
---
17. In the vast expanse of time, our connection remains constant. Distance may separate us physically, but our hearts beat in unison.
---
18. Whatever you need. I'm here for you.

~Dane Cook
---
19. When the storms of life threaten to extinguish your inner light, know that I am here to be your shelter.
---
20. When the noise of the world becomes deafening, I am here for you, providing a calm and peaceful space where you can retreat, recharge, and find clarity.
---
21. You don't have to make the decision alone; I'll always be here for you if you need any assistance.
---
22. When life throws curveballs your way, remember that you have a teammate for life. I'm here to cheer you on, to lift you, and to celebrate your victories.
---
23. Through laughter and tears and sunshine and rain, I will be your constant companion. Count on me to be here, celebrating your victories and wiping away your tears. You are never alone.
---
24. I can't promise to fix all your problems, but I can promise you that you won't have to face them alone.

~Oscar Oviedo Jr.
---
25. I love you. That means I'm not just here for the pretty parts. I'm here no matter what.
---
26. I care for you so much; I hope you will not go through much pain if you need anything, I will always be there for you.
---
27. I'm here for you. Always. Do you feel me? Hear me? I talk to you every night, does it reach you?

~Charlotte Eriksson
---
28. I'll always be here for you. I'm not going anywhere. I'm never going to leave you.

~Jaci Burton
---
29. There's nothing more vital to the bond you share with someone than simply being there for them.

~Suman Rai
---
30. I want to be your hero, your protector, and everything. You are everything that matters to me and I will always be here for you.
---
31. You are not alone in this journey called life. I am here for you.
---
32. I'm moody like Squidward. Sometimes selfish, like Mr. Krabs. A bit dumb, like Patrick. But I'll always be here for you, like Spongebob.
---
33. When your heart feels heavy with sorrow, know that mine beats in rhythm with yours. I am here, ready to share your tears and bring you comfort.
---
34. Being there with you, I feel at ease. Being there with you is all I ever need.

~Epica
---
35. I'm here for you… will always be.

~Amit Kumar Vishwakarma
---
36. I love you more than I thought was possible. You're my everything and no matter what, I will always be there for you. Please don't forget that ever.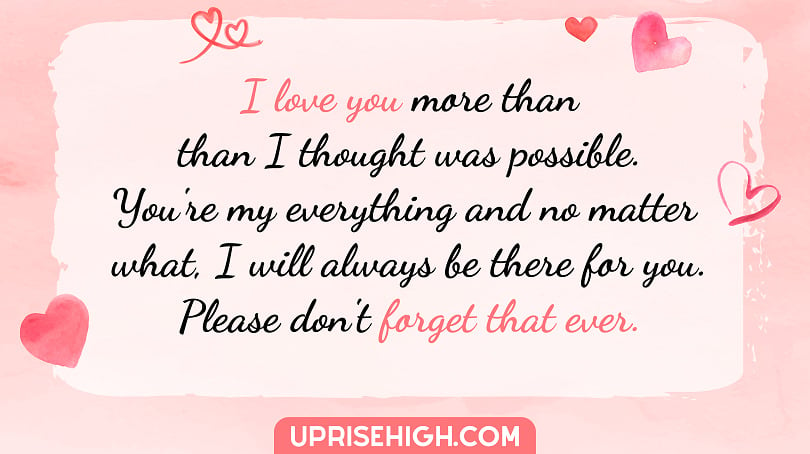 ---
37. In a world full of chaos, you can always find solace in my presence. I'll listen. I'll understand. And I'll be here for you, no matter what.
---
38. I may not be the kind of person you want me to be, but I will always be there for you.

~Alfusainey Jallow
---
39. Ouch, I can hear worries running around from a distance! How about sharing a few?
---
40. Nothing remains permanent. Good times come, and bad times also show up. But, there is something that will remain constant, my love. I'll always be by your side.
---
41. In the symphony of life, your happiness is my melody. I'll be here, composing harmonies of love and support, ensuring that your heart always finds its rhythm.
---
42. Thank you for gracing my life with your lovely presence, for adding a sweet measure of your soul to my existence.

~Richard Matheson
---
43. To have love with you and share your experiences and to understand you and love you with every fiber of your being, there is no greater love.

~Anthony Rosario Wagner
---
44. In the dance of life, I'll be your partner, matching your steps with love and support. When you stumble, I'll be there to lift you and keep the rhythm alive.
---
45. If you love someone, the greatest gift you can give them is your presence.

~Thich Nhat Hanh
---
46. Whenever you need me, whenever you want me, you know you can call me. I'll be there shortly.

~Wiz Khalifa
---
47. In the vastness of the universe, our souls have found a deep connection. Across space and time, I am here, standing by your side.
---
48. When there are no words to say, but know that I'm always here for you.

~Danielle Duckery
---
49. As the seasons change and life unfolds, you can count on me to be your steadfast companion. I am here for you, my dear.
---
50. Even in the darkest moments, remember that my love for you shines like a beacon. I am here for you, and together, we'll find our way back to the light.
---
51. I know it's been hard, me not being there. I don't want you thinking that I really don't care.

~Lionel Richie
---
52. When you feel alone, just look at the spaces between your fingers and remember that's where mine fit perfectly. I am here for you.
---
53. When the world feels cold and indifferent, remember that you have a safe haven within my heart.
---
54. In a world where it's easy to feel disconnected, remember that I am here for you, a friend who genuinely cares and is always just a call or message away.
---
55. When you feel like the weight of the world is too much to bear, lean on me, and I'll share your burdens. Together, we can conquer anything.
---
56. Be there for friends and family regardless when it matters most because you never know when you might need them to be there for you.

~Martin Jeszke
---
57. I'm here not because I am supposed to be here, or because I'm trapped here because I'd rather be with you than anywhere else in the world.
---
58. Remember 4 things: I'm here for you. I care about you. I will never let you down. I love you.
---
59. I love you and I'm here for you.

~Will Smith
---
60. Being there for a special friend when they most need you shows the mark of a true friend that really cares.

~Martin Jeszke
---
61. Whenever you find yourself alone, just think of me because even when your shadow leaves, I won't.
---
62. In the journey of life, I'll always be by your side, holding your hand through every storm. You are never alone, for I am here for you.
---
63. Just being there for someone can sometimes bring hope when all seems hopeless.

~Dave G. Llewelyn
---
64. I won't promise to be always here for you, but I assure you that Christ will always be here for you. But I'll always be holding your hand in mine.

~Terry Mark
---
65. When life's burdens weigh you down, remember that I'm here for you, ready to lift you and walk beside you on this journey.
---
66. If you ever forget, I remind you I am always thinking of you.

~Virginia Woolf
---
67. The fact of just being there was phenomenal.

~Ethan Russell
---
68. No matter the distance, the time, or the circumstances, remember that I am here for you.
---
69. In times of grief and heartache, know that I am here for you, holding space for your pain and offering a compassionate ear to listen and provide comfort.
---
70. Life's journey may lead us on different paths, but no matter where we go, always remember that I am just a phone call away, ready to listen, support, and offer my love.
End of the Line
And there you have it, mate – 70 heart-touching I'm here for you quotes that will inspire, uplift, and strengthen your bonds.
Life can be a wild ride, filled with ups and downs. However, knowing that you always have someone by your side, ready to lend an ear, offer a shoulder to lean on, or simply whisper the four magical words – "I'm here for you" can make a huge difference.
So, go ahead and share these quotes with your loved ones. Tell them you're always there, ready to catch them when they fall, celebrate their victories, and stand tall by their side in every phase.
A simple gesture can really make their day brighter!
Keep shining and being there for one another, mate. See you in the next post.
| SPREAD THE LOVE
| WRITTEN BY
| YOU MIGHT ALSO LIKE