"Damn! The shit Monday is back again."
Have you ever said such a statement on Sunday night?
Yes? 
You are not alone!
As per research, 81% of people experience "Sunday scaries" (raised anxiety because of upcoming Monday) starting from the Sunday morning itself. Another crazy fact is that people send tweets with most swear words on Monday.
So, what's the solution? How can you turn these "dreaded" Mondays into "lively" Mondays?
Just start using Monday affirmations!
In this post, I'll share 54 powerful Monday affirmations that will help you give a perfect start to every week. Also, I'll share a practical step-by-step process that will help you put those affirmations to use.
Let's dive right into it.
What is the Meaning of Monday Affirmations?
Monday affirmations are the positive statements you repeat each Monday to uplift yourself and fill those "dreaded Mondays" with superb events. 
Think of affirmations as a way to reprogram your brain. When you repeat affirmations, you train your subconscious mind to associate those words with positive feelings and actions. Over time, your subconscious mind starts believing the statements and acts accordingly.
54 Ridiculously Powerful Monday Affirmations To Start Your Week The Right Way
Monday Morning Affirmations
1. I am feeling insanely energetic and excited this morning.
---
2. This morning is super refreshing.
---
3. I am fully prepared to enter the incredible week ahead.
---
4. Fantastic events are on their way to make this day a perfect day.
---
5. Today, I feel inspired, motivated, and determined to achieve all my goals. 
---
6. This is a perfect beginning of the week.
---
7. I am stress-free, sorted, and relaxed today.
---
8. I am grateful to God for this beautiful morning.
---
9. I am open to the limitless opportunities universe sends my way today.
Positive Monday Affirmations
10. I am grateful to the divine for waking me healthy and happy this bright morning.
---
11. The best time for me to start something new of my choice was yesterday. The second best time is today.
---
12. I am power-packed with optimism to make today a successful day.
---
13. I am not afraid to try any new thing today.
---
14. I go to bed with complete satisfaction after achieving my daily goals.
---
15. I climb the ladder to success each day.
---
16. All my dreams and manifestations turn into reality. 
---
17. My time management skills are extraordinary.
---
18. I utilize each day to its fullest.
Monday Affirmations for Work
19. I am full of energy and enthusiasm for completing this week's project.
---
20. I love the work I do.
---
21. My work showers an abundance of money on me.
---
22. I love my work so much that I can't wait to get back to it.
---
23. I have already achieved career success.
---
24. My co-workers adore me and my work ethic.
---
25. I am a significant contributor to the company's growth.
---
26. I've set myself as an example for my colleagues. 
---
27. I am consistent, disciplined, and hard-working.
Happy Monday Affirmations
28. Today, I let go of any past events holding me back from being happy.
---
29. Today is a perfect day to smile and throw my worries away.
---
30. I have everything to live a comfortable and joyful life.
---
31. I have a healthy relationship with my friends and family that positively influences our lives. 
---
32. I can easily maintain a healthy work-life balance.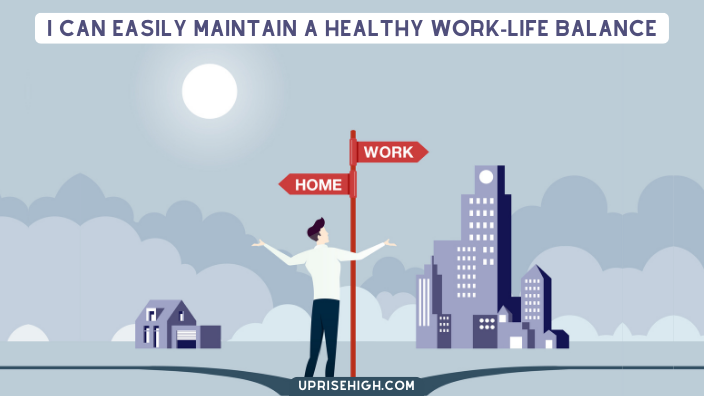 ---
33. I spread smiles worldwide, which automatically makes me happy.
---
34. My happiness comes from inside. I don't tie it to material things.
---
35. Everyone that I surround myself with makes me feel happy.
---
36. Amazing things happen to me every day.
Powerful Monday Affirmations
37. I create everything I desire in life.
---
38. The divine has filled abundance in every aspect of my life. 
---
39. I strive to become a more powerful version of myself daily.
---
40. I experience exponential growth in all areas of life.
---
41. My loved ones love me as much as I love them.
---
42. I have strong willpower to achieve anything in life fearlessly.
---
43. One by one, I am killing my bad habits and giving birth to good ones.
---
44. I am ready to take on the world today.
---
45. I am highly fortunate because good things fall into my life automatically. 
Monday Affirmations for Students
46. I am super excited to meet my friends at school and make some fresh memories.
---
47. I am the apple of every teacher's eye.
---
48. I am an outstanding performer in academics and co-curricular activities.
---
49. My friends love being around me.
---
50. I enjoy studying and going to school.
---
51. I am highly focused and dedicated to my studies.
---
52. I want to learn something new and helpful today.
---
53. It's easy for me to score well on any test.
---
54. My parents love me and are proud of me.
Easy 7-Step Process To Practice Monday Affirmations
If you want your Monday affirmations to be effective, you must repeat them multiple times throughout the day. 
Further, they should be written down and stored in a handy location. This way, when you need them, you can refer back to them quickly.
Here is a step-by-step process for practicing Monday affirmations:-
1. Pick three of your favorite affirmations from the "Monday affirmations" list. 
2. Keep your journal close to you before going to bed on Sunday. The purpose is to keep it handy for Monday morning.
3. Whenever you wake up, write these affirmations thrice in the journal. After writing them down, recite them thrice again (verbally or in your head).
4. Store this "affirmations journal" where you can access it quickly.
5. Whenever any negative thoughts come to your mind throughout the day, make it a habit to crack open your affirmations journal and read those affirmations.
6. Be consistent and practice affirmations every Monday morning.
7. Be patient with yourself. Your subconscious mind may not fully understand your affirmation until months later.
End of the Line
I'm pretty sure you would've heard the saying, "Monday morning comes too soon." 
Well, I say, let's take advantage of Monday mornings and use them to kick off a new week full of positive thoughts and actions. 
Finally, I hope these 54 Monday affirmations will help you start your week right. 
Make sure to forward this post to your loved ones who experience "Monday blues" just like you. Hit the bell icon if you want to stay updated with such posts.
I'll see you in the next one.