In this world, so many people are struggling with their mental health, finances, relationships, etc. All of it has led to enormous negativity in the lives of those people.
So, is there anything you can do to help such people and make their lives a bit better?
The answer is "yes!"
You can send good vibes quotes to those people and spread positivity in your surroundings. In this post, I'll share some "sending good vibes" quotes that will help you do the same.
Let's dive right into it.
What Are Vibes?
Vibes are the positive or negative energies surrounding us and everything in the universe. They flow through you and give you a unique sense of self.
When you feel good, your vibes are high, and you feel confident and happy. When you feel bad, your vibes are low, and you feel tense and anxious.
70 Fabulous Sending Good Vibes Quotes
1. Good vibes are en route; ensure to catch them!
---
2. Sending good vibes your way to make it a fabulous day.
---
3. Be such a good soul that people crave your vibes.
---
4. Why vibe low when you can vibe high?
---
5. Trust me. Bad vibes look ugly with your outfit.
---
6. If you're not living on good vibes, then stop what you're doing because life's too short to be unhappy.

~Chris Martin
---
7. Good vibes. Great Manifestations.
---
8. Good vibes create good lives.
---
9. When you are enthusiastic about what you do, you feel this positive energy. It's very simple.

~Paulo Coelho
---
10. Positive mind. Positive vibes. Positive life.
---
11. Those who move forward with a happy spirit will find that things will always work out.

~Gordon B. Hinckley
---
12. You attract the energy you radiate. Be positive. Vibe high. Enjoy life.
---
13. Giving appreciations, praise, and gratitudes feels good and puts good vibes in the environment.

~Jude Bijou
---
14. Cleanse your mind of all bad vibes and let the good vibes flow in.
---
15. Positive energy is attracted to positive energy.

~Deborah Day
---
16. You cannot have a positive life and a negative mind.

~Joyce Meyer
---
17. Wishing you a day full of love, blessings, and positivity.
---
18. Let only the good vibes enter your delicate soul.
---
19. Good vibes good feelings.
---
20. Fill yourself with good feelings until you are overflowing.
---
21. Be the energy you want to attract.
---
22. People will never forget the beauty of your positive vibe when you vibrate some of it into them.
---
23. Sending you good vibes and smiles for every second of this day.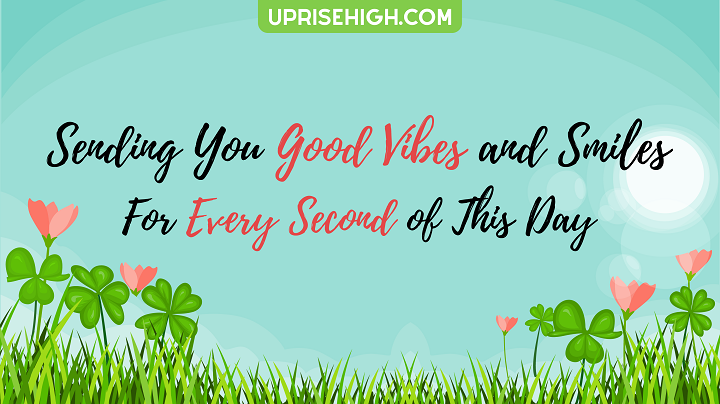 ---
24. I say looking on the bright side of life never killed anybody.

~Jenny Han
---
25. Go where your energy is reciprocated, celebrated and appreciated.

~Anon
---
26. Give yourself permission to immediately walk away from anything that gives you bad vibes. There is no need to explain or make sense of it. Just trust what you feel.

~Sonia Choquette
---
27. You came to radiate the fullness of who you are.

~Abraham Hicks
---
28. Through the reciprocation of energy, always, and every time, we will get exactly what we put out there to others.

~Will Barnes
---
29. A positive attitude can lead to a chain reaction of positive thoughts, outcomes and events.
---
30. Don't allow people into your energy field on a regular basis that you wouldn't want to be like yourself.

~Dawn Guskin
---
31. Every positive thought propels you in the right direction.
---
32. Inhale optimism, exhale pessimism.
---
33. Vibe high and the magic around you will unfold.

~Akilnathan Logeswaran
---
34. It's the easiest thing in the world to be down about anything. I think the body responds to good vibes.

~Dave Davies
---
35. Let today be all about good vibes.
---
36. Good vibes attract a great tribe.
---
37. You just get the vibes of your surroundings and it rubs off on you.

~Gordon Lightfoot
---
38. Vibes speak louder than words.
---
39. With the right vibes and the right people, it's easy to create something magical.

~Dinah Jane
---
40. The greatest win is walking away and choosing not to engage in drama and toxic energy at all.

~Lalah Delia
---
41. I'd like to give out positive vibes and be surrounded by them as well.

~Shriya Saran
---
42. Sending a tight hug and a bunch of positive energies your way.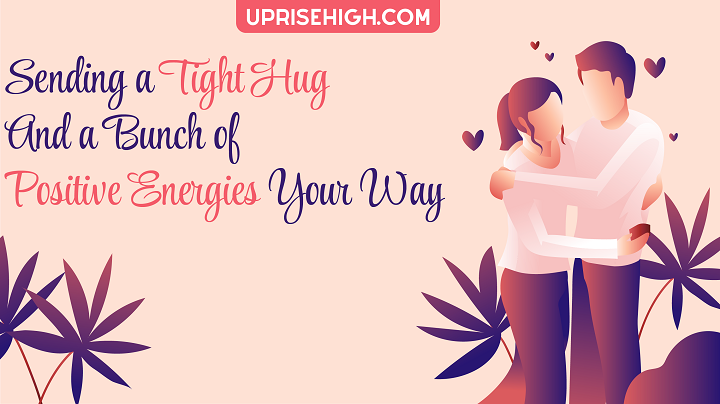 ---
43. Positive thinking will let you do everything better than negative thinking will.

~Zig Ziglar
---
44. Wherever you go, no matter what the weather, always bring your own sunshine.

~Anthony J. Dangelo
---
45. Wake up, spread happiness, and sparkle with positive vibes.
---
46. Stay positive and the frequency of ups will be higher than the downs.
---
47. I aspire to be a giver. A giver of love, a giver of good vibes, and a giver of strength.
---
48. Once you replace negative thoughts with positive ones, you'll start having positive results.

~Willie Nelson
---
49. If life throws you a few bad notes or vibrations, don't let them interrupt or alter your song.

~Suzy Kassem
---
50. With the right vibes and the right people, it's easy to create something magical.

~Dinah Jane
---
51. Your company decides your vibes. Try keeping it positive.
---
52. In order to carry a positive action we must develop here a positive vision.

~Dalai Lama
---
53. Ups and downs. Victories and defeats. Sadness and happiness. Despite all of that, stay positive. That's the best kind of life.
---
54. Vibes never ever lie; so you better listen when they talk!

~Qwana M.
---
55. Choose your vibes or the vibes will choose you.

~Drasen
---
56. Focus on an ocean of positives, not a puddle of negatives.

~Kevin Ansbro
---
57. Feed the mind good wisdom, the body good nutrition, the soul good vibes, and the heart good love. Elevation for your situation.

~TF Hodge
---
58. A daily dosage of positive energy so corrosive that it wears out every negative doubt as the gap between the dream & reality closes.

~Curtis Tyrone Jones
---
59. Reinforce your positive thoughts and redirect to the substantial energy of your frustration.

~Napz Cherub Pellazo
---
60. Your energy is expensive, use it wisely.

~F.M. Sogamiah
---
61. Not everyone will like your vibe because your vibe doesn't belong to everyone.

~Hiral Nagda
---
62. Your inner thoughts aren't truly hidden. Their essence reflects in your energy.
Energy speaks what you don't.

~Drishti Bablani
---
63. The positive energy and love we give to others, heals our own wounds.

~Angie Karan
---
64. Smile to change the world. Don't let the world change your smile.

~Sandeep Maheshwari
---
65. Your tribe affects your vibe. So, you better choose a good one.
---
66. I am sending you good vibes right now, and you have no other option but to welcome them with open arms.
---
67. Need happiness dose for the day? Sending some good vibes your way.
---
68. Be a sunflower and turn to the light wherever you are.

~K. Tolnoe
---
69. Good vibe is just a state of mind which is pretty easy to achieve.
---
70. Be the kind of energy that no matter where you will go, you will always add value to the lives of people around you.
How To Identify Your Vibes? 
Here are a few tips to help you identify your own energy:
1. Observe Your Emotions. 
If you're feeling down, it's probably because your vibes are low. However, your vibes are high when you're in a good mood.
2. Pay Attention to Your Energy Levels.
If you're feeling energized, your vibes are more likely good. When you feel drained, your vibes will be low.
3. Check Your Physical Symptoms. 
If you're having a lot of aches and pains, your vibes are probably low. However, if you're feeling good, your vibes are high. 
4. Take a Closer Look at Your Thoughts.
Consistent negative thoughts imply your vibes are low. However, if you're having positive thoughts, your vibes are good.
Why Should You Always Radiate Good Vibes?
Something's special about a person who always radiates good vibes; They're happy, confident, and always enjoy life.
Whenever you encounter someone, always radiate good vibes. Even if the person you're interacting with is negative, you can still project a positive attitude to create a more positive environment. Your positivity becomes contagious for them, and they start feeling good as well. It can lead to new opportunities and better relationships.
Radiating good vibes puts people at ease. And they are more likely to trust and open up to you.
End of the Line
Sending good vibes quotes can be a great way to boost your own morale and that of others. 
By sending positive thoughts and words of encouragement, you can help to create a positive environment and support those around you in their own journeys.
Finally, I hope you found these sending good vibes quotes helpful. Ensure to share them with your loved ones.
Keep radiating positive vibes, mate!