If you've already read our article on 'healthy relationships,' I am pretty sure you already know that a relationship cannot become successful until both partners have faith in each other.
Right now, here I am with a few quotes on trust in a relationship that will help you to get an in-depth understanding of 'how trust works in a relationship,' and 'why is it so important to have a strong faith in each other if you are in a relationship.'
Without any further due, let's hop right into the quotes.
40+ Quotes on Trust in a Relationship
1. Good relationship doesn't need promises, terms, and conditions. It just needs a SHE who can trust and a HE who can be loyal.

~ Dpsayings.com
2. Whether it's Friendship or relationship, All bonds are built on trust. Without it you have nothing.
3. The fundamental glue that keeps a relationship together is trust.

~ Brian Tracy
4. Trust is the only thing that can help a relationship last a lifetime.
5. A single trust issue begets a neverending list of trust issues. Control them before it's too late.

~ Varun Pahwa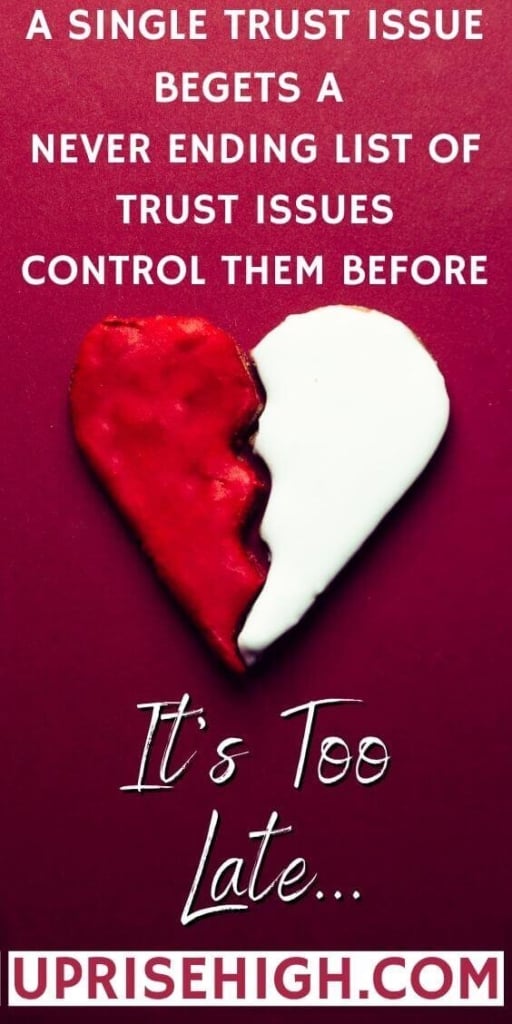 6. A relationship without trust is like a car without gas, you can stay in it all you want, but it won't go anywhere.
7. Trust is the fruit of a relationship in which you know you are loved.

~ Willian P. Young
8. Love needs trust the way flowers need sunshine.
9. Trust is like a vase, once it's broken, though you can fix it, the vase will never be the same again.

~ Walter Anderson
10. Love is supposed to be based on trust, and trust on love, it's something rare and beautiful when people can confide in each other without fearing what the other person will think.

~ E.A. Bucchianeri
11. Love  + trust + honesty = Long lasting relationship

~ Yourtango.com
12. Without trust, it's only a matter of time before relationships crumble.

~ Yourtango.com
13. The best way to find out if you can trust somebody is to trust them.

~ Ernest Hemingway
14. To be trusted is a greater compliment than being loved.

~ George MacDonald
15. Trust is not an obsession, it's an extension of love. When we truly love someone, we give them our heart to hold in their hands. And when that love is returned, that very trust is balm to our souls.

~ Julie Lessman
16. The best proof of love is trust.

~ Joyce Brothers
17. Even the smallest lie can break the biggest trust.
18. Trust is like blood pressure. It's silent, vital to good health, and if abused it can be deadly.

~ Frank Sonnenberg
19. A couple in a relationship is holding the thread of trust from two opposite ends. The thread is easy to break but impossible to restore.

~ Varun Pahwa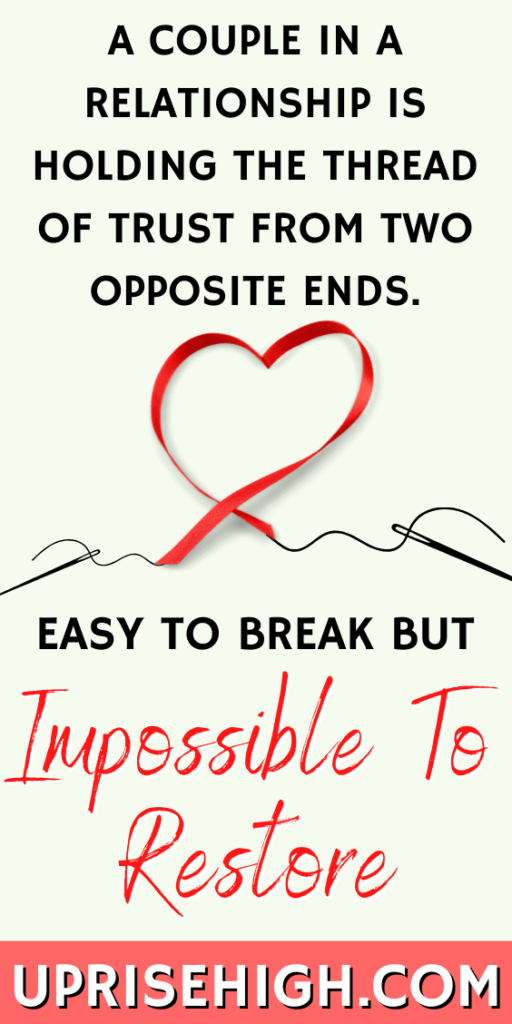 20. Without respect, Love is lost. Without caring, Love is boring. Without honesty, Love is unhappy. Without trust, Love is unstable.
21. The people when rightly and fully trusted will return the trust.

~ Abraham Lincoln
22. TRUST takes years to build, seconds to break and forever to repair.
23. Trust is the first step to love.

~ Munshi Premchand
24. Relationships are about trust. If you have to play detective, then it's time to move on.
25. Always trust before you love, because love is nothing without trust.
26. I'll love you as long as your actions don't make me doubt your words, trust is earned not given.
27. If you want to keep someone you love, never betray their trust.
28. Most good relationships are built on trust and respect.

~ Mona Stuphen
29. Without communication, there is no relationship. Without respect, there is no love. Without trust, there's no reason to continue.

~ Dpsayings.com
30. In a relationship you don't lie and keep secrets. You're in a relationship to grow closer, not hide things and ruin trust.
31. You cannot trust someone once again if he/she has broken your trust twice before.

~ Varun Pahwa
32. Breaking someone's trust is like crumpling up a perfect piece of paper. You can smooth it over but it's never going to be the same again.
33. "I trust you" is a better compliment than "I love you" because you may not always trust the person you love but you can always love the person you trust.

~Dpsayings.com
34. "Sorry" works when a mistake is made, but not when trust is broken. So in life, make mistakes but never break trust. Because forgiving is easy, but forgetting and trusting again is sometimes impossible.
35. When you fully trust someone without any doubt, you finally get one of two results: A person for life or A lesson for life.
36. Fear leads to more fear and trust leads to more trust.

~ Dean Ornish
37. Trust is built with consistency.

~ Lincoln Chafee
38. If you truly love someone, being faithful is easy.
39. Loyalty is what makes us trust, trust is what makes us stay, staying is what makes us love, and love is what gives us hope.

~ Gleen Van Dekken
40. It takes a lot of truth to gain trust but just one lie to lose it all.
41. Love is giving someone the power to destroy you, but trusting them not to.
Parting Words
Are you in a relationship and struggling to maintain trust in it?
Make sure to read our post on 'how to rebuild trust in a relationship.' Try out the methods, and I am pretty sure it will help you strengthen the faith between you and your partner.
Wish you a healthy and blissful relationship.
That's it for now. I hope you've enjoyed the quotes. Hit the bell icon to stay notified for updates. Make sure to drop a comment if you've found them helpful.