77 Wednesday Affirmations To Stay Positive on Hump Day
Updated On: December 24, 2022
Hump day is here! Are you finding it hard to overcome this mid-week slump? These 77 Wednesday affirmations will help you lift your spirits quickly.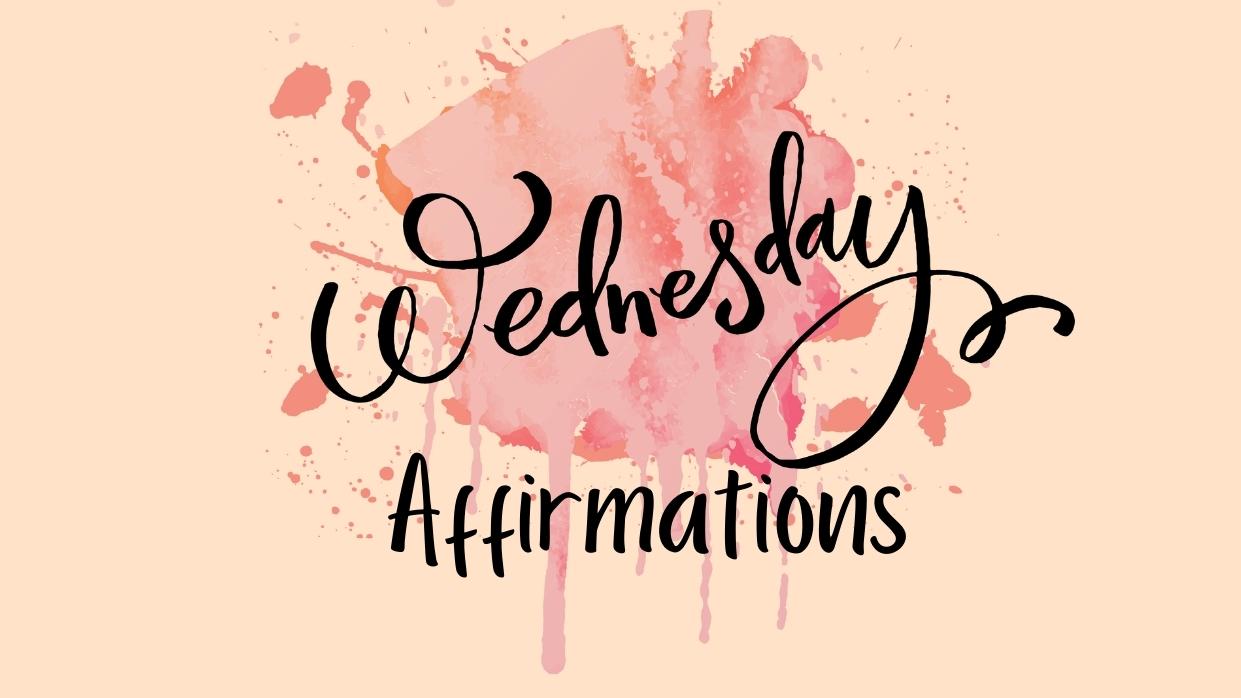 You wake up in the morning with bright sunshine falling on your face. Further, you get out of bed, carry on with your morning routine, and everything's going well. 
However, as soon as you take a sip of your delightful morning coffee, you realize it's Wednesday! All the positivity and happiness suddenly go into the trash with your empty coffee pouch.
Does the scenario resonate with you?
Yes? You are not alone.
Being optimistic in the morning and going to work effortlessly on Wednesday could be challenging. You neither have the energy to function nor the relaxing weekend is near.
So, Is there anything you do to overcome the mid-week slump?
Indeed! You can. You just need to use Wednesday affirmations.
In this post, I'll share 77 powerful Wednesday affirmations that will help you ace the mid-week slump easily. Further, I'll also give five tips to use those affirmations effectively.
Let's dive right into it.
77 Wednesday Affirmations To Help You Ace Mid-Week Slump
Wednesday Affirmations for Work
Wednesdays are excruciating. It's bloody two more days of work before the weekend kicks in. 
At such moments, your productivity and motivation may hit rock bottom!
To fix it, all you need are "Wednesday affirmations for work." They help you stay on track and achieve your goals. Further, they help you feel confident and driven, which can help you achieve your goals more quickly.
Here's a stunning list you can refer to:-
1. Today, I've decided not to settle for less.
---
2. I am ready to work smart today.
---
3. An exciting project is lined up to be accomplished today.
---
4. This Wednesday will be work's best day of the week.
---
5. I am glad that my work is stress-free.
---
6. My job offers me all the freedom I want.
---
7. I just can't wait to reach my office desk and start working.
---
8. I make a significant contribution to my workplace.
---
9. I can easily offer and ask for help.
---
10. I'm ready for a highly productive Wednesday.
---
11. I am delighted with where I work and what I do.
---
12. I choose to stay away from procrastination today.
---
13. This Wednesday, I'm going to use my time wisely.
---
14. Today will be a distraction-free work day for me.
---
15. I will stick to a single task until I wind it up.
---
16. My outfit radiates my confidence and stunning personality.
Wednesday Morning Affirmations
Do you wake up every Wednesday tired and dreading the day ahead?
Well, morning affirmations can help! 
When you use morning affirmations, you begin your day with a positive frame of mind which helps you feel more enthusiastic and start your day on the right foot.
Here are a few "Wednesday morning affirmations" that you can use:-
17. I wake up today with an abundant mindset.
---
18. I feel optimistic about the day ahead of me.
---
19. I allow the beautiful sun rays to shine on me and cleanse my soul.
---
20. I am more beautiful than anyone else in the world.
---
21. I feel energetic and refreshed with every coffee sip I take.
---
22. I am a positive influence on the world.
---
23. I am free from any guilts of the past.
---
24. I have all I need to make this Wednesday a great day.
---
25. I am ready to take risks because I no longer fear failures.
---
26. I have a pretty good self-image.
---
27. I begin this day on a positive note.
---
28. I am thankful to god for everything that he gave me.
---
29. I am consistently living upto my expectations.
---
30. Today is a perfect day to create a new good habit.
---
31. I am grateful for all the good that has come my way this week.
---
32. Everything works out extremely well for me.
Wednesday Positive Affirmations
Positive affirmations are very effective in changing your mindset and improving your life. They can be helpful when you are feeling down or stressed. They are a type of mental self-talk that helps you focus on positive thoughts and emotions.
Here are a few "Wednesday positive affirmations" to help you have an optimistic Wednesday:- 
33. I have a good motive behind everything I do.
---
34. People say good friends are hard to find. But I already have a lot of them.
---
35. I allow miracles to happen in my life today.  
---
36. I will spend this Wednesday mindfully.
---
37. I will take regular breaks to relax and recharge.
---
38. Today is a great day to start living life to the fullest.
---
39. I will ensure to have uplifting self-talk throughout the day.
---
40. I choose to spend more time in the real world instead of sticking to my smartphone.
---
41. I take criticism constructively, which helps me grow.
---
42. I am polite and approachable.
---
43. Every tiny goal I achieve takes me one step closer to my dream.
---
44. Even when the temptation to feel awful may be strong today, I won't give in.
---
45. The expectation of completing a new task doesn't pressure me.
---
46. Setting daily intentions help me quickly achieve goals.
---
47. I pamper myself by listening to my needs and acting accordingly.
Happy Wednesday Affirmations
Do you ever find yourself struggling to find happiness in life? Maybe you're constantly questioning why things happen the way they do or why you can't seem to keep your spirits high.
Well, it is because of negativity bias! Negativity bias tells us that we tend to focus on the negative things that happen to us, and it's why we're so unhappy most of the time.
But there's a way to fight back against this negative thinking, and that's by using happiness affirmations.
Use these "happy Wednesday affirmations" to have a joyful Wednesday:-
48. I have the power to choose what brings me joy.
---
49. Today is a new chance to be more joyous.
---
50. My broad smile shows how happy I am.
---
51. I am happy, both inside and out.
---
52. I have infinite reasons to be happy. 
---
53. I can feel happiness all around me today.
---
54. It's easy for me to uplift my mood and become joyful again.
---
55. I radiate love and light all around me.
---
56. Nothing in this world can steal my happiness today.
---
57. I am happy with all that I have received in life.
---
58. Amazing people surround me every time, making me happy.
---
59. I will make someone laugh to tears today.
---
60. I exude positive vibes the whole day long. 
---
61. I allow myself to guffaw awkwardly today.
---
62. I am inherently cheerful.
Wellness Wednesday Affirmations
We all know that saying positive things about ourselves can help to improve our moods and outlook on life. 
But what if you could take that idea one step further and use wellness affirmations to improve your health too? 
Wellness affirmations are statements that can help you live a healthful lifestyle. They can be used to encourage good physical and mental health, as well as to maintain a healthy weight and improve your overall well-being.
So, here are a few "wellness Wednesday affirmations" to help you live a healthier Wednesday:-
63. Both my mental and physical health are in excellent shape.
---
64. I am ready to begin this day with an excellent workout.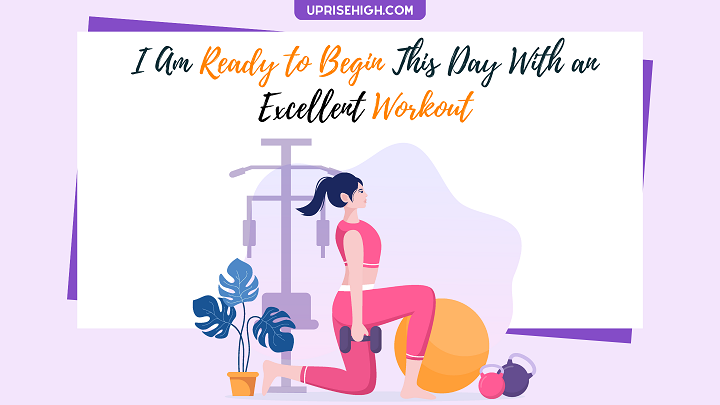 ---
65. I can easily avoid junk food and eat nutritious food.
---
66. I am high on energy and fitness level.
---
67. I am one step closer to achieving my dream physique.
---
68. My stamina and endurance are at their peak.
---
69. My mind is calm and under control.
---
70. Every day is an opportunity to improve my spiritual wellness.
---
71. This Wednesday morning is more peaceful than ever.
---
72. My healthy body is a result of my healthy habits.
---
73. Another day means another opportunity to take my health to the next level.
---
74. I can easily balance my fitness regime with work.
---
75. I am proud of my overall health.
---
76. I am fresh and energetic because I slept really well last night.
---
77. I find it easy to include good habits into my routine.
5 Crucial Tips To Use Wednesday Affirmations Effectively
Do you ever find yourself doubting your own affirmations? Or do they just not seem to be working as well as you'd like?
If yes, here are five tips that will help you use Wednesday affirmations effectively:-
1. Choose affirmations that are meaningful to you. 
Your affirmations should be statements that are believable and important to you. If you find it difficult to believe in yourself, your affirmations may not be as effective.
2. Pick a consistent time to affirm yourself. 
It's obvious but worth mentioning. Make sure you affirm yourself at the same time each day, no matter what. It will help your affirmations to become automatic and easier to use.
3. Use affirmations in different situations. 
Affirmations are most effective when you use them in different situations. For example, you might repeat "I am calm and collected" when you're feeling anxious or "I am confident and successful" when you're feeling down.
4. Be patient with yourself. 
Just like anything else, affirmations take time to work. However, with a bit of perseverance, they can be very effective.
5. Be open to trying new affirmations. 
If your current affirmations aren't working for you, try out some new ones. Plenty of positive affirmations on the list can help you live a more fulfilling life.
End of the Line
Honestly, you can't just magically skip the Wednesday, but here's the thing: you can choose to live better, and Wednesday affirmations can help you do it.
It may be two more days at work, but you don't need to worry about tomorrow. Tomorrow will come, and when it does, you'll reflect on today and realize that you had a productive day.       
Don't let easy Wednesdays drag you down. 
Happy hump day, buddy!
| SPREAD THE LOVE
| WRITTEN BY
Varun Pahwa
Hi! I am Varun. I created Uprisehigh for you to share your life story & get answers to all your life problems. As your best friend, I'm committed to inspire you, simplify your life, and help you grow. Let's stick together on this beautiful life journey, mate!
| YOU MIGHT ALSO LIKE