Eminem – Bright Success Story From The Dark Life Of Rap God
Updated On: December 24, 2022
Eminem Success and Life Story · His Childhood · His Entry Into The Rap World ·11 Interesting Facts About Him · 10 Hidden Lessons from Eminem's Story…
If you are here, I am pretty sure that you are well aware of the name and fame of Eminem: the Rap God. Maybe, you even aspire to achieve the same success and fame that he has.
But, it is also well known that no one reaches that level without overcoming obstacles in life.
In the success story of Eminem, the struggle wasn't hard. It was SUPER HARD.
So, here's the story of a bullied dropout to a hip-hop knockout. A story that will teach you never to quit.
Eminem Success and Life Story
Marshall Bruce Mathers III, aka Eminem, was born on 17 October 1972 in Saint Joseph, Missouri, USA. His mom Deborah Rae Nelson 'Debbie' was only 17 years old when she gave birth to him. His father, Marshall Bruce Jr, left the family and remarried when Eminem was only six months old.
Since then, Eminem and his mom Debbie went from one city to another searching for a permanent job.
Eminem's Childhood
Due to regular shifting from one city to another, Eminem had to change his school at least twice a year. Therefore, he had no close friends during his childhood.
Like every other Kid, Marshall felt the need for his father. Thus, he used to send letters to his father. Unfortunately, his father never read them and sent them back to the sender's address.
Just imagine how it would have felt to be so lonely at such an early age.
At the age of 12, Eminem and his mom finally settled in Detroit, Michigan, where he got admission to Lincoln High School.
Apartheid hit him when he got admission to this school which had a predominantly black population. Students used to bully him and beat him often, due to which he felt highly distressed.
Entered Coma Due To Bully
It all became worse when a student older than Eminem named D'Angelo Bailey beat him so severely that he was admitted to the hospital due to a severe head injury and remained in a coma for almost a week.
He even wrote a song years later for the same incident called Brain Damage.
Even after the recovery from the coma, Marshall's brain didn't get back to normal. He had to re-learn everything, including motor skills, from the very beginning.
His Entry Into The Rap World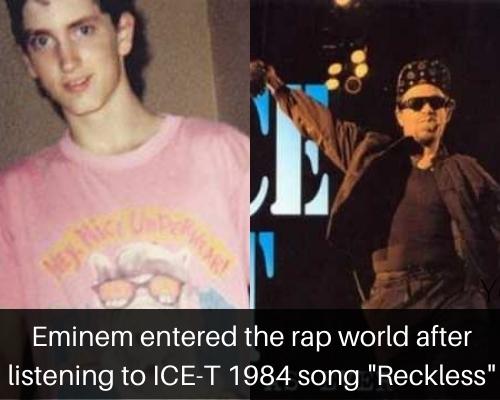 Eminem faced multiple problems before entering into the rap world as rap was something that blacks considered their property, and no whites should do it.
His Uncle Ronnie was the one who introduced him to rap music by playing him his first rap song-'Reckless'.
As soon as Marshall turned 14, he began rapping with his high school friend. Both of them often missed classes to participate in various rap battles and competitions. Further, he felt the need to take his career above the high school level. Therefore, he renamed himself as 'M&M' from his initials Marshall Mathers – which soon turned into Eminem.
Eminem Meets Kim and their Turbulent Relationship
Eminem met Kim at a house party when he was 15 and Kim was only 13.Kim claimed that she didn't know her father, and her stepfather sexually abused her. Further, she came to live with Eminem and Debbie.
Soon, Marshall and Kim began dating, but the relationship wasn't very fruitful.
At the age of 17, Eminem failed thrice in the ninth standard when he decided to drop out of school. Further, Debbie kicked the couple out of the house when he dropped out of high school.
He then started cleaning cars and working in restaurants to earn his bread and butter. Still, he never gave up on his dream and passion for rapping. He kept on going for the competitions to achieve what he wanted.
Birth Of Eminem's Daughter And Release Of His First Album
At the age of 23, he had a daughter with Kim named Hailie Scott. The family situation was still quite awful.
After immense hard work, at 24 years of age, he released his first album – infinite, which was an utter failure.
Eminem Tries To Commit Suicide
It was the birthday of Eminem's beloved daughter. He was busy preparing for her birthday and suddenly received a call from his boss who fired him. Eminem had only $40 in his pocket and became too frustrated with his life. Therefore, due to never-ending hardships, he tried to commit suicide. Fortunately, it was a failed attempt, and the doctors saved him.
Soon he was back into rap music with more rage than ever.
Rap Competition That Changed Eminem's Life Forever
1997 was the year when Eminem's life changed forever. A rap Olympics took place in Los Angeles, which Eminem saw as a great opportunity. He took part in it and stood second.
Dean Geistlinger, An Interscope intern, sent Eminem's Slim Shady LP cassette to famous hip hop rap producer Dr. Dre.
Dr. Dre exclaimed that it was by far the best demo CD that he had ever heard in his career. Thus, he decided to work with Eminem.
Hard Work Pays Off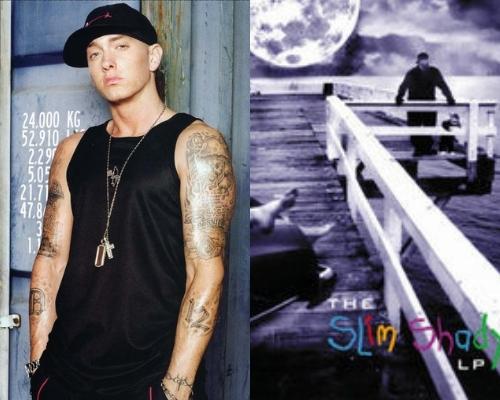 In 1999, Dr. Dre released Eminem's Slim Shady LP, which turned out to be a massive success. The album came out to be the most popular and highest-selling album of the year.
From that day onwards, Eminem's success journey started, and he never stopped.
76 Lakh copies of Marshall Mathers LP were sold within 1 week.
Eminem played as a lead actor in his biopic movie 8 mile.
He was awarded the academy award due to 8 mile's theme song, "Lose Yourself."
He won the Grammy award in 2000 for the best rap solo performance of My Name Is song.
Eminem has won 15 Grammy awards till now, which is absolutely unbelievable.
Eminem became the first artist to win the best rap album for the consecutive LPs.
His song 'Rap god' received Guinness world record for 'fastest rap in a number one single' with 97 words in 15 seconds.
11 Interesting Facts about Eminem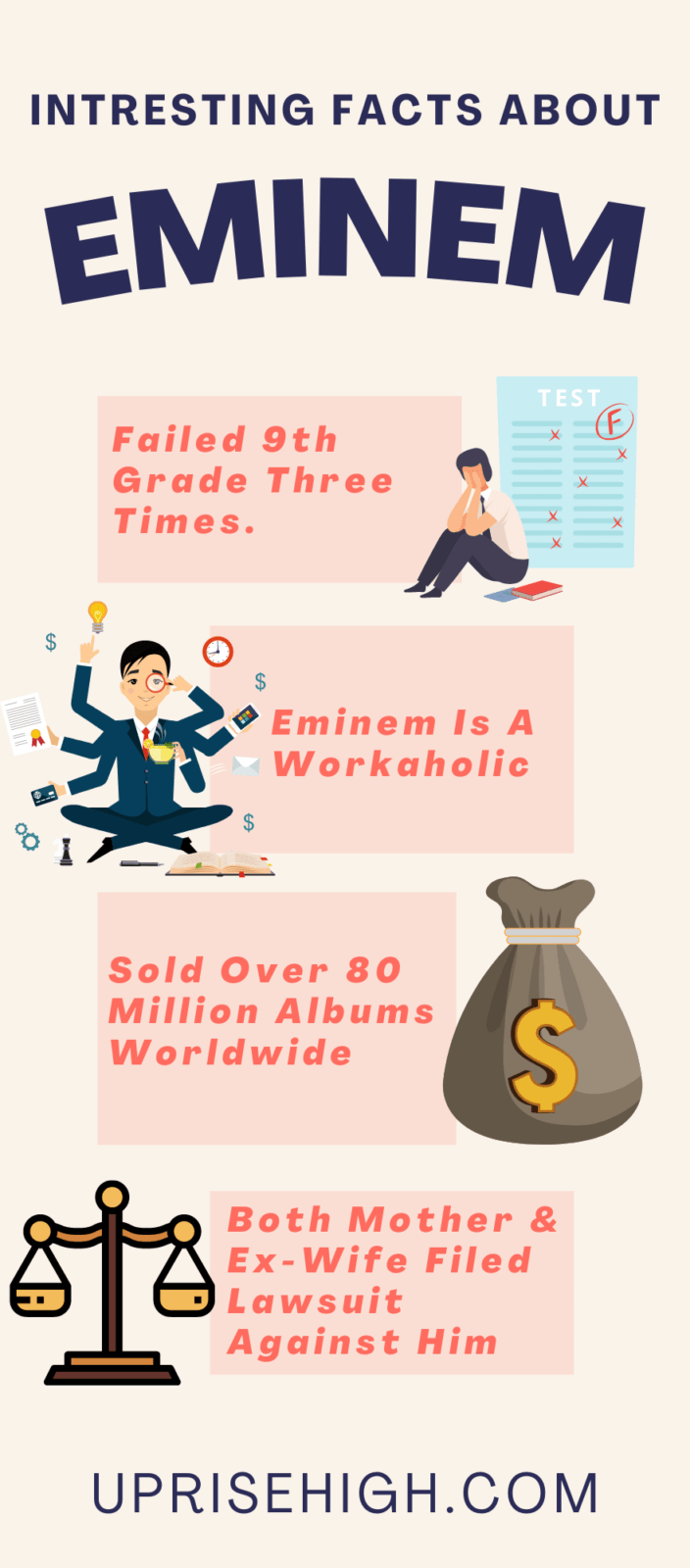 Here are 11 facts about Eminem that you probably never knew:-
1. Eminem's father tried to meet him once he got to know that Eminem is his son. However, Eminem denied meeting him and never met him.
2. He failed thrice in the ninth grade and had no interest in studies. Still, he loved to read dictionaries and expand his knowledge of English words.
3. D'Angelo Bailey sued Eminem by filing a $1M defamation lawsuit against him in 2001 for the song 'Brain Damage.' However, D'Angelo Bailey didn't win the case, and the judge dismissed the case in 2003.
4. Eminem's mother, Debbie Mathers, filed an $11M defamation lawsuit against Eminem in 1999 for implying that she was an unstable drug abuser.
The case was filed against the lyrics in the 'My name is' song
However, she got only $1600 in the end.
5. Eminem divorced Kim in 2001. Then he remarried her in 2006 and divorced again.
6. Kim, too sued, Eminem for $10M, exactly five days after Eminem filed a divorce against her. She wanted compensation for defaming her in his rap 'Kim' and demanded full custody of her daughter. However, she was unsuccessful in her attempt and won partial custody along with 1000$ weekly.
7. Eminem wanted to become a comic book artist before he ever thought of becoming a rapper.
8. He is an immense workaholic and sometimes works about 12-15 hrs a day in the studio.
9. Kim tried to commit suicide after Eminem performed 'Kim' in a concert where he took a doll that represented Kim and assaulted it.
10. He is one of the highest-selling artists of all time who has sold 80 million-plus albums worldwide.
11. Eminem became a drug addict in 2007 and went to rehab to get over this addiction. He even made a song on the same situation named Relapse in the year 2010.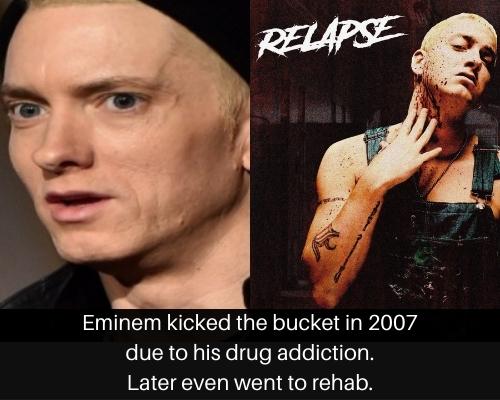 I am pretty sure that the story would have inspired you a lot. So, did you learn any lessons from it?
If yes, make sure to write them down on a piece of paper right away so that you never forget them.
So, here are a few lessons from my side as well. Let's see if the values that I gathered are similar to yours.
You can add them to your list of experiences as well.
Lesson #1: Never Give Up
The #1 lesson that you must have concluded from this story is 'Never Give Up.'
If my guess is correct, please scroll down and rate 5 stars to this post right now😜.
It all went extremely worse for Eminem. If it would have been me, I might have already given up. However, he kept fighting for his dreams and never backed out.
Things can get worse, but it's always sunshine in the end.
Always keep your heads high no matter what.
Have a positive belief in what you love to do, and there is no doubt that you will become successful.
Eminem had a positive belief in his dreams, and that's why he never missed a single opportunity to perform. He did what he loved the most and became phenomenal in it.
Lesson #3: You are Enough
You are the only person that you need by your side to achieve something. No one else is required.
Eminem had no one by his side, not even his own family, nor any friends. However, he still chased his dreams fiercely with his own support. That's what made him so strong.
Lesson #4: You are the creator of your destiny
What I truly believe after looking at Eminem's story is that our destiny is a blank book. Our actions are the ones that can successfully fill that book.
Eminem's story had the same scenario. No one would have ever thought that he would become so successful after endless hardships. However, he worked extremely hard and created his destiny.
Lesson #5: Keep Learning, Keep Going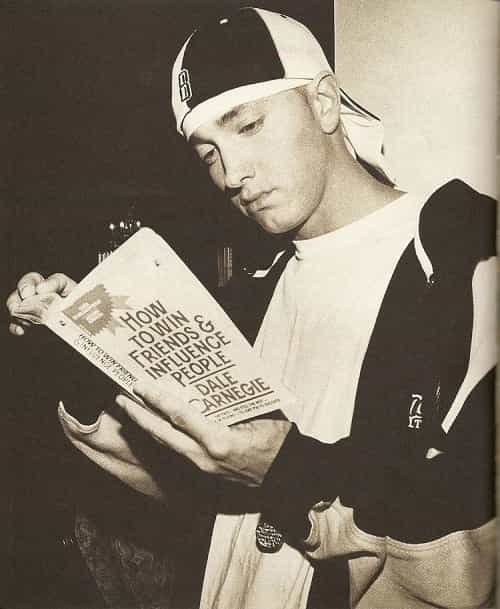 You cannot grow if you cannot sow.
You have to keep learning and gathering new experiences throughout life to keep moving towards success.
Eminem hasn't stopped learning in life until now. He still keeps reading a dictionary to learn new English words and keeps on brushing his rapping skills.
Lesson #6: Ignore the Naysayers
The number of people who want you to fall backward is much greater than the number of people who want you to climb upwards.
It is much better to ignore the people who say no to your dreams and want you to fail. If you surround yourself with such people, it is more likely that you'll fail.
Instead, use their words as fuel to your motivation and get whatever you want. There is no need to argue with them. Directly show them.
Eminem always ignored whoever said no to his rapping dreams. Be it the blacks in his neighborhood or the audience in his rap contests. He never listened to them.
Lesson #7: No Need to Speak. Success Proves it All
"Success is the best revenge."
-Eminem
It's totally true that "Success speaks much louder than the words do." There is no need to justify your dreams to anybody. Achieve what you always wanted and slap them in the face with your success.
Eminem proved it all by becoming a legendary rapper. He did what nobody ever thought he could. Be it his mom 'Debbie' or society, all of them criticized him, and he still reached his goals.
Lesson #8: Don't Be afraid to walk against the crowd
Don't be afraid to change your direction if others are going in the same direction.
While everybody was studying to become a graduate and get a job, Eminem worked all his life to pursue rapping as a career and became a massive success. He accepted that studies were not just meant for him and took the path of his own.
Lesson #9: Hard Work Pays Off
"You get what you work for" is the biggest truth in life. God is watching even when no one else is watching, and he will reward you for your efforts. Maybe not instantly, but he surely will.
Eminem put relentless efforts into his dreams and worked day and night for his dreams. He never expected to be rewarded instantly and kept working. God finally rewarded him, and he became the best rapper in the whole world.
Lesson #10: There's a Reason Behind Everything
"You can't connect the dots looking forward; you can only connect them looking backward. So you have to trust that the dots will somehow connect in your future."


-Steve Jobs
You might not know the reason why something is happening in your life right now, but trust me, everything has its own reasons. Also, it is for sure that you'll get to know the reason for everything one day and you won't regret why it all happened.
Several hardships came into Eminem's life. He even reached the point of giving up and trying to commit suicide. He failed thrice in the ninth standard. His financial situation was miserable.
Maybe, it all happened to make Eminem who he is now. All of the hard work that he put in was because of his awful conditions and the urge to do something exceptional.
Parting Thoughts
Undoubtedly, there's a lot to learn from Eminem. His life was really dark until he became successful. There was an unlimited number of hardships with no support by his side.
His raps express what he has been through his whole life. He is at such a great level now all because of his hard work, and he truly deserves it.
So, that's it for this post. See you in the next post.
Make sure to comment if you liked the story, as it motivates me to keep writing such content.
Don't forget to hit the 🔔 button in the bottom right corner of your screen to stay updated with fresh content.
Till then, keep working, keep learning.
FAQ's
| SPREAD THE LOVE
| WRITTEN BY
Varun Pahwa
Hi! I am Varun. I created Uprisehigh for you to share your life story & get answers to all your life problems. As your best friend, I'm committed to inspire you, simplify your life, and help you grow. Let's stick together on this beautiful life journey, mate!
| YOU MIGHT ALSO LIKE