50 Nothing Comes Easy Quotes to Deeply Love Hard Work
Updated On: January 9, 2023
Thinking about giving up because the success journey is getting harder? Stop! These 50 nothing comes easy quotes will make you "easy" phobic.
Hey, you! Yes, you.
Are you thinking about giving up on your dreams just because the journey is getting harder?
Stop right there!
Just for an instance – let's assume that you choose to give up. What next? Will you look for something easy?
If so, you won't find it. Nothing comes easy!
Don't be a coward, mate! You're capable of more than you think.
You have to work hard for what you want in life. Nothing comes for free, and you must be willing to put in the effort if you want to achieve anything.
Don't give up on your dreams. They can be ultra-challenging to achieve, but they're worth it in the end. Fight for what you want, and never settle for less. Don't let anyone tell you that it's impossible.
To keep the fire burning inside you, I'll share 50 nothing comes easy quotes that will make you easy-phobic, and you won't look for shortcuts ever again.
Let's dive right in.
50 Nothing Comes Easy Quotes That Will Turn You Into Easiness Hater
1. Achieving your goal feels insane when you've put every ounce of blood and sweat into it.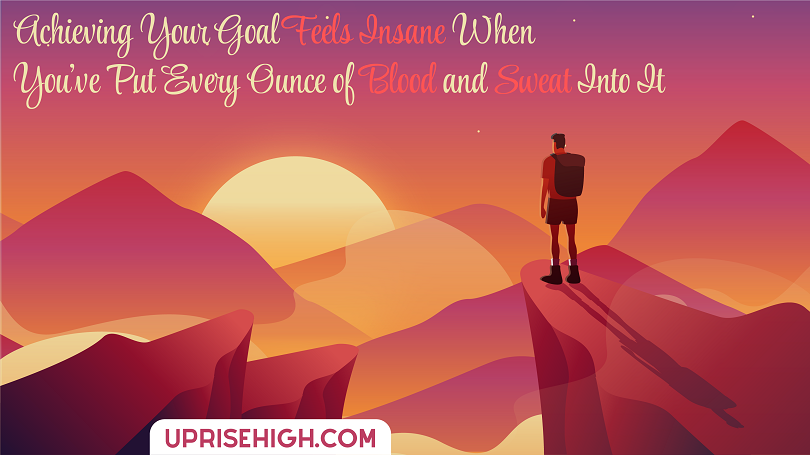 ---
2. Stop craving for an easy life right now. The top 1% of people in the world didn't make it to the top while sleeping in bed.
---
3. The journey of achieving success gives you a thrill only because it's hard. If it was easy, it would be boring as hell!
---
4. Success is not handed to you on a silver platter. It requires effort, dedication, and the willingness to push through challenges and setbacks.
---
5. Nothing worth having comes easy.

~ Theodore Roosevelt
---
6. If it was easy, everyone would be doing it, and you wouldn't have an opportunity.

~ Bob Parsons
---
7. Nothing comes easy, but as long as you're breathing, you're always one breath away from making your dreams a reality.

~ Kai Greene
---
8. Nothing really worth having comes quickly and easily. If it did, I doubt that we would ever grow.

~ Eknath Easwaran
---
9. Nothing is easy, but who wants nothing?

~ Donald Trump
---
10. Nothing really worth having is easy to get. The hard-fought battles, the goals won with sacrifice, are the ones that matter.

~ Aisha Tyler
---
11. Everything is easy when you are busy. But nothing is easy when you are lazy.

~ Swami Vivekananda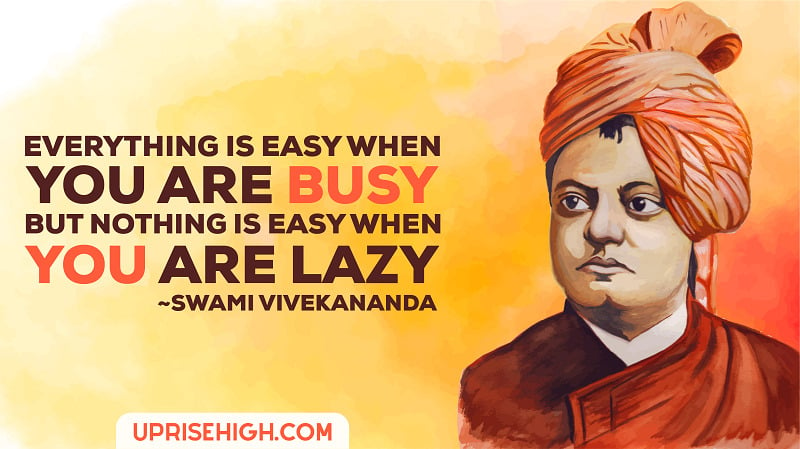 ---
12. I have learned that success is to be measured not so much by the position that one has reached in life as by the obstacles which he has overcome while trying to succeed.

~ Booker T. Washington
---
13. Nothing worthwhile comes easily. Work, continuous work and hard work, is the only way to accomplish results that last.

~ Hamilton Holt
---
14. Nothing comes easy in life. If you wait for sunrise, you must survive in the dark night.

~ Diganta
---
15. I find that the harder I work, the more luck I seem to have.

~ Thomas Jefferson
---
16. Nothing in this life worth achieving is easy, nor is it impossible.

~ James May
---
17. Success is not the absence of failure; it's the perseverance through failure.

~ Aisha Tyler
---
18. Successful people do what unsuccessful people are not willing to do. Don't wish it were easier; wish you were better.

~ Jim Rohn
---
19. Nothing in life that's worth having comes easy… Money is work, love is work, life is work.
---
20. Nothing is free. If you want to be successful, you have to pay the price.
---
21. The difference between who you are and who you want to be, is what you do.

~ Bill Phillips
---
22. God wants you to have a good life, a life filled with love, joy, peace, and fulfillment. That doesn't mean it will always be easy, but it does mean that it will always be good.

~ Joel Osteen
---
23. Nothing's ever come easy to me and nothing ever will and that's okay. I'm used to that. I go with the challenges. I roll with the punches.

~ Naomi Campbell
---
24. Nothing of great value in this life comes easily. The things of highest value sometimes come hard. The gold that has the greatest value lies deepest in the earth, as do the diamonds.

~ Norman Vincent Peale
---
25. There are no secrets to success. It is the result of preparation, hard work, and learning from failure.

~ Colin Powell
---
26. You can't have a million-dollar dream with a minimum-wage work ethic.

~ Stephen C. Hogan
---
27. Will it be easy? Nope. Worth it? Absolutely.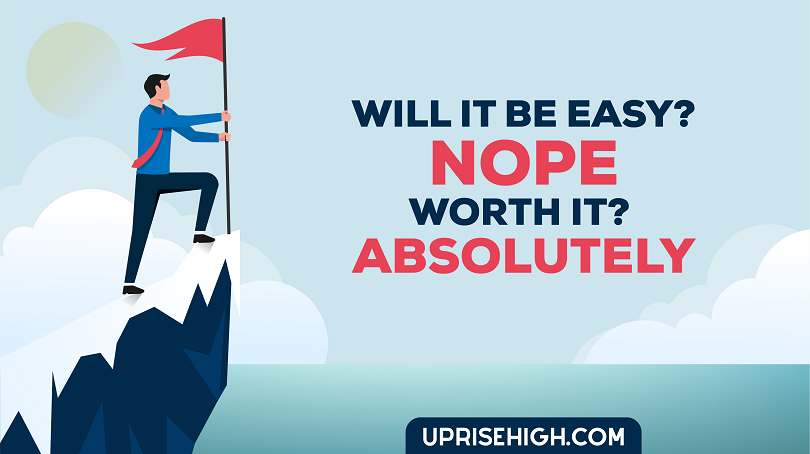 ---
28. The three great essentials to achieve anything worthwhile are, first, hard work; second, stick-to-itiveness; third, common sense.

~ Thomas A. Edison
---
29. Without ambition one starts nothing. Without work one finishes nothing. The prize will not be sent to you. You have to win it.

~ Ralph Waldo Emerson
---
30. Whatever you want is behind the mountain of struggles. Nothing great comes with ease.

~ Israelmore Ayivor
---
31. The complexity of things – the things within things – just seems to be endless. I mean nothing is easy, nothing is simple.

~ Alice Munro
---
32. Things may come to those who wait, but only the things left by those who hustle.

~ Abraham Lincoln
---
33. Nothing comes easy in life. Even Santa comes with a Clause.
---
34. Wishes are like seeds – few ever develop into something.

~ Michael Garofalo
---
35. Nothing in life comes easy and without a price. The trick is learning to never give up.

~ Michael Alexander Beas
---
36. Success is no accident. It is hard work, perseverance, learning, studying, sacrifice and most of all, love of what you are doing or learning to do.

~ Pele
---
37. You'll find out that nothing that comes easy is worth a dime. As a matter of fact, I never saw a football player make a tackle with a smile on his face. Never.

~ Woody Hayes
---
38. I never dreamed about success, I worked for it.

~ Estée Lauder
---
39. I ain't going to say everything I touch turns to gold or camouflage. I've got to work hard to keep what I've got. Nothing comes easy to me. It never has.

~ Boo Weekley
---
40. Look, man. Nothing worth having comes easy. You gotta fight for what you want in this life. You taught me that. Just thought you might need a reminder

~ Jennifer Bonds
---
41. We all have dreams. But in order to make dreams come into reality, it takes an awful lot of determination, dedication, self-discipline, and effort.

~ Jessie Owens
---
42. Without hard work, nothing grows but weeds.

~ Gordon B. Hinckley
---
43. God doesn't hand you an easy life because you will grow in it. He hands you a dream with hurdles, obstacles, setbacks, battles and challenges because he knows the real you is at the finishing line.

~ Shannon L. Alder
---
44. It's easy to give up when things get tough, but it's the willingness to keep going that separates the successful from the unsuccessful.
---
45. Embrace the challenges and the hard work while reaching your goals because they're what makes the reward so much sweeter.
---
46. The fruit of your own hard work is the sweetest.

~ Deepika Padukone
---
47. The harder you work for something, the greater you'll feel when you achieve it.

~ Sudhashree Acharya
---
48. Easy is not a path. Easy is a lazy and dishonest way of describing the process of becoming great.
---
49. Nothing good in life comes easy. Everything worth having requires effort, dedication, and perseverance.
---
50. Nothing in the world is worth having or worth doing unless it means effort, pain, difficulty.

~ Theodore Roosevelt
Why Nothing Comes Easy in Life?
It seems like nothing comes easy in life. You work hard and try your best, but always hit a snag along the way. Sometimes it's tough to get past the obstacles in your way, but you must persevere.
So why are things so hard? Why can't you reach your goals without any problems?
It's because life is all about learning, my friend, and the truth is – we learn lessons the hard way.
The challenges that arise on the way to achieving goals are the ones that make the journey exciting. Without them, you won't enjoy success heartily nor you'll feel proud of yourself.
Stop making any excuses! Start putting in the work. You got to reach crazy heights, mate.
End of the Line
Whether striving for personal or professional success, you must be willing to put in the hard work and dedication necessary to achieve your goals.
As the old saying goes, "No pain, No gain." While it may be tempting to take the easy road, the true reward comes from overcoming challenges and persevering through difficult times.
So the next time you face a difficult task, just have a look at the "nothing comes easy quotes" that I shared in this post, and you won't back down an inch.
I'll see you in the next post.
| SPREAD THE LOVE
| WRITTEN BY
| YOU MIGHT ALSO LIKE