70 Spread Your Wings Quotes to Achieve Greatest Heights
Updated On: January 4, 2023
Want to get out of your comfort zone, take risks, and explore your limitless potential? These 70 spread your wings quotes are all you need!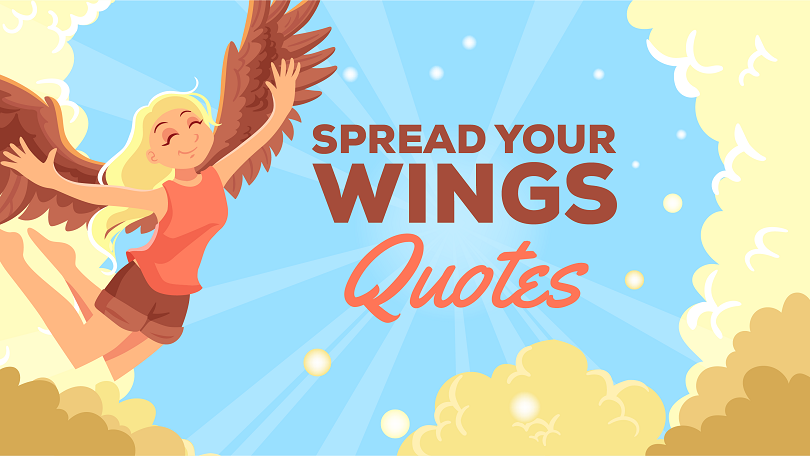 Do you ever feel like you're stuck in a rut? Like you're not progressing or growing as fast as you want to?
Well, it's time to take a step back and look at your life from a different perspective.
You're not stuck because you're not trying hard enough. Instead, You may be stuck because you're not taking advantage of all the opportunities available to you.
You have the potential to be so much more than you are right now! 
You have the ability to fly high and achieve your goals. All you need is some encouragement and a little bit of motivation.
But where can you get that motivation?
It's available right here! In this beautiful post, I'll share 70 insane spread your wings quotes that will push you to achieve the maximum heights in life.
Without any further ado, let's dive right in.  
70 Insane Spread Your Wings Quotes That Will Force You to Leave Your Comfort Zone!
1. Successful people don't sit back, whine, or cry. They spread their wings and choose to fly.
---
2. To figure out the purpose that will make you feel fulfilled from the inside, you must spread your wings and explore what's outside.
---
3. Life's race is unfair. Some people crawl through it, while others discover their potential to fly. If you want to win, you already know which option to choose. 
---
4. Just for once, stop looking at yourself from other's eyes and look at yourself through your inner eyes, you'll see the invisible wings you never saw. 
---
5. Don't just rest in your nest, spread your wings and find your zest!!

~ Vijaya Raje Lakshmi
---
6. Spread your wings and let your spirit fly free. You were born to achieve greatness, so go out and seize it with all your might.
---
7. Don't be afraid to spread your wings and fly. The journey may be uncertain, but the destination is absolutely worth it.
---
8. Spread your wings and embrace your freedom. You are meant to fly and explore the world, so go out and make the most of it.
---
9. You are meant to become the best, so go out and make it happen. Spread your wings and let your dreams take flight.
---
10. Spread your wings and embrace your unique talents and abilities. They are what make you special and lead you to success.
---
11. It is time to spread your wings and break free from the chains that hold you back.
---
12. Spread your wings and chase your dreams, for they are the compass that will guide you to where you truly belong.
---
13. The moment you doubt whether you can fly, you cease forever to be able to do it.

~ J.M. Barrie
---
14. There is nothing in a caterpillar that tells you it's going to be a butterfly.

~ Buckminster Fuller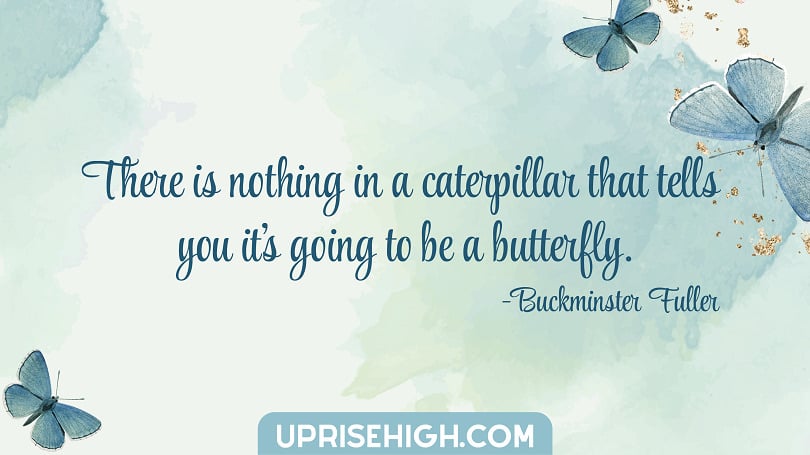 ---
15. The bird that would soar above the level plain of tradition and prejudice must have strong wings. It is a sad spectacle to see the weaklings bruised, exhausted, fluttering back to earth.

~ Kate Chopin
---
16. The sky is the limit. You never have the same experience twice.

~ Frank McCourt
---
17. Life has no limitations, except the ones you make.

~ Les Brown
---
18. Jump, and you will find out how to unfold your wings as you fall.

~ Ray Bradbury
---
19. Until you spread your wings, you'll have no idea how far you can fly.

~Napoleon Bonaparte
---
20. Spread your wings, darling. You have better places to fly. Not everyone can handle you, and that's a blessing in disguise.

~ Cwpoet
---
21. When you come to the edge of all that you know, you must believe one of two things: either there will be ground to stand on, or you will be given wings to fly.

~O.R. Melling
---
22. What the caterpillar calls the end of the world, the master calls a butterfly.

~ Richard Bach
---
23. In the valley of sorrow, spread your wings.

~ Susan Sontag
---
24. Do one thing every day that scares you.

~ Eleanor Roosevelt
---
25. If it doesn't challenge you, it doesn't change you.

~ Fred DeVito
---
26. No guts to fly? No glory, even if you try!
---
27. We have to continually be jumping off cliffs and developing our wings on the way down.

~ Kurt Vonnegut Jr.
---
28. Life begins at the end of your comfort zone.

~ Neale Donald Walsch
---
29. The higher we soar, the smaller we appear to those who cannot fly.

~ Friedrich Nietzsche
---
30. Flying starts from the ground. The more grounded you are, the higher you fly.

~ J.R. Rim
---
31. If you want to fly, you have to give up the things that weigh you down.

~ Toni Morrison
---
32. Time is always with the people who have courage to fly, Not with the people who stand and watch the sky.

~ Rishika Jain
---
33. Spread your wings and fly. You deserve to be a champion.

~ Andy Dwyer
---
34. Feet, what do I need you for when I have wings to fly.

~ Frida Kahlo
---
35. You cannot fly like an eagle with the wings of a wren.

~ William Henry Hudson
---
36. I'll spread my wings and I'll learn how to fly. I'll do what it takes till I touch the sky.

~ Kelly Clarkson
---
37. No bird soars too high if he soars with his own wings.

~ William Blake
---
38. Spread your wings and fly high. For you are destined to touch the sky.

~ Nishant Bansal
---
39. Those who fly solo have the strongest wings.
---
40. It doesn't matter if you start on the rocks or the rooftops. Spread your wings and let them carry you to new heights.

~ Sue Krebs
---
41. Hold fast to dreams, For if dreams die, Life is a broken-winged bird, That cannot fly.

~ Langston Hughes
---
42. You were born with wings, why prefer to crawl through life?

~ Rumi
---
43. My turn shall also come: I sense the spreading of a wing.

~ Osip Mandelstam
---
44. May the wind under your wings bear you where the sun sails and the moon walks.

~ J.R.R. Tolkien
---
45. So come with me, where dreams are born, and time is never planned. Just think of happy things, and your heart will fly on wings, forever, in Never Never Land!

~ J.M. Barrie
---
46. If you were born without wings, do nothing to prevent them from growing.

~ Coco Chanel
---
47. Spread your wings of love and fly in someone's sky of dreams and imagination.

~ Debasish Mridha
---
48. Dreams don't work unless you do.

~ John C. Maxwell
---
49. Every morning you have two choices: Continue to sleep with your dreams or wake up to chase them.
---
50. When the stormy winds of life threaten to knock you down, may you have the courage to spread your wings and fly!

~ Lance Wubbels
---
51. Even when muddy, your wings sparkle bright wonders that heal broken worlds.

~ Aberjhani
---
52. I decided to fly through the air and live in the sunlight and enjoy life as much as I could.

~ Evel Knievel
---
53. A bird does not fly because it has wings; it has wings because it flies.

~ Robert Ardrey
---
54. We are each of us angels with only one wing, and we can only fly by embracing one another.

~ Luciano De Crescenzo
---
55. You can get a broad view while sitting in the nest. But the broadest and most beautiful views can be seen only when you choose to get out of the nest and fly.
---
56. You may not know where you're going, but you know that so long as you spread your wings, the winds will carry you.

~ C. JoyBell C
---
57. Stop looking for permission to pursue your dreams! They are your dreams and you don't need a co-signer to chase them!   

~ Eric Thomas
---
58. You have two choices: You can make a living or you can design a life.

~ Jim Rohn
---
59. Let's fly high. Not to rest but to persist.

~ Annesha Naskar
---
60. Keep flying higher so that others are inspired to fly with you.

~ Oh! Great
---
61. If we were meant to stay in the same place, we would have roots instead of feet.

~ Rachel Wolchin
---
62. Look to the horizon, spread your wings, and fly.

~ Tom Reilly
---
63. When you fly high, people will throw stones at you. Don't look down. Just fly higher so the stones won't reach you.
---
64. Fly high but keep the soul connected to the root.

~ Amlan
---
65. Spread your wings and fly, for you are meant to soar higher than you ever imagined.
---
66. The sky is not the limit; it is just the beginning. Spread your wings and reach for the stars.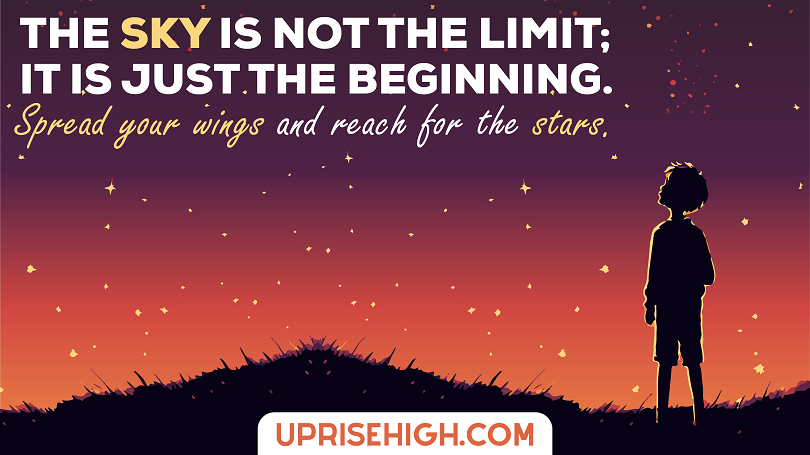 ---
67. Don't let fear hold you back. Spread your wings and embrace the unknown, for it is in those moments that you truly grow and discover your true potential.
---
68. It is time to spread your wings and leave the nest. The world is waiting for you to soar to new heights and make your mark.
---
69. The greatest rewards often come from stepping out of your comfort zone and embracing the unknown. So, don't be afraid to take risks and spread your wings.
---
70. God will only push you off a cliff if he's going to give you wings to fly.

~ Matshona Dhliwayo
How Spreading Your Wings Can Be the Best Decision of Your Life?
People often ask me – Why is it vital to spread your wings and get out of your comfort zone? 
My answer is simple: because it is the only way to realize your potential, learn and grow.
But, if you are only comfortable in your own world, you will surely remain stagnant.
Living life to the fullest requires taking risks and stepping out of your comfort zone. It can be initially challenging, But it is worth it in the end.
By challenging yourself and stretching beyond your current abilities, you can become a better person. You can also learn new things and develop new relationships.
So, if you're feeling stuck in your current life, I encourage you to spread your wings, step outside your comfort zone and see what new and exciting things await you. 
You might be surprised at just how much you can grow in the process!
End of the Line
I would highly recommend you to make a list of your favorite "spread your wings" quotes from this post.
Keeping the "spread your wings quotes" list handy or sticking it to a wall will always remind you that you can't remain in your comfort zone. 
You must fly and explore new horizons. You must be bold and fearless and fly past all your limitations.
Go out and spread your wings, mate. 
You're the best!   
| SPREAD THE LOVE
| WRITTEN BY
Varun Pahwa
Hi! I am Varun. I created Uprisehigh for you to share your life story & get answers to all your life problems. As your best friend, I'm committed to inspire you, simplify your life, and help you grow. Let's stick together on this beautiful life journey, mate!
| YOU MIGHT ALSO LIKE