Imagine this – If you were a millionaire who had achieved all of his goals in the early '20s. Would you do the following?
1. Buy a luxurious house with all the facilities, including cooks and servants.
2. Purchase supercars and superbikes.
3. Have a premium lifestyle, purchase branded clothes, dine in at expensive restaurants, and enjoy vacations worldwide.
I can bet that your answer would be a huge YES!
Now, What If I told you there's a guy who has already achieved the same at 22?
You'll assume that the person would be spending a luxurious lifestyle. Right?
Here's a shocking twist – He drives a second-hand Maruti Suzuki Swift and sleeps under his office table.
So, who is this guy?
*Drumroll, please…*
He is none other than one of the most famous YouTubers, Motivational speakers, and Educators – Mr. Aman Dhattarwal.
Want to know his full success story?
Don't miss out on anything in this Aman Dhattarwal biography, and you'll find yourself fueled up with inspiration.
Without any further ado, let's get started.
Aman Dhattarwal Biography – His Childhood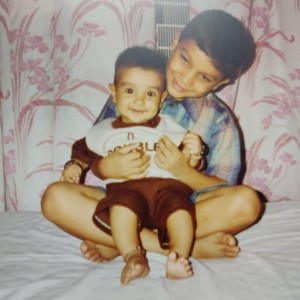 Aman Dhattarwal was born on 22 September 1997 in a village of Rajasthan. However, Aman celebrates his birthday on 4 March in memory of his brother, who was born on 4 March and passed away at a really young age.
At present, his family consists of his parents and a younger brother Tanishq Dhattarwal.
Aman Dhattarwal was raised in a financially weak family, and his father was in a government job. He spent his initial schooling years in Rajasthan, after which he, along with his family, had to move to Delhi because of his father's job-related transfer.
Aman's father believed that getting into the army or becoming a sportsman were the two most respectable jobs.
He advised Aman to start playing lawn tennis as you don't have to depend on teammates in this sport if you want to win.
As Aman was young, it was time to choose a school for him in Delhi with a Lawn Tennis facility.
Aman Dhattarwal's First School in Delhi
Laxman Public School was the school that Aman's parents chose for him. He joined this school in the third grade and started playing lawn tennis.
His father's other belief was that a student good in English and Mathematics could achieve anything in life. Thus, he taught English and Mathematics to Aman during the initial years.
Aman, being sharp-minded and intelligent, consistently achieved good grades during tests.
Admission into DPS, Vasant Kunj
Aman was doing well in sports as well as studies.
Thus, his father decided to change his school from Laxman Public School to DPS Vasant Kunj, which he heard was better in many aspects.
Aman then joined DPS Vasant Kunj in class 7th and kept performing well in his new school.
When he was in class 9th, he took part in the inter-DPS lawn tennis competition in which he stood second while DPS R.K. Puram stood first.
Due to his excellent academics ability, He even received a 10/10 CGPA during the class 10th boards.
Aman Dhattarwal's Final Schooling from DPS, R.K. Puram
Somebody then told Aman's parents that DPS R.K. Puram was even better than DPS Vasant Kunj. Another reason why Aman chose DPS R.K. Puram because the school stood first in the lawn tennis open DPS championship. Thus, Aman cleared its entrance and took admission into it.
From now onwards, Aman Dhattarwal's father suggested him to focus on his studies instead of sports.
Aman, being an obeying kid, followed the same.
Lawn tennis was going to vanish from his life for a few years. Still, the values that sports imparted in his personality were priceless. He developed a 'fighter spirit' along with a 'never give up' attitude.
Aman took science as a subject and started pursuing engineering. Further, he started preparing for JEE (Engineering college entrance examination).
How Aman Dhattarwal cleared JEE despite being weak at Physics and Chemistry?
The syllabus suddenly changed in class 11th, and there was a lot to cover. Aman was always good at mathematics and tried to keep it strong, due to which he focused totally on it.
11th standard passed away, and the only subject he was good at was mathematics.
As soon as he appeared in the 12th standard, he realized that physics was his weakest subject and chemistry was yet to be improved.
Aman Dhattarwal had a fighter attitude, so he decided to fight this battle as well.
He shifted his majority focus from mathematics to physics and chemistry, worked hard, and balanced all the subjects.
All the hard work and efforts paid off when he achieved 95% in class 12th boards and an All India Rank of around 6200 in JEE Mains.
His Entry Into YouTube
Aman started his first channel on 11 December 2014 named "Aman Dhattarwal."
He started uploading videos on this channel right after his class 12th between the vacation period of admission into the college.
The first video came out on 7 July 2015 titled – "TIPS FOR CLASS 12 BOARD EXAM YOU SHOULD NOT MISS(DPS RK PURAM)."
The purpose of his channel at that time was that he wanted to transform himself. He was a shy and introverted guy and wanted to turn into a confident individual.
The only thing that he thought he could do at that moment was teaching the juniors. Thus, he started teaching and providing guidance to the juniors regarding class 12th board examinations through YouTube.
Admissions started, and now, it was time for him to choose the best college.
Aman Dhattarwal's College
Aman always aimed at getting into NSUT instead of IIT because he already knew that he couldn't get the 'CSE' or 'IT' stream in the top IITs. Another reason was that 7 students from NSUT received a package of around Rs. 1.25 crore, which was the highest among all the engineering institutes of India.
At last, he got admission into NSUT with an IT stream.
It is when he started moving towards success.
Aman Dhattarwal's Success Story
Aman was now in his dream college. Teachers, students, surroundings, exposure, everything was brand new. He knew that it was the right time to start exploring different career opportunities that are out there.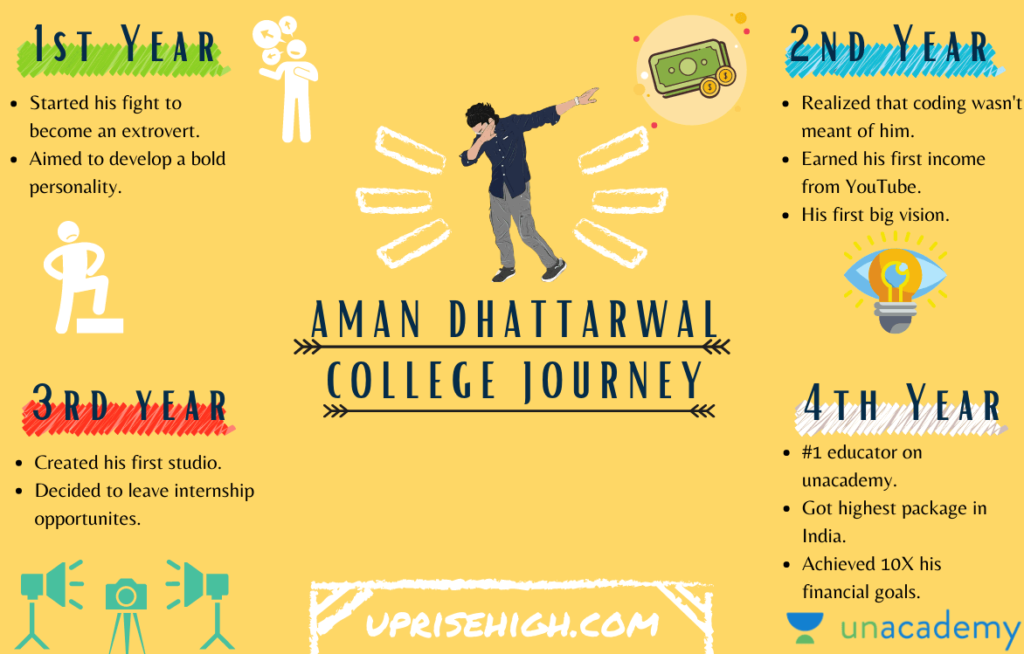 First Year of College
As Aman started exploring new things, the first thing that he wanted to accomplish was to become an extrovert and have a bold personality. Thus, he joined various societies such as singing and dancing to improve himself.
At that time, he didn't have much of a vision until now for getting into the private sector. So, he studied the college material to be able to crack the best placement in the future.
Just a note: It isn't that he always kept working or studying. He even enjoyed his college life to the fullest. However, there was a nice balance between everything.
Second Year of College
As second-year started, Aman felt that he should explore the private sector. By this time, he had realized that coding wasn't meant for him.
He was still uploading his YouTube videos for class 12th students and started exploring other options as well. It was when he got his first income and revenue from YouTube through Google AdSense.
The amount was small, but the happiness and fulfillment were massive.
His First Big Vision
Second-year college was when Aman Dhattarwal created his vision to educate all the subjects to students for free.
Third Year of College
The third year of college started.
Aman's father told him to start preparing for UPSC and become an IAS, but Aman still wanted to explore the private sector.
His parents didn't favor it when he worked on social media as they considered it a waste of time.
Aman justified his youtube videos creation by explaining to them 'how he gets money from youtube' and 'how it takes only a few minutes to make a video.' However, In reality, it took him several hours to make those videos.
He further rented an apartment by telling his parents a lie that he wants to prepare for UPSC.
All of it was because he wanted to create a studio in his apartment, which he really did. It was his first studio that he created.
Why Didn't Aman Dhattarwal Appear for Internships?
As Aman Dhattarwal knew how to design a studio, he started designing studios for multiple people and multiple coaching centers.
He didn't make any money out of studio designing initially as he did it for free, but later on, it became a source of income for him.
The internship season started, and students were getting placed in renowned companies with a monthly stipend of Rs. 1 lakh, while Aman decided not to appear for those internships.
The decision haunted him a lot, but his courage and desire to achieve something extraordinary kept him going.
Life-Changing Final Year of College
Aman's mother always wanted him to be an engineer, while his father wanted him to become an IAS or opt for a government job. On the other hand, Aman still wanted to work in the private sector.
The pressure was building up as it was the 4th and final year of college. Various big companies such as Microsoft and Google were recruiting from his college and were offering great packages.
Aman's attitude still didn't let him back off.
At that time only, he saw a video on YouTube titled – 'How I became a millionaire at 26.' This video inspired him a lot, and he made a target to achieve the millionaire milestone (Rs. 7 Crores) at the age of 22.
He wrote down every possible skill on a whiteboard that he could perform to earn money. Still, his approximation reached around 2 crores.
Anyhow, he started working on his plans with all his might.
He created an amount of Rs. X as a graduation milestone for him, which means if he would be earning that X money at the end of his fourth year, he would continue to work in the private sector.
Day by day, he kept working harder and harder.
What did Aman Dhattarwal do to earn money?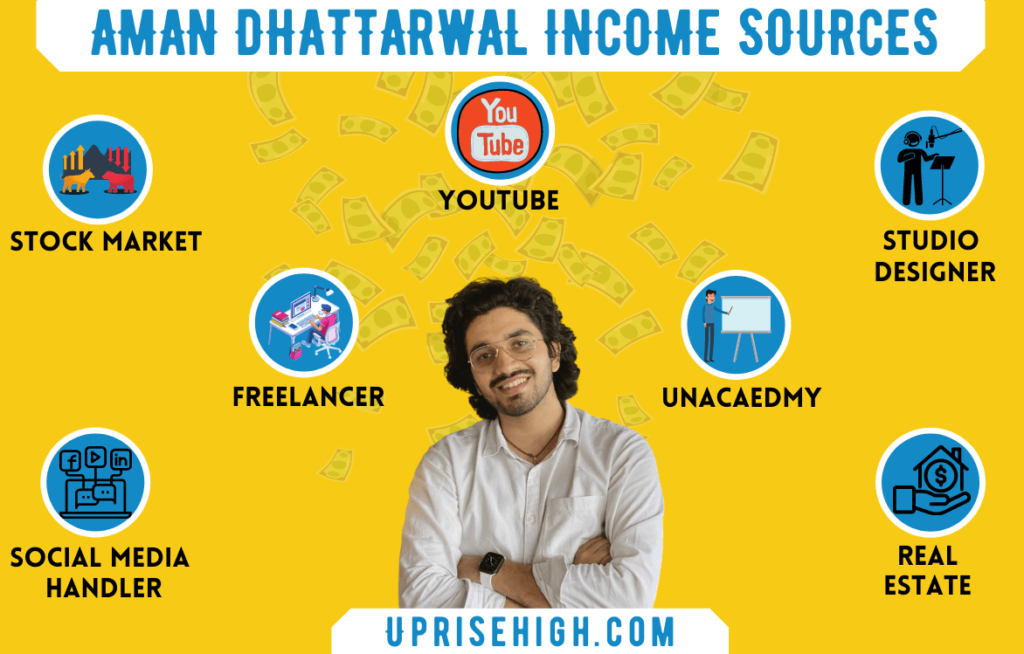 Here are some of the career opportunities that he grabbed:-
He worked as a social media handler for renowned personalities.
Invested in the stock market.
Worked as a freelancer.
Regularly uploaded videos on YouTube to ensure fulfillment of his vision and to earn money from Adsense.
Created studios for coaching centres in places like Bikaner, Sikar, and Kota.
Invested in real estate.
Started teaching physics at Unacademy.
Result…
Finally, he graduated from university, and you know the best part?
He had an amount of Rs.10X in his bank account, which made him confident in his decision.
He kept working on his goal to become a millionaire and achieved this milestone at the age of 22.
His dreams turned into reality, and his personality became better than ever.
He even became the #1 educator for Physics on Unacademy, one of India's largest online learning platforms.
His Journey from Mercedes to Second Hand Swift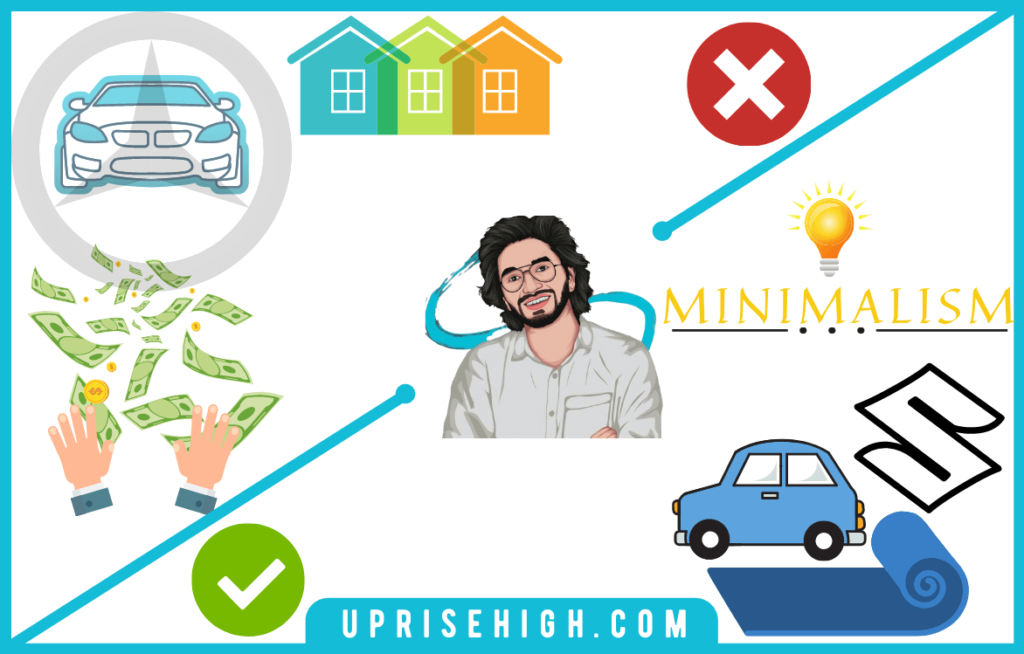 Wait, What?
Am I Joking? Is there any typing mistake?
Well, No!
You would have heard stories of how people move up from Swift to Mercedes, but Aman Dhattarwal went from Mercedes to Swift despite being so wealthy.
Why? Here's the story.
Once Aman was giving a seminar to the students in a university. One student asked him – "If you are so wealthy, why don't you have an expensive mobile and luxurious cars?"
It somehow hit Aman, deep in his heart. He exclaims that he shouldn't have felt the same because a person shouldn't be materialistic, but in reality, it pinched him.
He then purchased an Apple iPhone, Mercedes, several other SUVs, tried them for a few months, and realized that it wasn't the fulfillment he was looking for.
At that time, he also read about the concept of minimalism, which means living with less.
He loved this concept and sold his Mercedes, purchased a second-hand swift, and started sleeping under his office desk despite having 8 houses of his own.
Further, Aman started working on his purpose to provide the best quality free education to the students.
For the same reason, he started a channel named 'Apni Kaksha' on which he provides free education and has recruited some of the best educators from all over India to work on the same purpose.
Aman has even started a podcast channel named 'Hustlers Bay,' which provides inspiration and motivation to keep growing.
There is no stop to his dreams and success. He will keep working harder and harder.
Aman says:-"Sky is the limit," and he is himself one of the best examples of this line.
Revolution in Indian Education Industry by Aman Dhattarwal
Aman has now achieved something that most of us can't even dream of. 
He has started to revolutionize the broken Indian education industry, where most coaching institutes charged hefty fees for entrance exams preparation.
Students had to move from one city to another looking for a good quality of education and teachers. Also, they were divided into batches, and only the students of the top batch had the opportunity to learn from the best mentors.
Aman saw the situation and decided to change it completely.
He started working on a project in 2020 to provide the best quality education from the top educators to all students at highly affordable rates, and that too in every city.
Looks unachievable, Right? 
However, this guy did it all in just one year!
On July 21, 2021, he surprised all the students by revealing the team of 70+ teachers that he hired. Undoubtedly, all the teachers that he introduced were industry experts and the best mentors of all time.
On August 2, 2021, Aman Dhattarwal came up with a lot more massive surprises. This time he introduced Apni Kaksha app along with two study batches for "JEE droppers (Drona Batch)" and "Class XII students (Vishwas Batch)."
The courses had a small launch offer fee of Rs.3,999 on 3rd and 4th August while it further became Rs.4,999. 
At such a meager expense, the course had exceptional offerings such as:-
Live Classes along with recordings.
DPP with video solutions.
Top faculties with 20+ years of experience.
Chapter summary and live doubt solving after each chapter.
The study material for JEE Mains and Advanced.
Further, he ensured courses for other competitive exams and junior classes as well.
So, did he stop here? Not at all!
On August 23, 2021, Aman Dhattarwal announced hybrid coaching centers for offline education in every city. He decided to cover Ghaziabad, Faridabad, and Indirapuram in the first place and will be covering other cities soon.
The fee would be Rs. 100 per day for the institutes with facilities such as:-
Elevated classroom benches.
Small batch size of 40-50 students.
Online live class in case if a student isn't able to attend the class. 
Top faculty.
Air-conditioned classrooms
Money-back guarantee and a lot more.
He is still working on this project to achieve massive height and help all the students out there. Undoubtedly, at the age of 25, Aman Dhattarwal is truly commendable.
With all that said, let's end this Aman Dhattarwal biography and gather some success tips from him.
4 Success Mantras by Aman Dhattarwal
Here are the 4+1 success mantras directly coming from Aman Dhattarwal:-
1. Know Your Surroundings
Gain experiences from your surrounding. It is completely fine to get fooled while you are learning new things. Learn from it and move on.
Enter the market, analyze what's the need and fulfill it.
2. Excel at Communication Skills
Being good at communication skills can take you places where you could've never imagined.
Be a good listener. Learn from people and ignore the naysayers.
3. Social Media is One of the Most Vital Skills
Social media has massive potential, and every person who is successful in life is connected to social media in one way or another.
Grab the opportunity as fast as you can.
4. Invest Money on Yourself
Sometimes, we invest all our resources in places where we know that we won't get any outputs.
So, why not invest in things which could help us grow?
Bonus Mantra:
Have the courage to fight for your dreams as nobody else is going to do it for you.
End Of The Line
The story of Aman's success in Aman Dhattarwal biography gave you goosebumps, Right?
So, are you going to write your story as well? Do you also have such big dreams and the courage to make them real?
If yes, then what are you waiting for?
JAO AB PHODO!
FAQ's