Cristiano Ronaldo: The Success Story Of A Legend
Updated On: December 24, 2022
Cristiano Ronaldo Success Story · CR7 Childhood · Journey to Manchester United and Real Madrid · Ronaldo Achievements…
Your Love Makes Me Strong.
Your Hate Makes Me Unstoppable.

-Cristiano Ronaldo
The story begins, and it was the late 1960s when the Portuguese Colonial War was going on. It was bloodshed everywhere, and the condition of soldiers was miserable.
Mr.Jose Dinis Aveiro (Ronaldo's father) had to serve in the mandatory military service. Further, Angola won the war, and Portugal went into a financial crisis as they used up all its resources. The situation became so awful, and there were no jobs for anyone.
Thus, Ronaldo's father also had no resources and turned into an alcohol addict. Over the next few years, he had three children with his wife, Maria Dolores Aveiro. His father was able to find a job as a kit man in club Andorinho and as a local gardener.
The Birth Of The Unhuman-Cristiano Ronaldo
It was time when Ronaldo's family got the news of the fourth. Even though his father had a job, the family knew that managing the expenses was impossible.
Thus, his mother, Mrs. Maria Dolores Aveiro, consulted a doctor if abortion was possible. The doctor denied it, so she decided to abort the child on her own by making long runs and drinking excessive beer.
However, she failed as God had a different fate for the family.
On the morning of February 5th, 1985, a baby and a LEGEND was born in Madeira(Portugal). Cristiano Ronaldo Dos Santos Aveiro.
Cristiano Ronaldo's Childhood Journey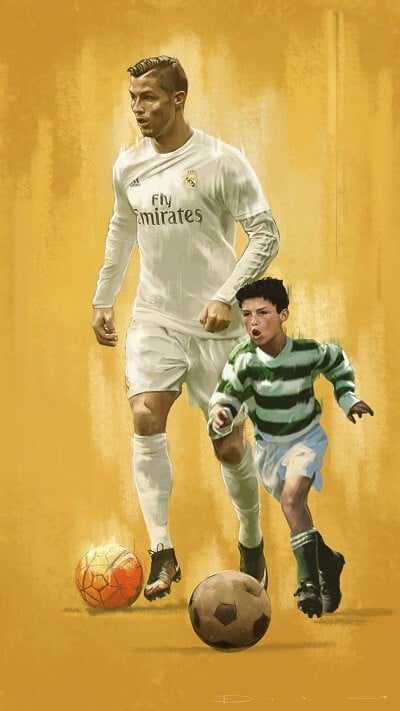 The conditions of his home were below poor. They didn't even have an electricity connection or a proper place to live.
Ronaldo started his football journey by playing football in the streets of Portugal. Since then, his love for football started increasing.
His career took off at the age of 8 when he started playing for the club Andorinha. Further, he spent two years playing football at the club Nacional.
Ronaldo's skills were exceptional, and he was better than everyone in his age group. He was a kid who was competent enough to play with children three years older than him and still outplay them.
At the age of 12, Sporting CP signed Cristiano Ronaldo for a fee of €1500. Ronaldo had to move to Lisbon for the training, which wasn't an easy move for a 12-year-old kid. Still, Ronaldo's play among the Sporting players was exceptional, and he performed very well despite being away from his home.
How Little Ronaldo Fought For His Dreams
The financial condition was still so tight that he and his friends had to go to the local McDonald's and ask for the leftover food.
At the age of 14, Ronaldo made a big decision to drop out of school and pursue football as his lifetime career.
A year later, he was diagnosed with racing heart syndrome whose cure was impossible without heart surgery. Doctors said that the only other option was to stop playing football forever.
However, the kid was a WARRIOR, and he chose surgery. The surgery was successful, and Ronaldo was back in action. Ronaldo's dream was to become the best footballer ever, and he started practicing day and night for it.
When everybody went to shower after practicing, Ronaldo was the one who was practicing alone. He even practiced in the forest to improve his dribbling and balancing skills.
His Debut In Portuguese League
Ronaldo became a magnificent player who would outperform every player on the pitch.
As soon as he turned 16, he became eligible to play professionally, and coach Lazlo Boloni didn't miss that opportunity.
Further, Ronaldo became the first player to play under 16, under 17, under 18, B team, and first-team in a single season.
As time progressed, Ronaldo turned 17, and in 2002 played his debut match in the Portuguese league, in which he performed very well.
Cristiano Ronaldo's Journey To Manchester United
Now, It was 6th August 2003 when his destiny was going to change. Sporting had a fixed a friendly match with Manchester United, and Cristiano Ronaldo performed extremely well again.
The Manchester United players were so impressed by his game that they asked Sir Alex to sign Ronaldo, and a few days later, Ronaldo arrived at Manchester United for £12.5 million.
He then became the first Portuguese player to play for manchester united and the most expensive teenager signed in history.
Since then, his marvelous journey at Manchester United started.
Story of the Number 7 Jersey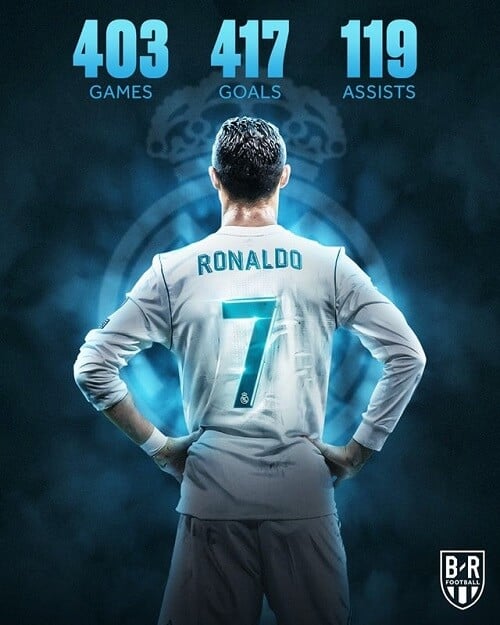 Ronaldo asked for no.28 on his Jersey, but Sir Alex Ferguson already knew the potential of Ronaldo.
He asked Ronaldo to wear the number 7 and carry on the number 7 legacy of David Beckham, George Best, and Eric Cantona.
That is how we got out beloved CR7.
Sad Demise of Cristiano Ronaldo's Father
Everything was going well in his career, but we all know that life is full of challenges.
Once again, a challenge was waiting for Ronaldo when his father, José Dinis Aveiro, passed away in 2005 due to liver failure. He was most attached to his father, and this incident shook him.
As we know, a legend never stops, and, Ronaldo too, didn't stop. He was soon back on the pitch and continued his football journey.
He even received his first Ballon d'Or in the year 2008 while playing for Manchester United.
Cristiano Ronaldo Transfer To Real Madrid
Ronaldo, since his childhood, had a dream to play for Real Madrid. He didn't miss out on the opportunity of moving to Real Madrid after brushing his skills at Manchester United.
It was a whopping transfer fee of £80 million in 2009 between Real Madrid and Manchester United.
Another reason for his transfer was that he now wanted to dominate the Spanish league after ruling the EPL. Also, he wanted to compete with Lionel Messi, who was also performing exceptionally well.
After Cristiano Ronaldo moved to Real Madrid, he was given a number 9 Jersey as number 7 Jersey was with Raúl González Blanco. He got his number 7 back when Raúl retired.
He then continued to perform well in the Spanish league, Won his first LaLiga trophy, kept on scoring goals, and earned his fifth Ballon d'Or.
His Move to Juventus
Even after receiving so much success and fame in Real Madrid, Ronaldo didn't stop. He then moved to Juventus from Real Madrid for a transfer fee of £100 million in 2018. It was the record for the highest amount of transfer in the previous 30 years.
Cristiano Ronaldo is presently at Juventus and has a never-ending list of achievements. He is consistent at the top, and there are no limits for him. He is never satisfied with his training and continues to strive for improvement.
Cristiano Ronaldo Achievements
Ronaldo has a never-ending list of achievements, and he is undoubtedly among the most exceptional players in football history.
Here are his achievements until now:-
Conclusion
There is undoubtedly a lot to learn from his legend. Here are a few lessons that I've learned from Ronaldo:-
1. Have strong work ethic.
2. Stay consistent.
3. Take risks.
4. If you want to do something, go after it with all your might.
5. It is relatively difficult to stay on the top as compared to reaching the top.
Cristiano Ronaldo is undoubtedly one of the most hardworking personalities in the football industry. He is a guy who has made an empire from the sand, and his dedication towards his goals is just commendable.
There is no doubt that he had received criticism regarding his attitude in the past. However, I feel that his attitude is 100% justified for what he has achieved.
Why not regard such legends before they are gone instead of comparing or hating them?
So, That's all about Cristiano Ronaldo's success story. I hope you enjoyed it and learned a lot from it.
Let me know in the comments if you liked the post. Make sure to subscribe if you want to keep reading stories similar to this one.
See you in the next post. Till then, Keep Grinding.
FAQ's
| SPREAD THE LOVE
| WRITTEN BY
Varun Pahwa
Hi! I am Varun. I created Uprisehigh for you to share your life story & get answers to all your life problems. As your best friend, I'm committed to inspire you, simplify your life, and help you grow. Let's stick together on this beautiful life journey, mate!
| YOU MIGHT ALSO LIKE