57 Thought-Provoking Maybe It's Time to Give Up Quotes
Updated On: February 19, 2023
Giving up is hard. But it is actually necessary sometimes for a more fulfilling life! These maybe it's time to give up quotes will help you let go happily.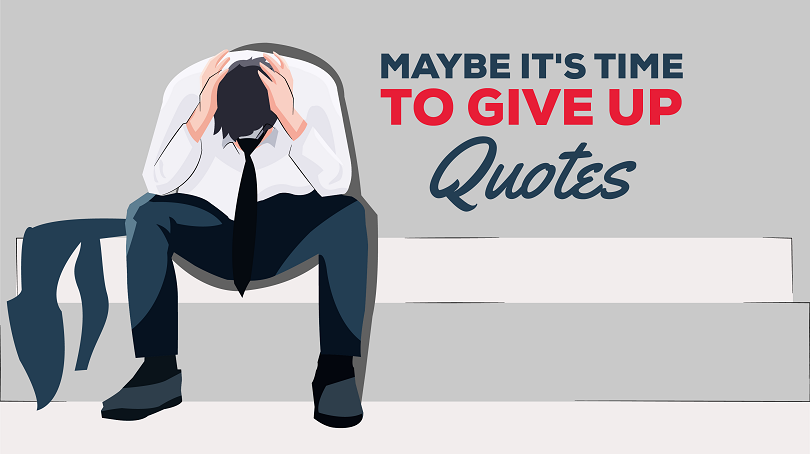 "Giving up" is a phrase that often carries a negative connotation, but is it always wrong to give up?
In my opinion, "NO!" Sometimes, it can be the wisest decision you can make.
Giving up on something not working out or holding you back can free you up to pursue new opportunities and experiences. Giving up doesn't always mean you're accepting defeat; it means that you've chosen to redirect your energy and focus on something more meaningful and fulfilling.
Now, if you're a true warrior, you would definitely say – "Speaking about giving up is easy. But it's actually hard!"
I know, mate. That's why I'm here with 57 astonishing "maybe it's time to give up quotes." These quotes will always remind you that it's okay to let go of things that are not working out and that there is often something better waiting for you on the other side.
Without any further ado, let's dive right in.
57 Maybe It's Time to Give Up Quotes To Help You Let Go Happily
1. Sometimes, it's better to give up than fighting for no reason.

~ Mirjaq Choudhary
---
2. You will find that it is necessary to let things go; simply for the reason that they are heavy. So let them go, let go of them. I tie no weights to my ankles.

~ C. Joybell C.
---
3. Perhaps it's time to let go of what's holding you back, and take a leap of faith in the direction of your dreams so you can start moving forward.
---
4. There ain't no way you can hold onto something that wants to go, you understand? You can only love what you got while you got it.

~ Kate DiCamillo
---
5. Fighting a battle you've already lost isn't worth it! It's time to move on and look for a better enemy.
---
6. Sometimes, the biggest defeats of your life lead you to the greatest triumphs.
---
7. Giving up doesn't mean you're weak… Sometimes it means you're strong enough to let go.
---
8. When things go wrong, don't go with them

~ Elvis Presley
---
9. Maybe there are times when one should welcome defeat, tell it to come right in and sit down.

~ Iris Murdoch
---
10. It may be time to stop chasing what you can't have and start living for what you already have.
---
11. Quitting is not a problem; not knowing when or why to quit and being a quitter is the problem.

~ Kayambila Mpulamasaka
---
12. But sometimes, when you've tried and tried for a long time, it feels good to give up for a while.

~ Dean Hughes
---
13. Sometimes, it's better to end something and try to start something new than imprison yourself in hoping for the impossible.

~ Karen Salmansohn
---
14. Giving up is always an option, but not always a failure.

~ Cameron Conaway
---
15. It may be the right time to stop trying to control the outcome and simply trust the journey.
---
16. Stop looking for happiness in the same place you lost it.
---
17. If you're looking for a happy ending and can't seem to find one, may be it's time you start looking for a new beginning instead.

~ Ritu Ghatourey
---
18. When one door closes, another opens; but we often look so long and so regretfully upon the closed door that we do not see the one that has opened for us.

~ Alexander Graham Bell
---
19. Sometimes, holding on does more damage than letting go.
---
20. It's okay to give up; however once you do, remind yourself to get back up.

~ Shaa Zainol
---
21. There is a time for departure, even when there's no certain place to go.

~ Tennessee Williams
---
22. Leave the past behind. It's time to move on to bigger and better things.
---
23. When you know who matters most to you, giving things up, even yourself, doesn't really feel like a sacrifice.

~ Kiera Cass
---
24. Psychologically, the worst feeling ever is not knowing whether to wait or give up.

~ Nitya Prakash
---
25. It's not about how hard you hit. It's about how hard you can get hit and keep moving forward.

~ Rocky Balboa
---
26. Every woman that finally figured out her worth, has picked up her suitcases of pride and boarded a flight to freedom, which landed in the valley of change.

~ Shannon L. Alder
---
27. Letting go doesn't mean giving up, but rather accepting that there are things that cannot be.
---
28. This time, for the first time, I saw the possibilities in giving up. I even found hope in it.

~ Jay Asher
---
29. If you're brave enough to say goodbye, life will reward you with a new hello.

~ Paulo Coehlo
---
30. It's better to let go of something good, to make room for something great.
---
31. Some of us think holding on makes us strong, but sometimes it is letting go.

~ Hermann Hesse
---
32. Some people believe holding on and hanging in there are signs of great strength. However, there are times when it takes much more strength to know when to let go and then do it.

~ Ann Landers
---
33. People have a hard time letting go of their suffering. Out of a fear of the unknown, they prefer suffering that is familiar.

~ Thich Nhat Hanh
---
34. I let it go. It's like swimming against the current. It exhausts you. After a while, whoever you are, you just have to let go, and the river brings you home.

~ Joanne Harris
---
35. Sometimes, the best thing you can do is not think, not wonder, not imagine, not obsess. Just breathe, and have faith that everything will work out for the best.
---
36. When God is ready for you to move, He will make your situation uncomfortable.
---
37. Perhaps, it's time to stop fighting against the tide and learn to flow with it.
---
38. People say "never give up" but sometimes giving up is the best option because you realize you're wasting your time.
---
39. We must be willing to let go of the life we've planned, so as to have the life that is waiting for us. ~ Joseph Campbell
---
40. Maybe it's time to learn from your mistakes and make peace with your failures.
---
41. Life is all about a balance of holding on and letting go. ~ Sandeep Maheshwari
---
42. It is always important to know when something has reached its end. Closing circles, shutting doors, finishing chapters, it doesn't matter what we call it; what matters is to leave in the past those moments in life that are over.

~ Paulo Coelho
---
43. Nothing in the universe can stop you from letting go and starting over.

~ Guy Finley
---
44. All the art of living lies in a fine mingling of letting go and holding on.

~ Havelock Ellis
---
45. It could be time to stop living for others, and start living for yourself.
---
46. It is not the strongest of the species that survive, nor the most intelligent, but the one most responsive to change.

~ Charles Darwin
---
47. One of the most courageous decisions you'll ever make is to finally let go of what is hurting your heart and soul.

~ Brigitte Nicole
---
48. If you can't do anything about it, then let it go. Don't be a prisoner to things you can't change.

~ Tony Gaskins
---
49. In order to be free, we must learn how to let go. Release the hurt. Release the fear. Refuse to entertain the old pain.

~ Mary Manin Morrissey
---
50. Maybe, it's time to detach negativity from the outcome, move on, and expect positive things to happen in the future.
---
51. Sometimes it is necessary to destroy all attachments in order to win over yourself.

~ Elif Shafak
---
52. When you give up on life, never give up on yourself because there is so much for you to keep on giving!

~ Oprah Winfrey
---
53. You are allowed to let go of all those that do not set you free anymore.

~ Dhiman
---
54. Maybe it's time to give up when the relationship brings you more pain than joy.
---
55. Enough is enough! Time to stop holding on to the pain and start healing your wounds.
---
56. The truth is, unless you let go, unless you forgive yourself, unless you forgive the situation, unless you realize that the situation is over, you cannot move forward.

~ Steve Maraboli
---
57. You really don't have to burn any bridges to let go… You don't have to destroy anything. You can just decide to cross over and move on.

~ Marta Mrotek
When is the Right Time To Give Up?
If you keep watering a dead plant, will it come to life back again?
Obviously, Not!
So, You give up only when there's no other option left, trying again looks complete "stupidity," and deep down, you're satisfied with giving up.
Now, don't think of it as a quick exit from situations. Before giving up, you must ensure that you've put every ounce of blood and sweat into changing the situation, but nothing has moved an inch.
End of the Line
Whether it be a toxic relationship, a dead-end job, or a negative mindset, it is important to recognize when it is time to move on and make space for new opportunities. Undoubtedly, It takes courage and strength to let go, but it may be necessary for growth and personal development.
These "maybe it's time to give up quotes" serve as a reminder that giving up is not a failure but a step toward something better.
Remember, it is never too late to make a change and start anew. So, take a step back, assess your current situation, and make the best decision.
See you in the next post.
| SPREAD THE LOVE
| WRITTEN BY
| YOU MIGHT ALSO LIKE