Have you ever been in a dark room, feeling your way around, and suddenly someone turns on a light?
That feeling of relief and comfort that comes with the light's brightness is the same feeling you can give to those around you when you let your light shine.
By letting your light shine, you inspire others to become a beacon of light and positivity and create a ripple effect of goodness that spreads far and wide.
But what if your own light isn't shining brightly as it should be? 
That's where the quotes come in!
In this post, I'll share 77 powerful let your light shine quotes that will illuminate your soul and encourage you to make a positive difference in the world.
Without any further ado, let's dive right in.
What Does the Phrase "Let Your Light Shine" Exactly Mean?
The phrase "let your light shine" simply means you should be a bright light to the world, do good deeds, and positively impact the people around you. 
Further, you should use your gifts and abilities to serve others, spread kindness and compassion, and bring glory to God.  
77 Let Your Light Shine Quotes to Help You Shine Like a Star
1. In the same way, let your light shine before others, that they may see your good deeds and glorify your Father in heaven.

~ Matthew 5:16
---
2. And as we let our own light shine, we unconsciously give other people permission to do the same. As we are liberated from our own fear, our presence automatically liberates others.

~ Nelson Mandela
---
3. Let your light shine so brightly, that you illuminate a pathway for others to find their way out of the darkness!

~ Dr. Stacey A. Maxwell
---
4. Your light is your message to the world. Let it shine.
---
5. Neither do men light a candle, and put it under a bushel, but on a candlestick; and it giveth light unto all that are in the house.

~ Matthew 5:15
---
6. Even in darkness, light dawns for the upright. That is you now. Let your light shine here in Rock Harbor.

~ Colleen Coble
---
7. Let your light shine. Be a source of strength and courage. Share your wisdom. Radiate love.

~ Wilferd Peterson
---
8. Shine your light and make a positive impact on the world; there is nothing so honorable as helping improve the lives of others.

~ Roy T. Bennett
---
9. We cannot hold a torch to light another's path without brightening our own.

~ Ben Sweetland
---
10. Let your light shine bright enough to inspire others to shine their own light.
---
11. A candle loses nothing by lighting another candle.

~ James Keller
---
12. The more light you allow within you, the brighter the world you live in will be.

~ Shakti Gawain
---
13. We are all gifted, but we have to discover the gift, uncover the gift, nurture and develop the gift, and use it for the glory of God and for the liberation of our people.

~ Miles Gill
---
14. Sometimes all we have is a little light that we can shine outward into a big darkness.

~ Janisse Ray
---
15. The world is a better place because you are in it. Shine your light and make it even brighter.
---
16. Circumstances don't define you. They shape you. You're molded to make a difference. Let your light shine bright, even through the cracks.

~ Julie Barbera
---
17. It's that heart of gold, and stardust shine that makes you beautiful.

~ R.M. Broderick
---
18. I admire people who choose to shine even after all the storms they've been through.

~ Germany Kent
---
19. The wildest version of you is calling to you now. To shine in your full radiance and truth each day. To live the life your soul imagines.

~ Kris Franken
---
20. Brighten your love light, allow your inner glow to reveal itself to the world.

~ Ruth Soltman
---
21. When there's darkness on earth, be a light in the world.

~ Jeanette Coron
---
22. You know you're winning when you are not whining. You're simply shining!

~ Ana Claudia Antunes
---
23. Those who will refuse to see the greater light within themselves, forfeit their shine in the world to come.

~ Rajinder Jhol
---
24. Don't wait for a light to appear at the end of the tunnel, stride down there and light the bloody thing yourself.

~ Sara Henderson
---
25. There is no darkness so dense, so menacing, or so difficult that it cannot be overcome by light.

~ Vern P. Stanfill
---
26. Darkness doesn't fall over the face of the land. It is always there, hidden and lurking, waiting for the light to leave. That is why you must feed your light. Keep it constantly burning. Never neglect it, even for a minute.

~ Richelle E. Goodrich
---
27. Let your light shine, never look back and live as if today is your last day…because it just might be.

~ Gena Showalter
---
28. Most people…are nothing but glimmers in the great darkness of time. But you…are no swift-burning spark. You are a torch against the night – if you dare to let yourself burn.

~ Sabaa Tahir
---
29. You were born to shine; don't ever let anyone steal your light.

~ Matshona Dhliwayo
---
30. Be like the sun; never let the opinions of those who hate you dull your shine.

~ Matshona Dhliwayo
---
31. Let your light shine as an inspiration to humanity and BE THE REASON someone believes in the goodness of people.

~ Germany Kent
---
32. Always let your heart shine bright, because this inner light will guide you home, even in the darkest night.

~ Jennifer Sodini
---
33. The light of God is in you. Let your light shine!

~ Eleazar
---
34. Let today be the day you embrace your beautiful spirit and shine light for those living in the dark.

~ Amaka Nkosazana
---
35. Don't let someone dim your light because it's shining in their eyes.

~ Tracy Malone
---
36. Your light is contagious. When you shine, others can't help but follow.
---
37. Ye are the light of the world. A city that is set on an hill cannot be hid. Your word is a lamp for my feet, a light on my path.

~ Matthew 5:14
---
38. No matter how little your light is, let it shine.

~ Saji Ijiyemi
---
39. Be aware that who you are and what you have to offer can be a beacon to some lost soul.

~ Iyanla Vanzant
---
40. Just as the sun shines on every soul, let your light of compassion shine on everyone irrespective of who they are and what they believe.

~ Michael Bassey Johnson
---
41. A star never lets anything dull its sparkle, not even darkness.

~ Matshona Dhliwayo
---
42. If you let your light shine for others, it will also light your way. If you turn it off so they won't see it, you turn yours off too.

~ Elijah Onyemmeri
---
43. Let your Spirit lead you and your light will shine ever bright.

~ Leslie C. Dobson
---
44. No matter how you are feeling, get up every morning and prepare to let your light shine forth. Those with eyes to see will see your light and be enchanted by it.

~ Paulo Coelho
---
45. You don't need to find the light, you ARE the light; and when you let your personality shine you can light up the world.

~ Sally Hogshead
---
46. The sun does not shine for itself but for the world, and so do we. Let your light shine and make a positive impact.
---
47. The time has come to let go of excuses… You have a purpose in this life let your light shine!

~ Janiece Rendon
---
48. Don't keep your inner light to yourself. Let it shine.

~ Lynda Cheldelin Fell
---
49. Don't let the sun go down on you today. Be the light instead, that shines forth and touches everyone's shadow, awakening them to that light.

~ Denis John George
---
50. You were created for more than to bear the weight of your shadows – but you have to choose to no longer let them define you. You have to choose to let the light shine through the shattered pieces.

~ Kara Swanson
---
51. SHINING is how you become BRIGHTER!

~ Trilby D. Johnson
---
52. Today, I challenge you to pay it forward. You don't need to save a village—only one lost soul. Be the reflection of Christ and shine his light. The cost is little, but the reward is rich.

~ Dana Arcuri
---
53. Small lights have a way of being seen in a dark world.

~ Neal A. Maxwell
---
54. Let your light shine today, and let your personality blossom, too. You don't have to be a people-pleaser, just a people-lover.

~ Beth Moore
---
55. If each of us doesn't light his own candle and shine from his whole heart, then it doesn't benefit anyone at all! Then the whole world will remain dark.

~ Elke Heinrich
---
56. You are a star in the universe, shining with your unique light. Let it shine so bright that it inspires others to look up and reach for their own greatness.
---
57. The world needs more light and love. Let your light shine so brightly that it ignites a spark of hope in the hearts of everyone you meet.
---
58. Nothing can dim the light that shines from within.

~ Maya Angelou
---
59. Your greatest test is when you are able to bless someone else while you are going through your own storm.
---
60. We do not seek to impose our way of life on anyone, but rather to let it shine as an example for everyone to follow.

~ Donald Trump
---
61. When you let your light shine, you become a lighthouse in the storm, guiding others to safety. Don't hide your light, the world needs it.
---
62. When you possess light within, you see it externally.

~ Anaïs Nin
---
63. There are two ways of spreading light: to be the candle or the mirror that reflects it.

~ Edith Wharton
---
64. The world needs more of your light. Don't hold back, let it shine and watch as it inspires others to do the same.
---
65. The power of your light is not in its intensity but in its ability to bring peace, love, and healing to those around you. Let it shine, and watch as it transforms lives.
---
66. Your light is the essence of your being. Let it shine so brightly that it radiates out into the world and transforms everything it touches.
---
67. No one is useless in this world who lightens the burdens of another.

~ Charles Dickens
---
67. The beauty of your light is that it never fades, it only grows stronger with time. Let it shine, and watch as it brightens the world around you.
---
68. You are a beacon of hope, a source of inspiration, and a shining example of what it means to be truly alive. Let your light shine for all to see.
---
69. Don't be afraid to shine. Be the moon in the dark cold sky, and let your inner radiance be your main force.

~ Anoir Ou-chad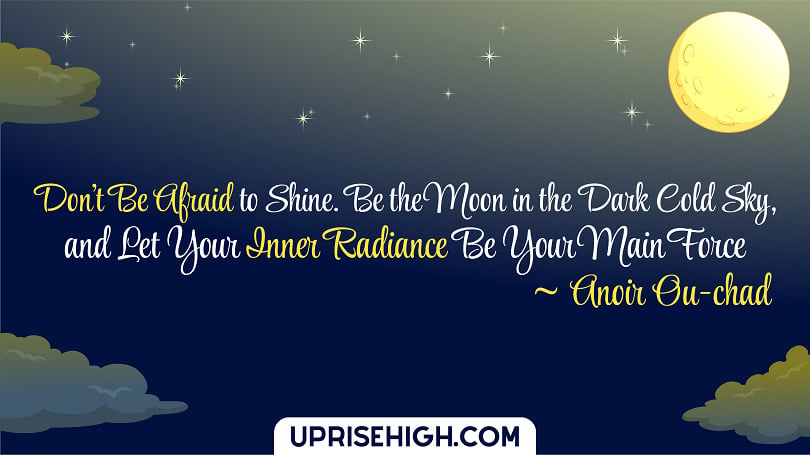 ---
70. Accept your light and let it shine to create your own lighthouse on a stormy night.

~ Pauline Duncan
---
71. And like a colorful bloom of temporary lights in the sky, you will shine.

~ Chad Sugg
---
72. You can overcome whatever is going on around you if you believe in the light that lives within you.

~ Justine Edward
---
73. Here's to celebrating light where we find it. And making light where we don't.

~ John Green
---
74. Your work is to discover who you are and then with all your heart give your light to the world.

~ Jennifer Williamson
---
75. The world is a stage and your light is the spotlight. Let it shine and dazzle the world with your talents, passions, and dreams.
---
76. She sparkles because she believes.

~ Kailin Gow
---
77. Let your light shine. Shine within you so that it can shine on someone else.

~ Oprah Winfrey
End of the Line
As we come to the end of this post, I hope these let your light shine quotes inspired you to shine brightly and make a positive impact on the world.
Remember that you have the power to create change, no matter how big or small it may seem. So go out there and be a beacon of light for those who need it most.
Let your unique gifts and talents shine, and inspire others to do the same. Together, we can create a better and brighter future for ourselves and those around us.
Let's keep shining and spreading positivity together, mate.