70 Take a Step Back Quotes to Help You Regain Clarity
Updated On: April 29, 2023
Feeling overwhelmed? Gain clarity and a new perspective on life with these 70 take a step back quotes. Let these wise words inspire you today!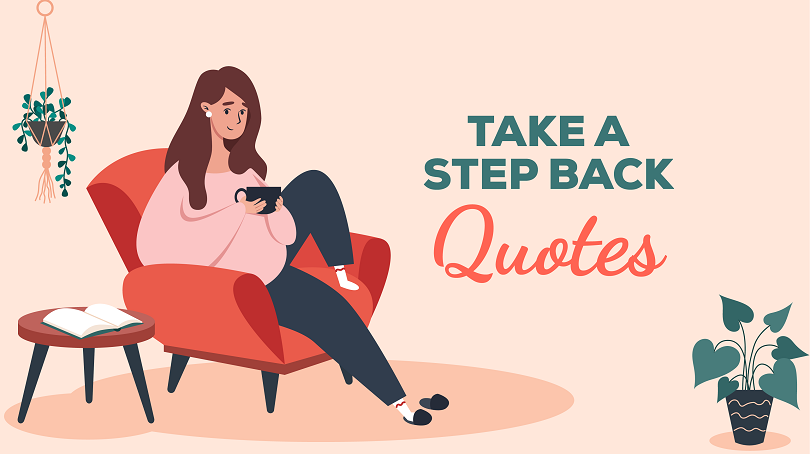 Have you ever felt like you're running faster and faster on life's treadmill but getting nowhere?
Do you often ponder if there's more to life than the endless "work, sleep, eat, repeat" cycle?
If so, you're not alone. All of us (including me) feel overwhelmed, stressed, and unfulfilled at some point in life.
So, what's the quick solution?
Well, At such times, it's vital to step back and gain a fresh perspective to move forward. Whether you're facing a difficult decision, experiencing burnout, or simply feeling lost, taking a break and regaining clarity can be immensely helpful.
In this post, I've compiled a list of 70 powerful take a step back quotes to help you gain some perspective and move forward with renewed energy and purpose.
So take a deep breath, relax, and let these words of wisdom guide you on your journey toward greater clarity and fulfillment.
70 Take a Step Back Quotes to Help You Pause, Reflect, and Grow
1. You can't see the whole picture when you're stuck in the middle of it.
---
2. Sometimes you have to take two steps back to take ten forward.

~ Nipsey Hussle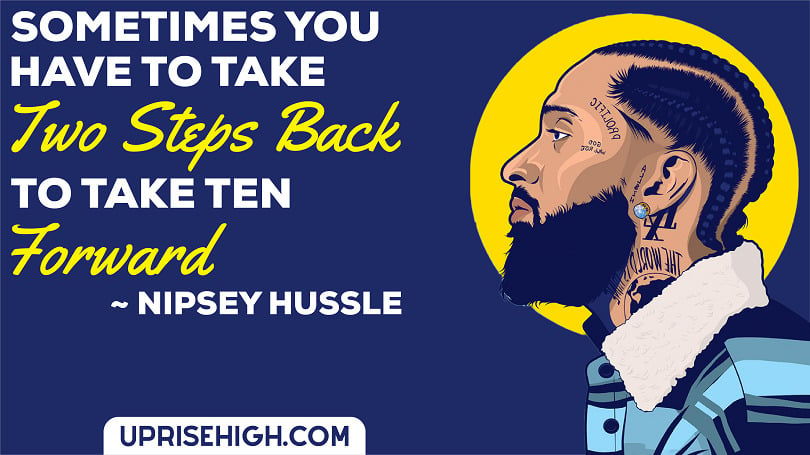 ---
3. One step back does not mean defeated…. It just means that you will take the same step forward again…but wiser.

~ Jossie Estrella
---
4. Taking time to do nothing often brings everything into perspective.

~ Doe Zantamata
---
5. Sometimes the most important thing in a whole day is the rest we take between two deep breaths.

~ Etty Hillesum
---
6. Distance not only gives nostalgia, but perspective, and maybe objectivity.

~ Robert Morgan
---
7. It's good to reflect on life and take a step back and sit and relax and do something else.

~ Floor Jansen
---
8. When you can no longer change the situation you're in… Remove yourself from the situation.
---
9. If you need to step back and get away from things for a bit, do exactly what you need to do for you to gain clarity again.
---
10. In the midst of chaos, taking a step back can help you find the calm you need.
---
11. Tearing it back unveiling me. Taking a step back so I can breathe. Hear the silence about to break. Fear resistance when I'm awake.

~ Godsmack
---
12. When adversity strikes, that's when you have to be the most calm. Take a step back, stay strong, stay grounded and press on.

~ LL Cool J
---
13. Take a step back. Life gets distorted when you examine things from too close up.

~ Richelle E. Goodrich
---
14. If we can step back at times and have the guts to carve doubt in the concrete stone of our certainties, we can hear the beat of a thinking heart.

~ Erik Pevernagie
---
15. Life is like a camera. Sometimes you need to step back to get a better picture.
---
16. In order to change the world, you have to get your head together first.

~ Jimi Hendrix
---
17. Almost everything will work again if you unplug it for a few minutes, including you.

~ Anne Lamott
---
18. Rest when you're weary. Refresh and renew yourself, your body, your mind, your spirit. Then get back to work.

~ Ralph Marston
---
19. Taking a step back can be the quickest way forward.

~ Tim Fargo
---
20. The best way to solve problems is to take a step back and observe them from a different perspective.
---
21. A moment's insight is sometimes worth a life's experience.

~ Oliver Wendell Holmes Jr.
---
22. Taking a break can lead to breakthroughs.

~ Russell Eric Dobda
---
23. Sometimes the most productive thing you can do is relax.

~ Mark Black
---
24. Whenever you find yourself on the side of the majority, it is time to reform (or pause and reflect).

~ Mark Twain
---
25. In a world that glorifies busyness, taking a step back can be a radical act of self-care and self-love.
---
26. Take a step back. Take a long view. Take a deep breath. And take your time…

~ Sissy Gavrilaki
---
27. Take a step back, evaluate what is important, and enjoy life.

~ Teri Garr
---
28. Optimist: Someone who figures that taking a step backward after taking a step forward is not a disaster, it's a cha-cha.

~ Robert Brault
---
29. Learn when to take step back… At times it gives you a chance to know yourself better.

~ Adil Adam Memon
---
30. Taking a step back doesn't mean you're giving up, it means you're regrouping and coming back with a stronger strategy.
---
31. Some days I just need to take a step back and take some time for me…. Be me… Love me… Pamper me… Nurture me and recharge my soul.

~ Karen Kostyla
---
32. Generally, there is a lot of truth value in stepping back, observing, then logically generalizing the extremes of what you see.

~ Criss Jami
---
33. Take a step back today. Look at all those beautiful things you have.
---
34. Sometimes you need to step outside, get some fresh air, and remind yourself of who you are and who you want to be.
---
35. When you take a step back, you may discover that the things you were chasing were just illusions and that the real treasure was right in front of you all along.
---
36. Change the changeable, accept the unchangeable, and remove yourself from the unacceptable.

~ Denis Waitley
---
37. Life is about perspective and how you look at something… ultimately, you have to zoom out. ~ Whitney Wolfe Herd
---
38. When things are not happening as planned just stop worrying and take an unplanned break to regain yourself.

~ Giridhar Alwar
---
39. While you'll feel compelled to charge forward it's often a gentle step back that will reveal to you where you are and what you truly seek.

~ Rasheed Ogunlaru
---
40. Taking a step back is like hitting the reset button, it allows you to start fresh and approach the situation with renewed energy and focus.
---
41. Man cannot discover new oceans unless he has the courage to lose sight of the shore.

~ Andre Gide
---
42. I think we need to take a step back and realize what the real issues are — it's not being from different places or being different.

~ Winnie Harlow
---
43. The only people who see the whole picture are the ones who step outside the frame.

~ Salman Rushdie
---
44. No problem can be solved from the same level of consciousness that created it.

~ Albert Einstein
---
45. Sometimes, the most innovative ideas and solutions come from taking a step back and approaching the problem from a different angle.
---
46. It's a very slow process – two steps forward, one step back – but I'm inching in the right direction.

~ Rob Reiner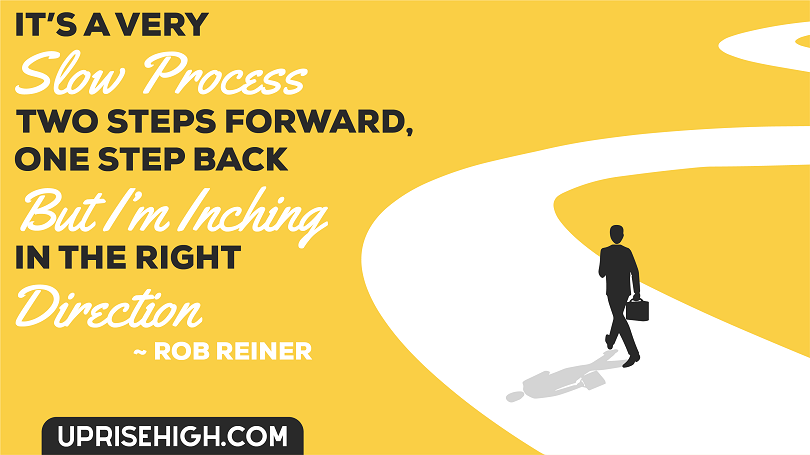 ---
47. It's hard to see things when you're too close. Take a step back and look.

~ Bob Ross
---
48. When things begin accelerating wildly out of control, sometimes patience is the only answer. Press pause.

~ Douglas Rushkoff
---
49. When you feel the pressure to respond.. know that it's not the right moment to respond.. pull back and pause, reflect, re-think .. most of the mistakes are made on impulse.

~ Jaya Bhateja
---
50. Taking a step back allows you to detach from the noisy world and reconnect with your inner voice and intuition.
---
51. Take a step back and view the world through your eyes, not someone else's. Listen to your heart and decide what you really want.

~ Fennel Hudson
---
52. Humans have a tendency to overcomplicate simple things because we overthink them. But if you take a step back and remember your priorities, it becomes easier to make a decision.

~ Lilly Singh
---
53. Do something nice for yourself today. Find some quiet, sit in stillness, breathe. Put your problems on pause. You deserve a break.

~ Akiroq Brost
---
54. Be yourself. Be true to that, to your heart. Patience. See what happens if you step back instead of bounding forward.

~ Nora Roberts
---
55. When things get overwhelming, take a step back and focus on what truly matters.
---
56. Nobody has to do anything wrong to end up living a life that feels like it's not their own, all they have to do is take a step back, and hope for the best.

~ Craig Stone
---
57. Sometimes it takes more strength to step back than forward.

~ Emily R. King
---
58. Sometimes the best way to throw a punch is to take a step back.

~ Morgan Freeman
---
59. Perspective is the way we see things when we look at them from a certain distance and it allows us to appreciate their value.

~ Rafael E. Pino
---
60. When you take a step back, you may find that the things you thought were problems were just blessings in disguise.
---
61. Sometimes, the best thing you can do is take a step back and give yourself the chance to breathe.
---
62. Pause and remember – Every single event in your life, especially the difficult lessons, have made you smarter, stronger, and wiser than you were yesterday. Be thankful!

~ Jennifer Young
---
63. A retreat from someone or something isn't unusual. Just as how you edge closer to see better, at times you may need to take a step back to get a clearer view.

~ Rajuda
---
64. Sometimes you have to take a step back and realize what's important in your life – what you can live with, but more importantly…what you can't live without.

~ Lauren Comrad
---
65. In a world that values speed over stillness, taking a step back can be a way to slow down and savor the richness of life.
---
66. Growth is an erratic forward movement: two steps forward, one step back. Remember that and be very gentle with yourself.

~ Julia Cameron
---
67. We're really at this point where we can take a step back and think about the next big things that we want to do.

~ Mark Zuckerberg
---
68. I have to strive to go two steps forward and realize that, sometimes, there will be one step back.

~ Victoria Moran
---
69. Take a step back. Breathe. Refresh and restart.
---
70. Taking a step back can be like climbing a mountain, where the higher you go, the clearer your vision becomes.
Why Taking a Step Back is Important?
Let me ask you. What happens when you work 24X7 like a robot and forget to relax and unwind?
It becomes unsustainable, Right?
That's why taking a step back is so important!
When you give yourself the time and space to breathe, you allow yourself to gain perspective, reassess your priorities, and ultimately make better decisions.
Stepping back also helps you to recharge your batteries. We all have limited energy, and when you push yourself too hard, there's a risk of burning out.
By taking a break, you can rest, relax, and get back to work with renewed energy and focus. Further, it can actually increase productivity in the long run.
End of the Line
In today's fast-paced world, taking a step back may feel like a luxury. But the truth is, it's a necessity!
Slowing down and giving yourself the time and space to reflect is the only way to genuinely gain perspective, recharge your batteries, and reconnect with yourself.
The "70 take a step back quotes" I've shared in this post are just a starting point. They remind you that sometimes, the most powerful thing you can do is simply pause and reflect.
Ultimately, the most important thing is not how fast or far we go but how well we care for ourselves.
So, I want you to commit to taking a step back when required and strive to live life in a way that's healthy, fulfilling, and true to yourselves.
I wish you loads of happiness!
See you in the next post.
| SPREAD THE LOVE
| WRITTEN BY
| YOU MIGHT ALSO LIKE