57 Thought-Provoking Family Isn't Always Blood Quotes
Updated On: June 4, 2023
Discover the power of chose bonds through these 57 heart-touching family isn't always blood quotes! Embrace the unbreakable connections.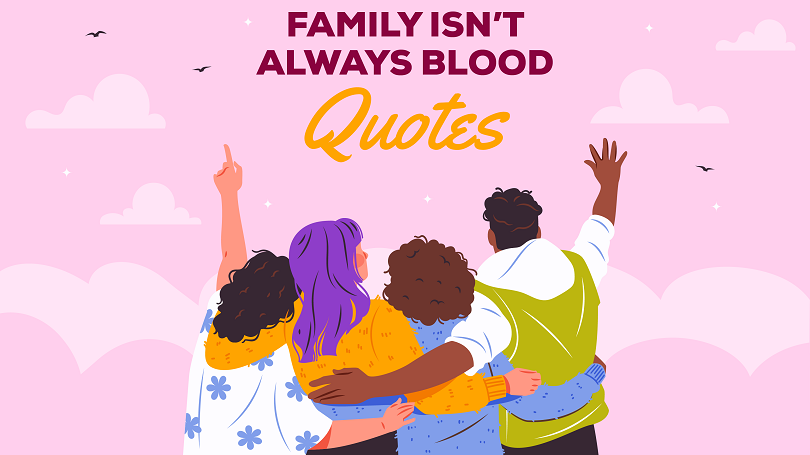 Family is the most beautiful thing, isn't it? They stick with you through thick and thin right from the day you're born and provide you with all the love and comfort.
But what if I told you your family doesn't always have to be about blood relations? In fact, some of your most meaningful connections can go beyond biological ties.
Sounds interesting, Right?
So, in this post, I've compiled a list of 57 thought-provoking family isn't always blood quotes that will help you dive into the idea that family is not just defined by genetics; but by the people who love and support you.
Whether you're seeking a fresh perspective on relationships or looking for inspiration to be grateful for your non-biological ties, these quotes will fulfill all your needs.
So, grab a cup of tea, settle in, and let's celebrate the incredible tapestry of the family that exists beyond our bloodlines.
Discover the Unbreakable Bonds: 57 Heart-Touching Family Isn't Always Blood Quotes
1. Family does not necessarily mean blood relatives but often a description of a community, organization or nation.

~Queen Elizabeth II
---
2. Real family does not come from your blood. It is the people standing beside you when no one else is.

~Nishan Panwar
---
3. Your family, your real family, will always welcome you home with open arms. Anyone who says you can lose their love isn't really family, no matter what blood says.

~Seanan McGuire
---
4. Family is not always blood relative, It's about the person who stands with you in your hard time, shares your happiness and problems.

~Aryan Singh
---
5. Blood relatives often have nothing to do with family, and similarly, family is about who you choose to make your life with.

~Oliver Hudson
---
6. Family is the anchor that grounds us, providing a sense of belonging and a support system that extends far beyond biological connections.
---
7. It's been a blessing. I can honestly say that Snoops been like my big brother. I consider him like blood, like a blood relative cuz that's like my family right there.

~Bow Wow
---
8. Real love moves freely in both directions. Don't waste your time on anything else.

~Cheryl Strayed
---
9. Blood is thicker than water, but maple syrup is thicker than blood so technically pancakes are more important than family. In your twenties, you realize that blood doesn't always mean family and home is not a place.

~A. Davis
---
10. What greater thing is there for human souls than to feel that they are joined for life – to be with each other in silent unspeakable memories.

~George Eliot
---
11. It is necessary, and even vital, to set standards for your life and the people you allow in it.

~Mandy Hale
---
12. It's very possible and very okay to forgive someone and still not want to spend time with them.

~Karen Salmansohn
---
13. This last year. Something I learned about family. Like it's not about blood alone. It's being connected. It's growing up together and loving each other. It's believing in the same God and knowing you'd do anything for the person across from you at dinner.

~Karen Kingsbury
---
14. Family is the garden where love is sown, nurtured, and blossoms, regardless of genetic roots.
---
15. Family is the sanctuary of love we create, where we build a home within hearts that resonate with our own.
---
16. The bond that links your true family is not one of blood, but of respect and joy in each other's life. Rarely do members of one family grow up under the same roof.

~Richard Bach
---
17. True family transcends biology; it's an extraordinary composition of kindred spirits, chosen affections, and an endless symphony of love.
---
18. You can kiss your family and friends goodbye and put miles between you, but at the same time you carry them with you in your heart, your mind, your stomach, because you do not just live in a world but a world lives in you.

~Frederick Buechner
---
19. Sometimes, the people closest to you betray you, and your home isn't a place you can be happy anymore. It's hard but it's true.

~P.C. Cast
---
20. Her family may not share her blood, but family wasn't just about blood. It was about love and trust. It was about the people who would always be there, supporting and encouraging, no matter what mistakes she made or how tough life got.

~Ashley Stoyanoff
---
21. Family isn't limited to those we're born into; it's the tribe of kindred spirits who embrace us and make us feel at home.
---
22. Letting go of toxic people in your life is a big step in loving yourself. The strong-minded rise to the challenge of their goals and dreams. The weak-minded become haters.

~Steve Maraboli
---
23. Family isn't about being blood-related; it's about the connection that runs deeper than genetics, forged by love and mutual respect.
---
24. People may not always tell you how they feel about you, but they will always show you. Pay attention.

~Keri Hilson
---
25. Family is not always by blood. It is by heart.

~Soumen Das
---
26. Unhappy people can be very dangerous, don't forget that.

~S.E. Lynes
---
27. OHANA means family. Family means nobody gets left behind or forgotten.

~Lilo & Stitch (Movie)
---
28. It is not always about flesh and blood but the heart which makes the family. Call them your kin, your unit, your home, your folks, whatever name you call them. Thank God for those who make us feel like we belong and who accept us like family.

~Brigitte Nicole
---
29. Family isn't always about blood. Sometimes you just recognize someone. That's how it was with your gran and me. We were kin. A special kind of kin.

~Barbara Davis
---
30. Surround yourself with positive people who believe in your dreams, encourage your ideas, support your ambitions, and bring out the best in you.

~Roy Bennett
---
31. Love yourself enough to set boundaries. Your time and energy are precious. You get to choose how you use it. You teach people how to treat you by deciding what you will and won't accept.

~Anna Taylor
---
32. Loving your neighbors is to be a family and is far beyond DNA connection. Blood may be thicker than water, but love, kindness, trust and ability to empathize with each other in the face of every adversity is what we should call my family.

~Kemmy Nola
---
33. Let go of negative people. They only show up to share complaints, problems, disastrous stories, fear, and judgment on others. If somebody is looking for a bin to throw all their trash into, make sure it's not in your mind.

~Dalai Lama
---
34. Family isn't always blood, it's the people in your life who want you in theirs: the ones who accept you for who you are, the ones who would do anything to see you smile and who love you no matter what.

~Maya Angelou
---
35. Family is the collection of hearts that choose to walk together on the journey of life, bound by love rather than DNA.
---
36. Family is the harmony of hearts that beat together, regardless of whether they share the same bloodline.
---
37. In the tapestry of life, family isn't solely woven with blood, but with threads of love, compassion, and shared moments.
---
38. Family is the embrace of understanding hearts, a sanctuary where we find solace and acceptance, not determined by DNA but by connection.
---
39. Family is the sweet serenade of belonging, where love's melody embraces us, regardless of our biological ties.
---
40. Family is an artistry of souls, where the canvas is boundless, colors are infinite, and the strokes of connection are painted with love, not blood.
---
41. The blood inside of me is the blood inside of you. Why must we try and hurt our brothers and sisters when we are all the same? Believe in love. ~Dahvie Vanity
---
42. Family isn't always the one you're born into. Sometimes it's about people who get into your blood, inside your heart, and under your skin all on their own.

~L.H. Cosway
---
43. Family is the constellation of souls that illuminate our lives, regardless of genetic stardust.
---
44. Family extends beyond the confines of biology, emerging as a constellation of souls who choose to navigate the universe of life together.
---
45. Family is a masterpiece of connections, where hearts intertwine and souls recognize their kin beyond the boundaries of blood.
---
46. Family isn't just about whose blood runs through your veins. It's about who never left your side, stood up for you and believed in you.

~Adrian Body
---
47. A true family bond isn't always about blood. It's knowing that whatever happens, they'll always be there.

~Desmond Tutu
---
48. Family is where you're meant to be most free, don't let blood chain you down.

~Michelle Meleen
---
49. Always remember when it comes to family arguments and disputes. Blood is thicker than anger.

~Stanley Victor Paskavich
---
50. The true measure of family lies in the depth of care and compassion, not in shared ancestry.
---
51. Family is supposed to be our safe haven. Very often, it is the place where we find the deepest heartache.

~Iyanla Vanzant
---
52. Family is the chosen tribe that we assemble, united by a deep bond that transcends the limitations of biology.
---
53. Family is the bouquet of relationships we gather, picking the most vibrant and cherished souls to be a part of our lives.
---
54. For my own family, I would always choose the makeshift, surrogate family formed by various characters unrelated by blood.

~Anne Tyler
---
55. It didn't matter how big our house was; it mattered that there was love in it.

~Peter Buffett
---
56. The true magic of family is that it is not limited by blood; it is the enchantment of finding kindred spirits in unexpected places.
---
57. Stay away from people who make you feel like you are wasting their time.

~Paulo Coelho
End of the Line
Finally, as we end our journey exploring the concept of family beyond blood, one thing is for sure: love has no boundaries.
These 57 family isn't always blood quotes will always remind you that the bonds you create if your life can be equally powerful, if not more powerful, than those formed through genetics.
Family is simply about the people who see what you truly are, always stand by your side, and bring joy and laughter into your life.
Whether they're friends who have become just like siblings, mentors who had guided you, or even kind strangers that helped you when you needed it most, these connections can positively impact your life.
So, it's time to cherish those chosen family members that entered your life and made it richer.
Let's embrace the idea that blood does not define the depth of our love or the strength of our bonds. Because, in the end, love, support, and unwavering connection are what truly make a family.
Keep smiling, mate!
See you in the next post.
| SPREAD THE LOVE
| WRITTEN BY
| YOU MIGHT ALSO LIKE